Review: Samsung GALAXY Tab 750
Not bad, but not quite the best either.
Rating

2.5
/5
15th Jan 2013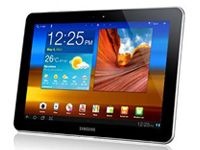 Pros:
Great display; Full HD playback; Good front camera; Decent battery life.
Cons:
No telephony; Processor heats up easily; Lags a lot; No SD card slot.
Samsung GALAXY Tab 750
MRP: Rs 34,000
Street Price (As On 9-Dec-2011): Rs 32,000 (Letsbuy.com; Adexmart.com) Rs 32,500 (HomeShop18.com)


Another Android tablet and yet another review. So what's new with this one then? Well, the Samsung Galaxy Tab 10.1 - or Galaxy Tab 750, as it's called in India - is taking the big daddy of all tablets head-on. How does it fare against the iPad? Is it just another drop in the ocean of tablets, or does it actually make its mark? Well, that's what I'm here for.


First Impressions
In one word - it's sleek! You know you're in possession of a premium product when you hold the Tab 750 in your hands. The Samsung team has succeeded in designing a tablet that combines elegant design and amazing finish. At just over 8.5 mm, this is the thinnest tablet in the market. Yes, it's thinner than the iPad 2. Moreover, it's the lightest one as well at 565 grammes. Samsung deserves credit for pushing the boundaries of anorexia, which is a good thing in the gadget world.
The glossy-white plastic looks pretty chic at the rear. The cheap paintwork on the plastic bezel is disappointing though. However, the overall look is attractive nonetheless.


As with all Samsung products, the Tab 750 sports an impressive 10.1" TFT screen. The 1280x800 display renders HD videos in full glory with crystal clear text. Viewing angles are wide in the fingerprint-resistant panel. Visibility in sunlight is great as well.


Under The Hood
It's not unreasonable to expect zippy performance with a dual-core 1 GHz CPU and Android 3.1 Honeycomb under the hood. Sadly, the Tab 750 let me down. I experienced frequent lagging even with the slightest of multitasking. Switching between apps was a slow process, which is painful when you pay this much for a tablet. Scrolling from one homescreen to the next exhibits a fair bit of lag. Text scrolling is jittery and switching from the landscape to portrait mode is bumpy. All in all, very poor performance from a tab at this price.


To top it all, the Tab 750 heats up with the lightest of workouts. Just half-an-hour of video playback made it pretty hot. This is a big drawback for a product pitted against cut-throat competition.

Along with the standard changes entailed by Honeycomb, Samsung has added a additional tweaks. The notification bar places crucial functions such as settings and brightness a single tap away. Frequently used apps such as Task Manager, Calendar, Calculator and Music Player are housed permanently on a separate app bar at the bottom, which can be accessed from any app.

On the connectivity side, the signal strength is pretty good, while GPS and Bluetooth functions perform well. Ditto for Wi-Fi and 3G. Most standard apps such as Polaris Office, eBook, and Social Hub come pre-installed. A new app called the Pen Memo lets you scribble on the Tab. However, this feature would have worked better with a stylus instead. The Pulse app keeps you updated on everything from politics to GQ to MTV.


Popcorn And PicsTablets have always been touted as the ultimate mobile entertainment experience. When a 10.1" tablet claims to handle Full HD content, our expectations are already sky-high. Thankfully, the Samsung Galaxy Tab 750 performs exceptionally well. HD videos look great, but the visual treat is extended even to non-HD content. There's just one problem though. Where do we store our Full HD content? Obviously not in the severely limited 16 GB inbuilt memory. Samsung has forgotten to include an SD card slot in a tablet meant to play Full HD content. That's a real pity!

The tablet plays all major video formats. Audio playback is also very good, as long as it's done through headphones. The loudspeakers placed at the left and right panels may be stereophonic, but the sound output is feeble and tinny. Finally, the Tab plays all music formats including MP3 and WAV.
True to its principle purpose of video conferencing, the 2 MP front camera is more powerful than the 3 MP rear camera. Video can be captured in 720p at 30 fps with acceptable quality. The speakers and microphone are good enough for video calling. The in-built flash suffices for basic photography, although it's nothing spectacular.


Image sample.


Video sample.

Battery Life And Verdict
The Samsung Galaxy Tab 750 houses a mammoth 7000 mAh battery. However, with a 10.1" screen, a dual-core processor, and 1GB RAM, the limited battery life breaks the illusion of grandeur. It claims a battery life of 7 hours with video playback and 1840 hours of standby time. In reality, I managed to drain the battery with two hours of video playback, one hour of Angry Birds, two hours of web surfing, and two hours of general usage. With moderate usage, it lasted for a little more than two days. That's pretty decent by Android standards. Keeping the brightness low went a long way in increasing battery life. On the flip side, the tablet takes excessively long to charge; often requiring more than 12 hours to fully tank up.

The Samsung Galaxy Tab 750 showed a lot of potential, but it bombs on several important counts. After being marketed so heavily as Android's answer to the iPad, the expectations were bound to be high. Unfortunately, the Tab 750 doesn t even manage to get the basics right. The exterior is pretty cool, and the design is elegant. The screen is very good, as is the overall media experience. Both the cameras are decent for normal usage. However, the propensity of tablet to heat up at the slightest strain is unpardonable. Despite a dual-core CPU and the latest Android Honeycomb OS, the it was still marred by a laggy performance.

Bottomline: If you are a big Android fan, this is the best tablet in the market for you. However, it is definitely a long way from beating the iPad in the most basic of tasks.


Features: 3/5
Design And Build Quality: 3.5/5
Performance: 2/5
Value For money: 2/5
Mojo: 3/5

Overall Rating: 2.5/5

TAGS: Tablets, Android, Samsung, GALAXY