Review: Nokia Lumia 520
A landmark device that brings Windows Phone 8 platform to the masses.
Rating

4
/5
21st Apr 2013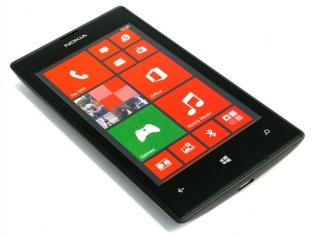 Pros:
Impressive build; Interchangeable back panels; Crisp 4" IPS super-sensitive screen; Sleek and fluid UI; Offline voice-guided Sat Nav; Rich social networking experience; Great sound quality.
Cons:
Lacks camera flash; No front-facing camera; Not many games available yet.
Nokia Lumia 520
Street Price: Rs 9,900


Up until now, with a budget of Rs 10,000 you could only settle for an Android device. While the Lumia 510 was an option you could consider, it was crippled in terms of specs. The Lumia 520 on the other hand, promises to be a major improvement over its predecessor. It comes with double the processing power and the latest version of the Windows Phone platform. More importantly, the phone sports a very competitive price tag of Rs 10,500. So does it live up to its promise? Let's find out.

Design And Build Quality
If you think it's difficult to find a good looking handset in the sub-10k category, then the Lumia 520 is a pleasant change. Despite being affordable, it features an elegant design. The handset looks sophisticated to a point that some of my colleagues were surprised when they realised that it's an entry-level smartphone. The device is compact and the size is ideal for single-handed use. The materials used in its construction are top notch.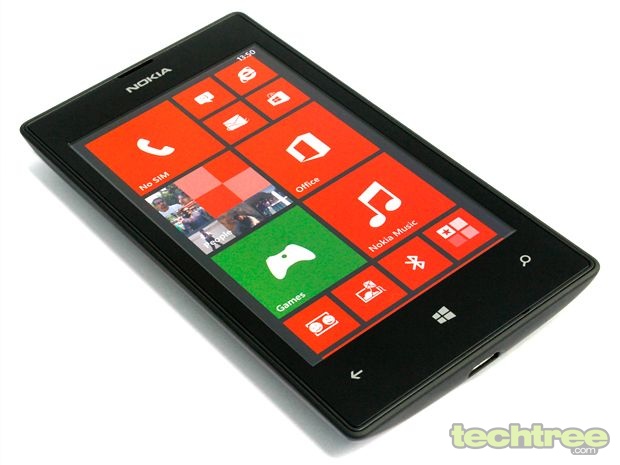 Similar to the 820 and 620, this phone features interchangeable shells, which means you can change the appearance of your phone by simply buying a new panel. These shells are available in Cyan, Red, Yellow, White, and Black. All of them sport a matte soft touch finish. Our friends in Shenzen will come up with some weirdly designed shells, like they did for the good-old Nokia 3200. Under the cover, the phone has a microSD card slot and the battery is user-replaceable.
At 1 cm the phone isn't very thin, but the tapering edges make it look that way. To put things in perspective, the HTC 8S is 10.3 mm thick. Like every other WP8 handset, the micro-USB port is at the bottom. Volume rocker, Lock button, and shutter key are on the right side. A 3.5 mm jack sits at the top, while there's nothing on the right side. Overall, the 520 offers a clean design and very good build quality.


Display And Specs
The Lumia 520 sports a 4" IPS panel with pixel-dimensions of 800x480. It's protected by a hardened glass. The picture quality is sharp and has decent viewing angles. Compared to similarly priced handset, the colour reproduction and contrast are very good. Unlike the 620, this phone lacks Nokia's ClearBlack tech, which means you're going to miss deeper blacks. The display automatically adjusts the contrast to maintain the legibility under direct sunlight. The touch sensitivity of the screen is very good. Similar to the flagship Lumia 920, this phone is also operable with gloves on. Not just that, the screen can also take input from fingernails or even your car keys. To sum is up, the display is impressive and there wasn't much to complain about.
This phone is powered by a Qualcomm Snapdragon S4 chipset with a 1 GHz dual-core CPU and Adreno 305 GPU. Other features include a 5 megapixel auto-focus camera, 512 MB of RAM, 8 GB internal storage, and microSD card slot (up to 64 GB). The phone lacks a front-facing camera, which is ironic considering that the deep Skype integration is one of the highlights of Microsoft's platform. Full specifications are at the end of this review.

UI And Apps
As you already know, Nokia's first generation Lumia devices had some stupid restrictions such as the lack of USB mass-storage mode and Bluetooth FTP. However, in its latest iteration, the Windows Phone platform has gotten rid of these issues. The Lumia 520 offers mass storage for data transfer, and you can share files with any phone over Bluetooth. The live tiles on the Microsoft's mobile platform look refreshingly different than the boring grid of icons present on the competing platforms. The phone offers very smooth interface. This shouldn't come as a surprise since the 520 packs in the same Snapdragon S4 chipset found inside the more expensive HTC 8S and Lumia 720.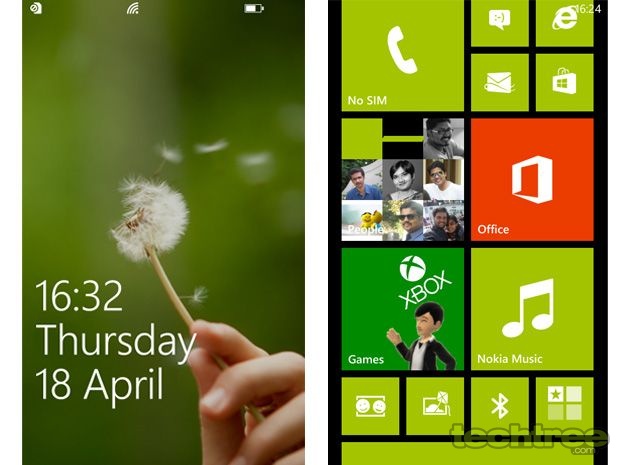 The mobile version of IE10 is fully compatible with HTML5. Its rendering speeds are unmatched by any of the Android smartphone available at this price tag. The Office integration is superb, and also comes with tight SkyDrive integration.
The Smart Glass is an interesting app that lets you control your Xbox 360 with the phone. To stand out from other OEMs, Nokia brings its exclusive app suite to the table. With Photobeamer, you can share the gallery images on any web-enabled device. For more information, check out out Lumia 620 review. Out of the lot though, HERE Drive+ (previously known as Nokia Drive) is my favourite. The software offers offline voice-guided GPS navigation, which is as good as any dedicated car GPS system. And yes, even BMW, Mercedes, and Volkswagen's vehicles are powered by Nokia's location service. The turn-by-turn navigation works well on the 520. Since the handset lacks a compass, Nokia City Lens doesn't work on this handset.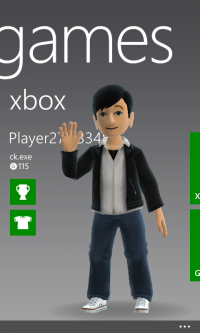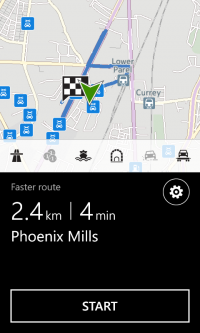 Multimedia
Apart from Microsoft's default media player, the Lumia 520 comes with a year's Nokia Music subscription that lets you download millions of songs for free. It offers equaliser settings, but there's no Dolby enhancement as seen on the Lumia 620. The device's sound quality is very good. However, the bundled earphones are bad, and the phone lacks FM radio. The phone plays MP4, WMV, and AVI videos up to720p. It doesn't support MKV files though.
The 5 megapixel snapper is very good for the price. Despite being the cheapest WP8 Lumia in the family, the 520 comes with Lumia-exclusive lenses such as Cinemagraph, Smart shoot, and Panorama. Don't forget to check out our tutorial on how to make most of these digital camera lenses. On the flipside, the camera lacks a flash, which means low light photography is out of question. Moreover, I feel that the 620's snapper offers better colours and details than this one. To view the untouched sample, click here. At max quality, the Lumia 520 can record 720p videos at 30 fps. The clips are saved in MP4 format, and offer a smooth playback.

Telephony And Messaging
The phonebook in Windows Phone offers tight integration with Facebook, Windows Live, Twitter, and LinkedIn. If you're addicted to the social networking services, this phone is perfect. The handset's call quality and network reception were good during our tests. The phone offers 3G and can share internet with up to 8 devices. The on-screen keyboard is extremely responsive, which is a rare thing for sub-10k phones.


Battery Life And Verdict
On a full charge, the 1430 mAh battery easily last for a day and half with normal day to day use. In our 720p video loop test, the phone lasted for a little more than five hours.
The Lumia 520 is officially priced at Rs 10,500. However, if you look around a bit, you can easily get it for under Rs 10,000. For this price, it offers an unmatched smartphone experience. The app ecosystem for WP8 may not be as developed as Android or iOS, but it is making rapid progress in that area, and a lot of the popular apps have already arrived on this platform. More importantly, unlike the Android alternatives, this phone doesn't lag. The design is simple yet elegant, and the build quality is solid. The exclusive Lumia apps such as HERE Drive+ and Nokia Music give it an edge over the competition. The phone lacks camera flash and a front-facing camera, which is the reason why it's wise to stretch your budget and get the Lumia 620 instead. That being said, if you're not interested in video chat and self-portraits, the 520 is a very good buy under 10k.
Features: 3.5/5
Design And Build Quality: 4/5
Performance: 4.5/5
Value For Money: 4/5
Mojo: 4/5

Overall Rating: 4/5


Specifications:
Windows Phone 8.
Requires micro SIM.
WCDMA 900/2100, 850/1900/2100, GSM/EDGE 850/900/1800/1900.
512 MB RAM.
8 GB of internal storage; 7 GB free SkyDrive storage.
microSD card support up to 64 GB.
4" IPS LCD WVGA screen with pixel dimensions of 480x800 (233 ppi).
Hardened glass, super sensitive touch for fingernail and glove use.
Orientation, Ambient light sensor.
1 GHz dual-core Snapdragon S4 processor.
5 MP autofocus camera; supports HD (720p) video recording @ 30fps.
Wi-Fi, Bluetooth 3.0, A-GPS (Glonass), 3.5 mm audio jack, Micro USB with charging, USB 2.0.
1430 mAh battery, talktime of 14.8 hours on 2G and 9.6 hours on 3G.
TAGS: Mobile Phones, Windows Phone, Nokia, Lumia