Review: Sony Ericsson Xperia mini pro SK17i
A mighty midget.
Rating

4
/5
14th Jan 2013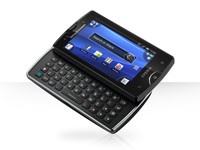 Pros:
QWERTY keypad; Snappy UI; Excellent sound quality; Well-priced.
Cons:
Bulky; Unimpressive camera.
Sony Ericsson Xperia mini pro SK17i
MRP: Rs 15,860
Street Price (As On 20-Sep-2011): Rs 15,400 (Letsbuy.com; Saholic.com; Flipkart.com)


Sony Ericsson (SE) always has had a different approach towards Android, as compared to Samsung and LG. While the latter two rely heavily on hardware, SE gives more importance to UI customisation. Despite mixed results, the company seems to be continuing with this approach. Its latest offering is a successor to the Xperia X10 mini pro. With an all-new Gingerbread and a 1 GHz CPU, it has to be better than the X10. However, whether this new entrant is also marred by performance issues as seen in the case of the Xperia PLAY remains to be seen.
Design And Build Quality
The phone's retail package has the standard contents. Apart form the handset, you get a micro-USB cable, charger, earphones, and a 2 GB memory card that's never going to be enough for today's smartphones. For SE, "mini" means short, but not slim. Hence, the first thing you'll notice about this phone is its chubbiness. The device has a thickness of 0.7" (18 mm), which is almost double that of recent smartphones. Although you can't expect a mobile with a slide-out QWERTY keypad to be slim, this one is just too bulky for my liking. The device weighs 136 grammes — though it's not light, I won't complain about a few extra gs.

Below the 3" screen are present the standard Android keys, namely Home, Back, and Options. The first is a physical button, while the latter two are capacitive touch keys with a backlight. The sliding mechanism feels very sturdy. However, the keypad could have been better. Its layout is plain thoughtless, and the keys are too small for comfortable typing. Moreover, the <F> and <J> key bump lines are present, but can't be felt easily. This makes typing without looking at the keyboard a little bit more difficult.
The phone's chassis consists of glossy plastic on all sides and a pleasant matte finish on the back. Overall, the build quality is quite good. The design is not bad either, but like I've said before, it should have been slimmer.

The mini pro is powered by a 1 GHz Scorpion processor coupled with an Adreno 205 GPU, similar to what we've seen on the recently reviewed Xperia PLAY. Other specs include 512 MB of RAM, a 5 megapixel primary and front 0.3 mp camera, 32 GB microSD card support, GPS, 3.5 mm jack, Wi-Fi, Bluetooth, accelerometer, and proximity sensor.
Display, UI, And Applications
The 3" screen is covered by scratch-resistant glass, though not the renowned Gorilla Glass. According to the company, the LED backlit display is fuelled by the BRAVIA Mobile Engine. The screen produces nice colours and contrast. Viewing angles are very good, but with a slight loss of colour. Additionally, the display's readability under direct sunlight is impressive.

The phone runs on Android 2.3 (Gingerbread) with SE's custom UI on top of it. To make up for the relatively small screen, the company has introduced a four-corner interface — it features a shortcut in all four corners, each housing four apps inside it. Although useful to some extent, it looks odd.

Similar to the Apple iPhone 4, bumping two icons together creates a folder. You also get an option to choose the name and icon for the newly-created group. Additionally, pinching the screen brings up the Overview, consisting of floating icons that makes for good eye candy. Although not new, the Timescape feature still manages to impress.


The device comes pre-installed with Google Maps 5.2. However, the GPS receiver kept on flashing "Your current location is temporarily unavailable" until I turned on the A-GPS (Assisted GPS). On the web front, the Gingerbread-based browser is snappy and supports Adobe Flash 10.3. The page rendering is fast, and many online games are playable. However, YouTube videos above 480p are a no-go.

Coming to gaming, Asphalt 6, Plant vs Zombies, and the like run without a hitch, but that's about it. High-end games such as Brothers In Arms 2: Global Front and Gangstar: Miami Vindication are out of the question. Overall, the 1 GHz CPU performs well, and I didn't notice any lag or slowdown. Multitasking was handled pretty well too. Finally, a smooth and reliable UI from SE!


Multimedia
The music player's UI is beautiful, and more importantly, original. There are plenty of equaliser presets to play around with. Sound quality through the earphones is superb, but the bundled set is quite uncomfortable.


The handset's speaker is reasonably loud, and can be enhanced further using the xLOUD setting. Thankfully, SE has also included an FM radio, unlike many of its rivals.


The phone doesn't have a separate video player, but you can play videos though the Gallery. It supports 720p MP4 files out of the box. However, you are better off with any third-party player if 720p DivX and XviD is your thing.


Camera
The camera interface is great; it displays settings on the left and the last five snaps on the right. Moreover, you can adjust the size of these two panels using a swipe gesture. The handsets also sports a good old hardware shutter button.

The camera UI.

Unfortunately, the image quality fails to impress. Its attempt to produce vibrant photographs ends up in an unacceptable level of noise being added to the image. Moreover, in many cases, I found it was overexposing the bright spots.

The phone is also capable of capturing 720p video at 30 fps, which is standard for today's smartphones. The resulting clips are smooth, but contain artefacts. All in all, the device's camera performance is mediocre at best.


Telephony And Messaging
The mini pro features a visually pleasing and capable phonebook, which is very social by nature. You can add contacts from multiple accounts, and duplicates can simply be merged. Signal reception throughout the testing was good, and I didn't experience any call drops. The earpiece is loud and clear, and the mic is sensitive enough to convey voices properly to the other side.

Coming to messaging, the phone displays all messages in threaded fashion. Although the company has provided a cute little virtual keypad, it won't get used much because of the physical QWERTY keypad. While it may not be for folks with big fingers, it's still miles ahead of any virtual keyboard.

Messaging and calling.

The gadget also has a capable generic email client that can handle multiple accounts. It features a preview pane, previously explained in the Xperia PLAY review. Moving on to the power source, the 1200 mAh battery managed to keep the device up for almost 7 hours under heavy usage, which involved continuous music playback, a bit of video, and lots of browsing. Although the battery life is not great, it's definitely very good by Android standards.

The Sony Ericsson Xperia mini pro is a snappy little droid. It offers a full QWERTY keypad and still manages to fall into the mid-range category. Moreover, the sound quality is excellent. On the other hand, the device is too thick by today's smartphone standards, and the onboard 5 mp camera is not up to the mark. Nevertheless, for Rs 15,400, this well-built phone is more than enough for day-to-day tasks. Since there's no other landscape QWERTY Android device at this price point, the smartphone stands out as a good deal.


Features: 4/5
Design And Build Quality: 3/5
Performance: 4/5
Value For Money: 4.5/5
Mojo: 4/5

Overall Rating: 4/5
TAGS: Mobile Phones, Android, Sony, Xperia, ck