Review: Panasonic VIERA TH-L55WT50D
Excellent image quality comes at a price.
Rating

4
/5
28th May 2013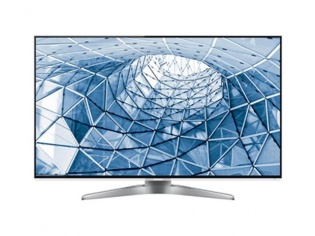 Pros:
Excellent display quality; IPS screen with wide viewing angles; Good sound; Stylish looks with thin bezel; Excellent USB media player with extensive file format support; Wi-Fi, DLNA, Low power consumption.
Cons:
Slight flickering in 3D; Expensive.
Panasonic Smart VIERA TH-L55WT50D
MRP: Rs 2,73,000
Large screen TVs are not everyone's cup of tea, but there still exists a consumer segment that doesn't even consider going for anything less. If you do happen to have a large living room, a 32" TV will surely look tiny and out of place. Going for a 50" and above then seems reasonable. Of course, cost is not a supposed to be a factor then. The Panasonic Smart VIERA TH-L55WT50D is a 55" LED-backlit LCD TV that fits the above description. It sports an IPS panel with wide viewing angles and 1600 Hz backlight scanning that claims to display smoother motion in movies. Like all such high-end TVs, it can play 3D content using 120 Hz active shutter technology and can even convert 2D to 3D on the fly. We have tested and reviewed this awe-inspiring television.
Accessories
3D Eyewear
Panasonic provides two pairs of active shutter 3D eyewear with this TV so that at least two people of a family can watch 3D movies together. At 31 grams, this is one of the lightest battery-powered eyewear that I have come across and it is very thin as well. The glasses are big enough to cover almost the entire field of view and can be worn over prescription glasses. Unlike previous versions, this one is powered by a replaceable standard CR2025 button cell such as the one you would find on a computer's motherboard, thus saving you the hassle of having to periodically recharge it. It automatically switches off when it detects that 3D viewing is not being done for around 10 minutes. The battery is said to last for around 75 hours at a stretch, as compared to the 30 hours that a rechargeable battery lasts in the previous version.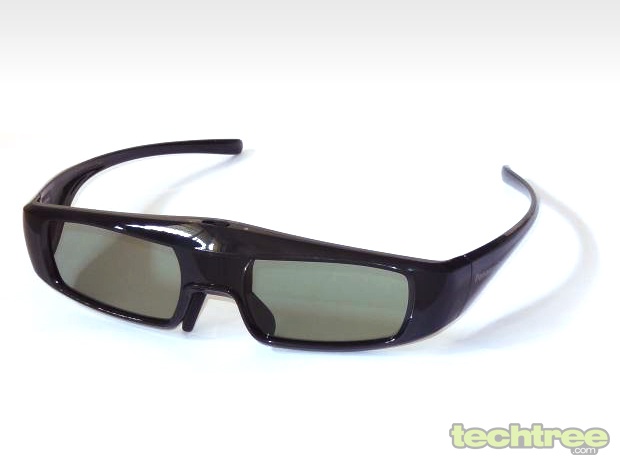 The 3D Eyewear is very comfortable to wear
Remote Control
The remote control powered by two AA batteries is quite long and comes with all the neatly labelled function buttons necessary to completely control the television. Additionally, it has the VIERA Tools and VIERA Link media control function buttons. All the buttons are neatly labelled and it is easy to find what you are looking for on this remote. Panasonic has paid attention to subtle details such as making the buttons backlit with a red LED that can be switched on by a dedicated button and stays on for 5 seconds. Also, the colour red is chosen because it doesn't adversely affect the viewing ability of the human eye in the dark.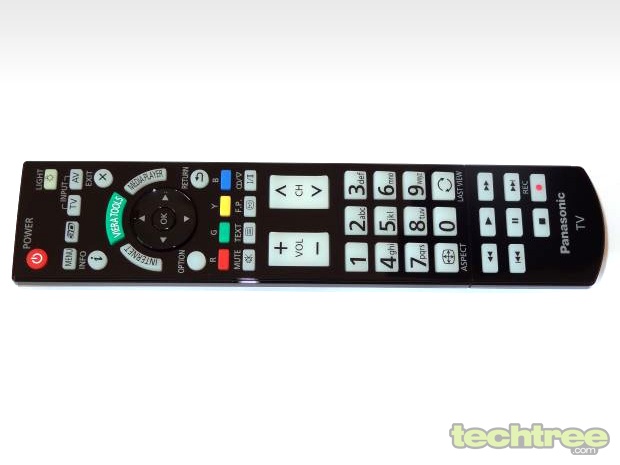 The full function remote control can completely control the TV and connected devices
VIERA Touch Pad Controller
This TV also comes with a pebble-shaped VIERA Touch Pad Controller unit that is extremely small and has just a few buttons and a touch pad, but is still capable of doing almost everything that is possible with the larger remote, thanks to gesture control. This controller is basically meant for convenience and its intuitive interface makes it very useful.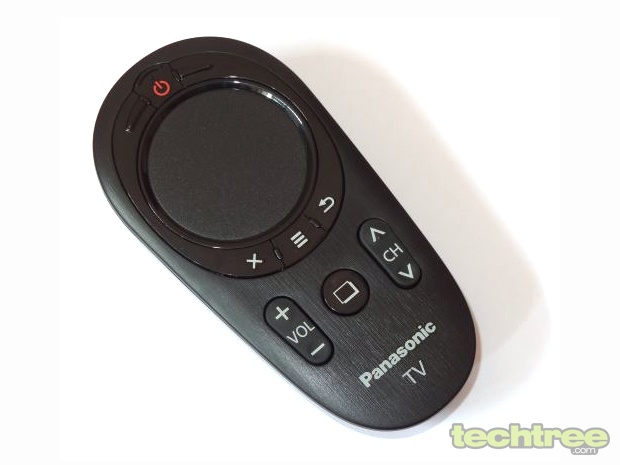 Convenience and intuitive interface makes this touch pad controller special
Design And Features
The Panasonic VIERA TH-L55WT50D is a huge television with a size that makes it suitable to be installed only if you have a large living room. Describing its presence in words cannot do it justice because its sheer size is overwhelming. Before you decide to purchase it, you should know its dimensions to decide how and where to install it. Its height without the stand is 73 cm, width is 123 cm, while the thickness is just 2.3 cm, which is incredibly thin. We think that it is best to install it on a wall, but if you wish to use the pedestal stand, then you must keep in mind that this stand has a thickness of 34 cm. The metallic pedestal stand is of a beautiful crescent shape and allows the TV to be angled laterally to suit the viewer. You will therefore have to make sure that there is enough clearance between the TV and the wall behind, to allow for the 15 degrees left and right swivel. Also, if you decide to place it on a platform, you have to keep in mind that the platform can comfortably hold the TVs 19.5 kg weight, which is actually not so heavy when you consider its large size. When wall mounted, the weight is 17 kg, so the wall brackets must be affixed well — a job best left to the Panasonic technicians.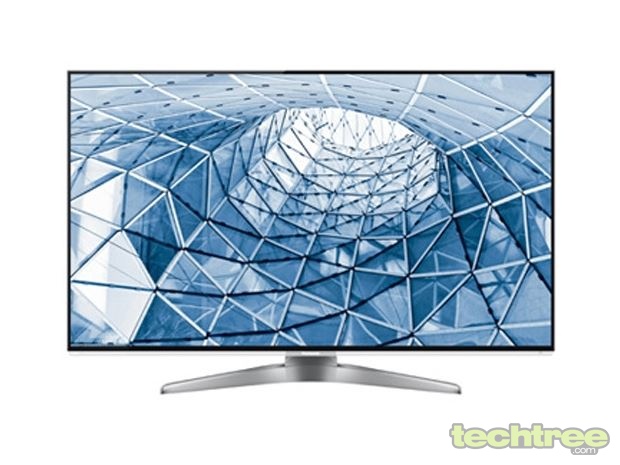 The Panasonic VIERA TH-L55WT50D
The first thing we noticed about the VIERA is its large glass screen that extends almost from edge to edge, bordered by a 1.1 cm thin dark bezel. The visual effect of the thin bezel is that it makes the TV appear to merge into the wall once it is wall-mounted and adds to its aesthetics and viewing experience. The panel itself has a glossy finish, which should have ordinarily made it difficult to view when placed opposite to a bright source of light such as a window. However, the Clear Panel Pro filter on the screen seems to heavily cut down on the reflections as it reflects a very small fraction of light that falls on it and makes for a comfortable viewing experience. It does catch fingerprint smudges, so it is best to leave the glass untouched with your hands. The beauty of this TV set has been accentuated by a thin transparent strip present below the bottom bezel with the Panasonic name at the centre that lights up by white LED when the unit is switched on. Various grills are located on the aluminium back-cover to vent out hot air produced inside.
Control buttons are completely absent at the front. Instead, they are all placed on the left side, just behind the bezel.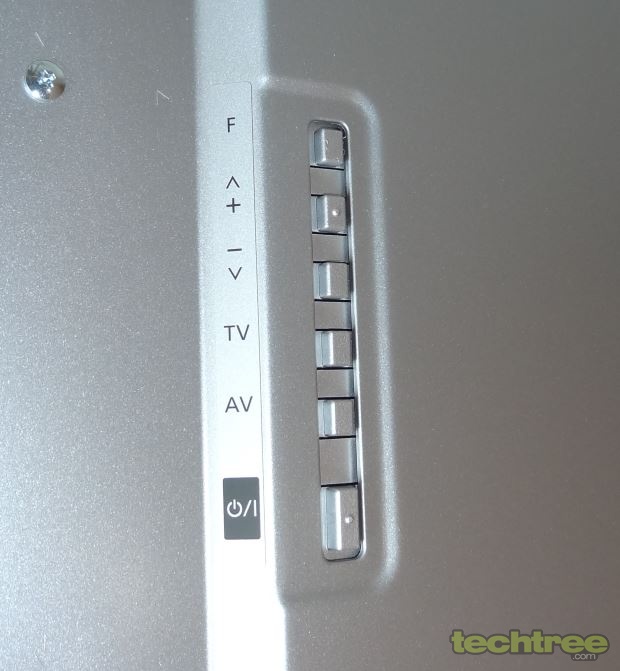 Controls and connectors present on the left side
Most of the commonly used connectors are present at the back on the right hand side, from where they can be easily accessed even after the TV is wall-mounted. These include four HDMI ports to connect HD sources such as an HD set-top box, Blu-ray player, HD media player, gaming console, and PC. There are two AV input ports (one at the back) to connect legacy devices such as an analogue set-top box or DVD player. There is even a headphone jack. Of course, if you really plan to use this headphone jack, then you will need a really long cable due to the huge size of the TV screen making it impractical to watch from too close.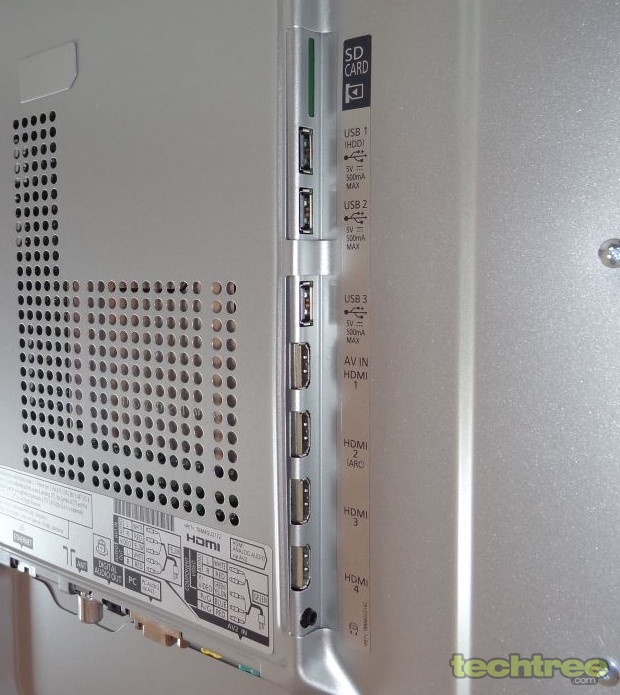 A wide range of connectivity options is present at the back
Panasonic has also provided three USB 2.0 ports and an SD card slot to view movies, pictures, or listen to music placed on these media types. It supports playback of 1080p video and supports just about every file format. File system is also not an issue as it can support FAT32, NTFS, as well as exFAT. It worked with USB drives as large 2 GB and there should be no reason for it to not work with larger capacity drives.
There are a few more ports at the back, facing down and these may be better accessed when the TV is on the pedestal stand than when it is wall-mounted. An AV out has also been provided which can be connected to a recording device. Cable connections can be connected to the co-axial connector present on one side of the collection of these connectors. A lone RJ-45 port (Ethernet) is present nearby to connect and make use of DLNA/VIERA CAST/Internet features of the TV. There is even a D-Sub (VGA) input to connect an older PC.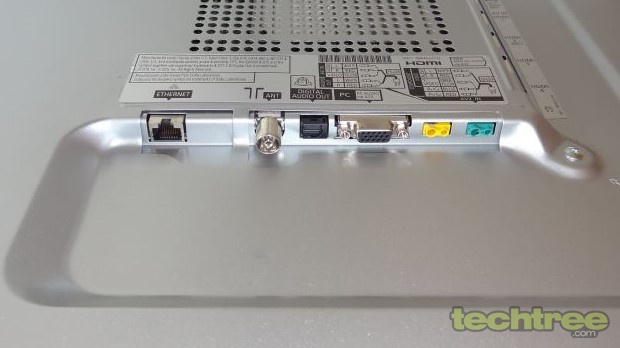 Connectors present, facing down.
Some of the other notable features of this TV include in-built Wi-Fi and DLNA, which makes it easy to use it on a home network to display content from supporting devices that are present on the network. VIERA CAST is yet another feature, which allows you to enjoy internet content such as YouTube, Skype, photos, movies, and weather on the TV screen.
Performance
We connected the TV to the Amkette FlashTV HD media player using a HDMI cable to view HD movies, and to a PC using an HDMI v1.4 cable to view 3D content using NVIDIA 3DTV Play software. A Tata Sky+ HD connection was used to find out the quality of standard television programming and a few HD channels being offered.
HD HQV Benchmark
The VIERA scored high marks as far as the colour range is concerned with smooth gradations like we have never seen before on an LED TV. The black levels are very good and compare favourably against plasma panels. It came off with flying colours in every test that was thrown its way, including the Video Resolution Loss and Noise Reduction test.
2D Picture Quality
Watching HD movies on this TV was a wonderful experience due to its rich colours and contrast levels, wide viewing angles, and the larger-than-life and crisp imagery. The colour reproduction is natural with no noticeable saturation. The TV is very bright, probably a result of it being ready to display 3D in full brightness (as you will read in the 3D test). We actually had to turn down the brightness a few notches to be able to comfortably view without straining our eyes. This is actually a good thing because panels become dimmer as they age and the extra high brightness should make this one last longer.
HD channels from the set top box look amazing on this TV. Switching to SD channels was found to be surprisingly good, although you can't help but notice some blurriness due to the SD content being blown up to such a large size screen. Also, you end up with vertical bars on the left and right when watching at the correct aspect ratio, because the display is 16:9 widescreen, while the current SD channels offer only 4:3. Since the quality of normal Cable TV is generally worse, we recommend against using it with this TV.
Audio is surprisingly good for a TV. The bass is quite good, thanks to the 75 mm driver at the rear that takes care of this frequency range. There are eight train speakers inside to take care of the other audio frequencies and these make it possible to produce highly directional audio, which is something hard to come across in a TV set. Most of the speakers open up at the rear, while some are directed down. The dialogue clarity is amazing and the audio is loud enough that you will rarely need to turn the volume above 50%.
3D Performance
In order to be able to view 3D content, you can connect this TV to a PC capable of producing 3D video output, or a 3D Blu-ray player, which will limit the possibility to just using 3D Blu-rays, or simply play 3D content off a USB drive as the TV can automatically detect the content type and display accordingly. When using a PC, you can view a variety of 3D content including computer games. In our case, the TV was connected to a PC equipped with NVIDIA 3DTV Play and a 3D Blu-ray drive.
Space Station 3D, Avatar, Transformers: Dark Of The Moon, and The Adventures Of Tintin were used to gauge the 3D performance in movies. Additionally, the TV's 2D to 3D conversion algorithm was also reviewed. This TV really immerses you into the 3D world it recreates around you delivering an overall experience almost rivalling that of a movie theatre, owing largely to the large size images. The 3D experience would have been good enough to even convert sceptics of 3D into fans, had there not been the slight and ever-present flicker in this mode. This makes it difficult to watch the movies for long hours, at least for those with sensitive eyes. Other than this issue, there was no crosstalk or ghosting issue, which has been one of the common complaints about 3D. You can turn your head or even move around the TV and get the same 3D experience. As mentioned earlier, the brightness is quite high, thus taking care of another common complaint against 3D of dim images.
This TV also supports playback of 3D content through its own media player as it can detect almost all 3D standards such as Frame Sequential, Side by Side, and Top and Bottom. The TV allows adjustment of 3D settings including swapping of left and right images if they are not proper. You can also adjust the 3D depth, which is actually the adjustment of the inter-ocular distance (distance between the eyes). While this distance is 6.5 cm on an average, a little more or less can cause discomfort, and this setting helps to adjust inappropriate settings hard-coded in some 3D contents to make for more comfortable 3D viewing.
Other Features
The built-in media player works so well that you won't really need to use an external player, except if you want to play off optical drives. The interface of the media player consists of separate sections for pictures, music, and movies. However, the listing of files can lead to confusion and navigation can be a problem because the directory structure is not clearly visible. File access seems to be as quick as from a dedicated media player, and this one also supports subtitles of formats SRT, TXT, and SUB. It also supports files with multiple audio streams, letting you select the one you want to hear. The dedicated playback controls on the remote control come handy while using this media player.
Power Consumption
Having reviewed large screen TVs before, I didn't have high hopes as far as the power consumption is concerned. However, I was pleasantly surprised that this TV consumes less power than even a 40" LCD TV bought around a couple of years ago. The power consumption was found to be around 60 W in the Eco mode, while it lingered around 100 W in the normal mode. Even when you enable Dynamic Contrast, expecting to bump up the power consumption, it remains at just around 110 W. To keep things in perspective, a moderately powerful PC with a graphics card consumes just about the same. In fact, this is the first large-screen TV that I have come across, which can work off a power inverter. When set to Normal mode, the unit consumed an average of 0.1 unit of electricity in an hour, which is not really much for the size. Unlike plasma TVs, this one doesn't generate measurable heat and is comfortable to view for long hours even with no air conditioning.
Verdict
The stylish-looking Panasonic VIERA TH-L55WT50D will blow you away with its sheer size and performance. The 55" panel is really huge enough to turn your living room into a mini theatre for your private screenings. The image quality of the IPS panel is top-notch and the images are crisp, rich in colour, and bright. While it is not as good as plasma TVs, the black levels are nevertheless very good and you are unlikely to see greys when you are supposed to see black. The 3D experience is better than most TVs, as Panasonic has taken care of brightness and crosstalk, but there is still some flickering that may not allow you to watch 3D content for long hours. Two pairs of 3D glasses are provided, but you can buy more if you so require.
The USB media player is one of the best we have come across in a television and almost makes it unnecessary to purchase a separate media player. It supports almost every file format, file system, and even works with large capacity external hard drives. Unlike a plasma TV, the power consumption is quite low for a 55-incher as it consumes only as much as a moderately powered PC. At an MRP of Rs 2,73,000, this may seem to be an expensive proposition, but the money is well worth it when you consider the unique viewing experience that it delivers right in your living room. If you search around, you can actually get it for over 22% less on online shopping portals at around Rs 2,13,000, making it a more attractive buy for those who can afford it.
Design And Build: 4.5/5
Features: 4.5/5
Performance: 4/5
Value For Money: 4/5
Mojo: 4/5
Overall Rating: 4/5
TAGS: Displays, Panasonic, VIERA