Samsung ATIV Smart PC Pro 700T1C
An expensive high performance tablet that can double up as a laptop.
Rating

3.5
/5
07th Mar 2013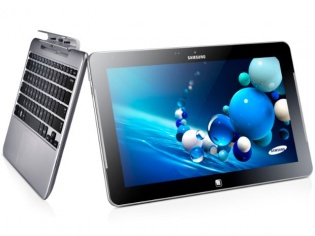 Pros:
Good performance; Ergonomic keyboard; Full HD touchscreen; battery life.
Samsung ATIV Smart PC Pro 700T1C
MRP: Rs 75,000
Samsung launched the ATIV series of touchscreen devices consisting of the 11.6" Smart PC and Smart PC Pro (both considered laptops running Windows 8), ATIV Tab (a tablet running Windows RT), and the ATIV S smartphone running Windows Phone 8 (currently numbering at just a single model). We have already reviewed the ATIV Smart PC powered by the Intel Atom CPU, and this time we have the more powerful Smart PC Pro with an Intel Core i5 CPU that should really pack better computing power. Both the convertible devices have a detachable keyboard that allows them to switch from a laptop to a tablet and back within seconds.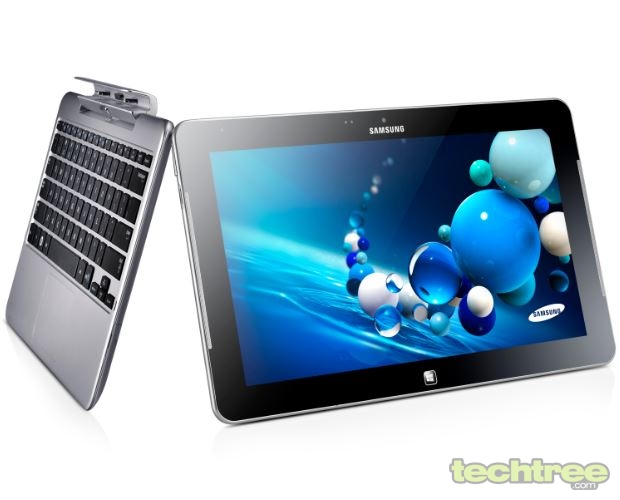 Build And Features
The Smart PC Pro comes in an all-black exterior that gives it serious looks like a business machine. While most of the body has been made to appear like brushed metal, it is only the base that is really metal, while the rest is plastic. Overall, it looks a lot better than the Smart PC, which has been given the familiar rounded appearance of other Samsung products.

While Samsung doesn't appear to categorise this under tablets, it is essentially a tablet PC because the computing hardware is entirely within the screen. The keyboard, which is detachable, is only an accessory. The tablet slides and locks into the keyboard dock, which has a metallic sleeve, by means of a couple of mechanical locks. These can be easily disengaged by pressing a button.

Once docked, the screen can be opened just around 100 degrees or so. The hinge is smooth and seems to be built to last. The tablet part is heavier than the dock because it contains all the hardware, yet the hinge has enough friction to hold it in position at any angle, rather than shutting close under its weight. A small tab is present at the centre of the keyboard rest under the touchpad to make it easy to open the device. When closed, the unit's dimensions are 12.1" (w) x 7.75" (d) x 0.8" (2 cm) (h) (0.9" or 2.2 cm at the metallic dock sleeve). Total weight is 1.6 kg, of which the tablet weighs 0.9 kg, while the keyboard dock weighs 0.7 kg. The overall build quality is quite good, but the dock's electrical contact with the tablet tends to break occasionally when the tablet is moved such as while changing its angle on the hinge, even with the mechanical locks still holding it in the docked position.

The SuperBright 11.6" Full HD screen with 10-point capacitive multi-touch capability looks rather good. While it is not mentioned whether it is IPS, the viewing angles are quite good, making us suspect that it is indeed an IPS panel. Like all touchscreens, this one is glossy too and does tend to gather fingerprints rather easily. However, it is bright enough to be used even in a well-illuminated room without much fear of distracting reflections.

Stereo speakers are present on the left and right bezels behind long grills. A physical Windows button at the centre gets almost completely hidden and obstructed by the keyboard dock sleeve. A 2 MP front camera at the centre of the top bezel is there for video chat. The bezels are just under an inch wide on all sides, which makes it good to use the edge controls of Windows 8 and reduces the chance of accidental inputs by providing adequate thickness on all sides to hold the tablet.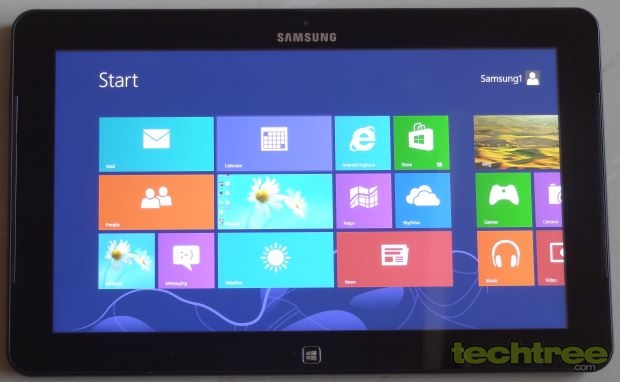 A 5 MP camera without flash has been provided at the rear, although this would be rarely put into any real use. A set of four grills at the back makes sure there is adequate ventilation to keep the device running cool. An embedded S Pen stylus has also been provided as an additional input device. The tablet itself is 1.2 cm thick and weighs around 0.9 kg, making it rather difficult to carry around in the tablet form (as compared to a much more portable iPad).
The tablet has a SuperSpeed USB 3.0 port, a microSD card slot, and a headphone/microphone combo 3.5 mm socket that is compatible with most mobile phone handsfree that come with a 3.5 mm jack. Two microphone pores are present on top to record stereo sound. The device also has shiny chrome buttons for power (with a blue LED indicator beside it) and display orientation lock. A grill is present for ventilation.

A micro-HDMI port is also provided to take the visuals to a larger HD display device. Just beside this is a volume control rocker, also in shiny chrome.
The keyboard is of island-type as is the case with most laptops these days. It is not backlit and doesn't have a separate numeric keypad. Cursor keys are wide but not tall, but are still large enough to be used without any issue. The spacious trackpad is 3.5" wide and 2" tall. It is present at the centre, so there is a possibility of false inputs from the right hand palm. The mouse buttons are present under the lower area of the trackpad, and are not demarcated to differentiate their presence.
The dock has two USB 2.0 ports on either side protected against dust by flaps. Blue keyboard LED indicators for power and CAPS lock are also present. The underside has four rubber feet at the four corners to keep the device grounded where it is placed on a flat surface.

The device contains components that are usually found in an Ultrabook. It is powered by a dual-core 1.7 GHz Intel Core i5-3317U (hyper-thread supported) with 4 GB of RAM. A 128 GB SSD is present inside, of which a little over 80 GB is left free for the user, with the rest being occupied by pre-installed software and the OS. Wi-Fi 802.11 a/b/g/n and Bluetooth 4.0 are the supported wireless communication protocols.

The Smart PC Pro comes with Windows 8 Professional 64-bit along with a trial version of MS Office 2010. This means that you will have to purchase it after the trial period gets over or opt for a free substitute that suits your requirements.
Performance
The Smart PC Pro boots up in 9 seconds flat, which can be attributed to the SSD and faster components such as the dual-core Intel Core i5 CPU. The overall performance is lag-free even when there is an internet security suite running in the background.

The screen is very responsive. We did not notice any lag or trailing during the test. The excellent viewing angles mean that more than one person can view the content without facing the issue of discolouration associated with cheaper panels. It is quite bright and the brightness is controlled by an ambient light sensor by default, but it can also be controlled manually.

Being Full HD, the icons and text appear tiny by default and you will invariably end up either reducing the resolution, or increasing the font size.

A 1.5 mm keystroke with a good feedback and 3 mm spacing between keys make for an ergonomic typing experience. The large trackpad is also very responsive and allows you to precisely control the cursor. The palm rest is spacious enough to rest your palms during lengthy typing sessions.

Speakers are loud enough to watch movies when there isn't much noise around and the stereo separation is rather good. However, we think it is better to use headphones for a better experience.

Ventilation works well as the device only got moderately hot when we ran the benchmarks. At other times during normal usage, it ran cool.

We conducted a few synthetic benchmarks to find out how the Smart PC Pro performs.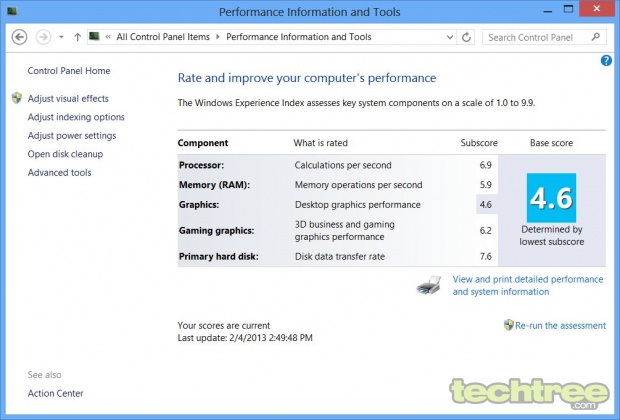 Windows Experience Index

PCMark 7 score
The overall performance from the benchmarks is slower than the competitors Sony VAIO Duo 11 and Acer Aspire S7 and this is mainly in the graphics department. In real world usage, we didn't encounter any visible sluggishness, even when we played 1080p video content or light games.
Battery Life
We measured the battery life by running Battery Eater Pro and by actually using the laptop with the High Performance power scheme of Windows 8. The two tests run in Battery Eater Pro utility are the Reader's test which simulates real-world reading scenario, while the Classic test uses OpenGL rendering to simulate heavy usage such as gaming.

The battery backup was found to be 2 hours 15 minutes when using the Classic test, while it worked for 4 hours 40 minutes in the Reader's test. This is average for a device with Ultrabook-style low-power consuming components. In normal usage that involves using office applications, surfing the internet, occasional music and video, and watching some YouTube clips, the battery lasts for 6.5 hours when used judiciously in the power saving mode. Samsung advertises an 8 hours battery life (using Mobile Mark) and 5 hours of continuous video playback (although it doesn't mention whether these are SD or HD videos and at what bitrates). All in all, the battery life is decent when you consider the fact that there are some power-hungry components such as the Full HD multi-touch screen.
The Verdict
The Samsung ATIV Smart PC Pro is a powerful Windows 8 device. It is really a tablet rather than a laptop as Samsung wishes to portray it. Its powerful Core i5 dual-core CPU and 128 GB hard drive ensure a speedy and lag-free performance even with multi-tasking. The 11.6" bright Full HD touchscreen with great viewing angles is also very responsive. Thanks to a pair of decent speakers, the multimedia performance is also good. Ergonomics has been adequately taken care of by the keyboard and touchpad. While the design is not bad, it is not innovative either, and makes it appear like a device meant more for business users rather than a general consumer. Battery life is not better than a standard netbook if you are a heavy user, but you can push it to a decent 7.5 hours with power management. The Samsungindiastore.com website mentions that it is now available with a special offer of a free wireless touch mouse that costs Rs 4000. While it is still quite expensive at Rs 75,500, this seems to be a better buy when compared to the more expensive Sony VAIO Duo 11.
Build And Design: 3.5/5
Features: 4/5
Performance: 4/5
Value For Money: 3.5/5
Mojo: 3.5/5
Overall Rating: 3.5/5