Sony VAIO Duo 11
A tablet? A laptop? Has Sony managed to make a happy marriage between the two?
Rating

3.5
/5
24th Jan 2013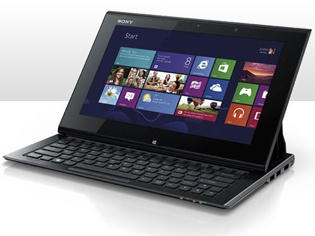 Pros:
Dazzling Full HD touchscreen; Fast performance; Looks good; Backlit keyboard; Noise cancelling headphone included.
Cons:
Keyboard lacks ergonomics due to awkward form factor; No touchpad; Expensive.
Sony VAIO Duo 11 (SVD11213CN)
MRP: Rs 90,000
The launch of Windows 8 has helped spawn a host of touchscreen computing devices from several manufacturers, including those that play a dual role - that of a laptop and of a desktop. Sony's VAIO Duo 11 is one such, but technically, this is a laptop, because the computing hardware is present under the keyboard, rather than in the screen as would be the case with a tablet. Equally importantly, it is powered by a Core i5 CPU (which is part of the PC platform as we know it) and not an ARM CPU (now a standard for mobile phones). It sports a 11.6" 1080p touchscreen to aptly use the Windows 8 touch interface and features components that are usually found in Ultrabooks.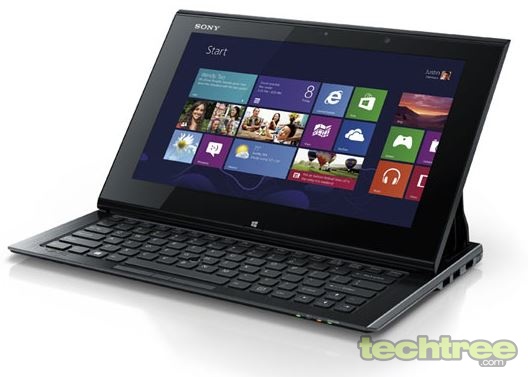 Design And Features

Exterior: The all-black casing and exterior of the Sony VAIO Duo 11 exudes serious style and elegance. Most of the body, including the back of the screen, and the area surrounding the keyboard, is made of aluminium with a brushed anodised finish. The base appears to be made of a hard polymer that seems durable. The overall thickness of the device in the tablet mode (more on this later) is around 18 mm, while the screen is around 7 mm. At 1.3 kg, it is rather light for a laptop, but too heavy to carry around as a tablet.
Display: The screen is an 11.6" OptiContrast Panel with a 10-point capacitive multi-touch capability. With an LED-backlighting and an IPS panel, it has Full HD (1920x1080) pixel dimensions. Naturally, the viewing angles are quite wide (not that they are really necessary in a small-screen device) and the colours also appear rather good. However, being a touchscreen, it obviously has a glossy finish, which may be distracting due to the reflections, especially in a well-illuminated environment. It also rather easily gathers smudges and fingerprints that are difficult to get rid of. An ambient light sensor is situated at the top to set the screen brightness according to the surrounding lighting. A 2 mp camera with an "Exmor R for PC" image sensor and capable of 1080p capture is also situated nearby, and there is one more such camera on the rear, in the base. However, it is very inconvenient to use these cameras for anything other than video chat, due to the bulk of the device, and also because the photo and video quality is nothing to write home about.
Keyboard & (no) mouse: The keyboard is of island-type, with good spacing in between, making it easier to distinguish between keys, thus increasing the typing accuracy. The keys have a smooth and slightly lustrous finish. There is an ample keystroke of 1.2 mm for a good feedback. They have backlighting to improve visibility in environments with insufficient lighting. The backlighting can be controlled manually or via the ambient light sensor. Due to space limitations, the touchpad has been completely done away with and so is the palm-rest. Instead, there is an optical trackpad (similar to the one on a BlackBerry phone), that lets you control mouse movements. Mouse buttons are present under the spacebar in the form of long and narrow strips. These have very poor feedback to discern whether or not a click has got registered without actually looking at the result on the screen.
Connectivity: The VAIO Duo 11, although fitted in a small body, still manages to include several ports. It has two SuperSpeed USB 3.0 ports (one with offline charging) and an HDMI-out. That is not all; there is also a D-Sub port to connect older display devices, while a Gigabit Ethernet port at the rear provides wired connectivity. A headphone/microphone combo socket is present to connect the bundled headphone. A memory card slot is also provided that supports various formats such as SD, MMC, and Sony's Memory Stick PRO.
There are several heat vents underneath towards the rear, which help transport hot air to the outside, so that the device keeps running cool. A pair of speakers is also present on the left and right towards the front. The audio technology in use here is Dolby certified so you can expect at least a decent performance. Volume buttons, orientation lock button, and ASSIST button are present on the right of the device. These are quite inconspicuous because their surface is in the same plane as the casing. Therefore, it is difficult to operate them without looking at them. There is provision to attach a battery slice at the base to add to the backup time.
Two small rubber feet are present at the front, while there are two more of the folding type at the rear, which can be opened up to raise the end away from the keyboard when placed on a desk. This is another reason why it seems that the laptop is actually meant to be used in this way, rather than on a lap (as a laptop is generally supposed to be used). The main reason for us to think so is that there is no palm-rest over here, thus it seems that the user is expected to rest them on the desk while using. When using it on a lap, it becomes difficult to use it for a long duration. In either case, ergonomics is not a selling point here.
While you get Windows 8 Professional 64-bit, the bundled MS Office 9 is a trial version, so you will eventually have to shell out extra for that or opt for some freeware substitute. There is some bloatware installed, but one useful tool is the VAIO Care software that can actually help rescue the system when it doesn't work well, and the good thing is that it can easily be fired up using the dedicated ASSIST button.
Performance
CPU: 1.7 GHz Intel Core i5-3317U with two Hyperthreaded cores.
RAM: 4 GB (no provision to expand)
Storage: 128 GB SSD
GPS receiver
NFC is also present, although it is currently of no use in India.
The combination of the Core i5 and a SSD gives the VAIO Duo 11 a startup time just 8 seconds! The overall performance is very snappy even with antivirus installed and running in the background.
The screen has excellent touch response with no detectable lag of any sort. In fact, it compares very favourably with the Apple iPad. Windows 8 being an OS more inclined towards touchscreen devices, it is indeed a joy to use the OS on this laptop. Swiping across the screen, resizing, and shuffling between applications is simply child's play. For those who state that the new OS presents a steep learning curve, this laptop proves it otherwise. We found ourselves using the desktop mode for old apps, and easily switched to the touchscreen mode when using apps that are meant to be used that way.
The 1920x1080 pixels for an 11.6" display may be too much of a good thing, since text appears very tiny and you invariably end up decreasing the resolution. While the IPS screen allows for a wide viewing angle without noticeable colour distortion, it doesn't really matter much for such a small screen size where only one person will be viewing. A negative for the display is its glossy surface, which makes it a little difficult to view it with light shining on it.
The orientation sensor acts erratically. This is in fact a design flaw that is linked to the angled placement of the screen — it works perfectly well when the screen is vertical, rather than angled. In fact, this could have been easily handled by automatically locking the orientation when in laptop mode.
As mentioned earlier, ergonomics goes for a toss with the lack of a palm rest that makes it difficult to type for too long unless you keep the device on a desk, where it is the desk that provides rest to the palms. The lack of touchpad does hurt and it is very difficult to control the cursor position using the tiny optical trackpad.
The speakers placed at the bottom are pretty loud and clear. It would be asking for too much if you expect great bass performance, but they don't let you down if you are watching a TV series or online streaming video. You can always use the bundled headphone for better audio quality (Sony provides a pair of noise cancelling in-ear headphones that not only sound good, but also effectively cancel out ambient sounds).
We conducted a few synthetic benchmarks to find out how the VAIO Duo 11 performs.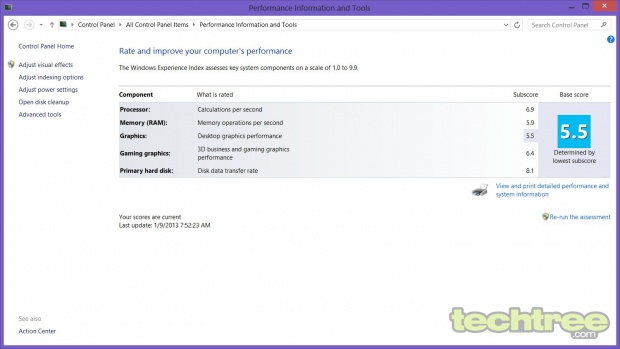 Windows Experience Index


PCMark 7 score
The benchmark results indicate clearly that the VAIO Duo 11 performs slightly faster than the Acer S7, which actually has faster hardware.
Battery Life
We measured the battery life by running Battery Eater Pro and by actually using the laptop with the Balanced power scheme of Windows 8. The two tests run in Battery Eater Pro utility are the Reader's test which simulates real-world reading scenario, while the Classic test uses OpenGL rendering to simulate heavy usage such as gaming.
The battery backup was found to be 1 hour 40 minutes when using the Classic test, while it worked for 4 hours 35 minutes in the Reader's test. This is average for a device with low-power consuming components of an Ultrabook and is consistent with what Sony is advertising. In normal usage that involves using office applications, surfing the internet, occasional music and video, and watching some YouTube clips, the battery lasts for two and a half hours, while it can be pushed a little farther than 6 hours when used judiciously in the power saving mode. All in all, the battery life is decent when you consider the fact that there are some power-hungry components such as the Full HD multi-touch screen.
The Verdict
The Sony VAIO Duo 11 is the first Windows 8 laptop with such a unique form factor. While it looks good, the form factor seems to be a compromise as far as ergonomics is concerned. It is too large and bulky to be carried as a tablet, and the keyboard is not ergonomic enough to use over long duration. The performance is top-notch with the powerful components such as the fast CPU and SSD. The Full HD touchscreen IPS panel that takes full advantage of the Windows 8 UI is very responsive and also looks good. Multimedia performance is quite good with the decently loud and clear speakers. The generous number of ports makes it very suitable even for office use. Battery life may not be sufficient for some, so you might want to invest in a battery slice to double it up. Priced at Rs 90,000, this can be a speedy and cool-looking gizmo to show off to your friends for bragging rights, if you are willing to overlook the lack of ergonomics.
Build And Design: 3.5/5
Features: 4/5
Performance: 4/5
Value For Money: 2.5/5
Mojo: 2.5/5
Overall Rating: 3.5/5
TAGS: Laptops, Sony, VAIO, Jayesh