Sennheiser MOMENTUM Review
Exemplary performance? Luxury in feel? If you have wondered what a 25k headphone is all about, this review is for you.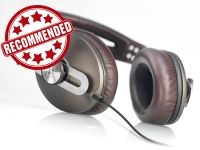 Pros:
Excellent performance; Superb styling; Replaceable cables; Inline remote control.
Cons:
Earpads can be too small for ears; Expensive.
Sennheiser MOMENTUM
MRP: Rs 25,000
There's no extra zero added to the price above. Yes, it is all of a quarter of a lakh Rupees. High-quality sounds come at a premium price. That might as well be true with the Sennheiser MOMENTUM headphone, which is a luxury product made using expensive materials. In addition to audio playback, these also offer handsfree functionality for the iPhone. Despite its price tag, the company has not classified it as audiophile-grade, which makes me a little sceptical of what to expect. Read on to find out if it is really worth the price it demands.
Design And Features

Luxury: The Sennheiser MOMENTUM features a closed-back, circumaural (around-the-ear) design with neodymium drivers that can produce rich audio ranging from 16 Hz to 22,000 Hz, as per specifications. This pretty much covers the entire frequency range of the average human ear. The leather-bound cans sport a retro look. As per Sennheiser, the soft, fine dark brown leather is from the "traditional English tannery" Pittards. The leather has a light and pleasant fragrance, as compared to the unpleasant odour that is usually associated with the material. Being breathable, it is supposed to allow for longer usage and also be tough enough to endure sweat and water. The earpads are replaceable. The headset is comfortably lightweight at just 130 grams.
The headband is made of a thin and flexible stainless steel strip with brushed metal finish. The top portion that rests on the head is covered with same dark brown leather that appears to be hand-sewn at the seams and fastened by four screws each on the left and right ends. The lower side of this portion has foam inside so that it rests gently on the head. The cans can slide across this band via metallic sliders to be adjusted according to your head size.
Restating its premium nature, Sennheiser provides a brown hard carrying case with soft velvet covering, having dual zip locks. There is an additional a compartment to store the two cables, and a 3.5 mm to 6.3 mm audio adapter that has also been provided along. This allows you to connect the headphone to Hi-Fi equipment that usually features such a connector.
Cables and 'Smart Remote': The cables are replaceable, with one end plugging into the left can. This is actually a good thing because it is usually the cables and connectors that go wrong with headphones. Sennheiser provides two 1.3 m long cables in the package: one with and one without the inline controller known as Smart Remote. Audio purists might want to use the one without the inline control. The length of the cables is sufficient to plug them comfortably to the soundcard sockets at the rear of a PC cabinet. The connector of the cable with the Smart Remote is hinged at a convenient angle. The cable connectors do not have gold plating, which is standard with audiophile equipment to reduce electrical noise at the contacts.
The Smart Remote is a shiny metallic controller with two volume buttons and with a button in the centre embossed with the Sennheiser logo. The Smart Remote can be used with iDevices and quite a few other mobile phones to play, pause, forward, rewind, skip, and go to the previous track. However, the volume control only works with iDevices. Thanks to the inbuilt microphone, it also works as a handsfree with the iPhone (3GS and above) so you can accept and reject calls as well. That being said, the Smart Remote does not control volume or playback when connected to a PC.
Performance
I must confess that I didn't have very high expectations from the MOMENTUM because although it is a luxury product, Sennheiser doesn't list it as a audiophile headphones on its website. However, I was in for a pleasant surprise, and I must say that the German manufacturer is only being too modest about the capabilities of this product. The audio is well-balanced without any special emphasis on a particular frequency range. Many manufacturers are known to have a bias towards the lower frequencies (bass) because most people like the thump that bass brings. Purists however hate this behaviour. The MOMENTUM tries to keep it as unadulterated as possible. In fact, the audio is so clear that I could actually hear details that I hadn't experienced before.
The headphone passed the frequency test with flying colours. This includes playing back sound at various frequencies using Foobar. It even breezed past the bass test with ultra-low frequency audio files, where most other headphones and speakers tend to falter. The best thing is that there is no noticeable distortion even if you turn up the volume to the maximum (if you can bear to listen to that high a volume).
These are capable of accurately producing soundstage according to the source audio. Fans of western classical music can rejoice because the MOMENTUM recreates accurate positioning of various musical instruments. This also works well while watching movies because it adds that much-sought-after immersive audio dimension.
Having a closed-back design that seals your ears from the surroundings, you can be rest assured that your neighbour will not hear what you are listening to. It also acts as a physical barrier that seals off the ear from the ambient sounds, thus contributing towards an immersive listening experience.
Not everything is well, though. The earcups have a size that is smaller than the average around-the-ear headphone. The oval hollow that encapsulates the ear has a height of just a little over 2" (5 cm) and width of around 1.2" (3 cm), which is smaller than the average male human ear with over 2.4" (6 cm) height. Even after considering the flexibility of the earpads, it still becomes unpleasant (and at times downright painful) when you extend the listening session to beyond half an hour, at a stretch.
The Verdict
The Sennheiser MOMENTUM, although not branded as audiophile-grade, perform just as well. The audio reproduction is balanced across the audio frequency spectrum, which is what a good pair of cans is supposed to do. The retro looks with the premium leather will surely appeal to most. It even works with iDevices with the inline remote control. Thanks to the microphone, it can also be used as a handsfree with the iPhone, although it seems to be absurd to have a handsfree in this price. While it seems cosy to wear, there is a design flaw that makes it unpleasant to wear for extended listening sessions. If you are ready to overlook that aspect, there is really nothing that is wrong with the MOMENTUM. Except of course, the premium pricing of Rs 25,000 (the price is not wrong per se, but it is a bit too much for most people). If you've already bought the rest of your entertainment system and have some serious money left, we suggest you go ahead and blow it on this Sennheiser.

Features: 4/5
Performance: 4.5/5
Ergonomics: 3.5/5
Value For Money: 3.5/5
Mojo: 4/5
Overall Rating: 4/5
TAGS: Headphones, Sennheiser, Geek Corner
Opinion Poll
Which is the most important aspect of a smartphone?
Operating system
18%
Display
6%
Camera
12%
Processor and RAM
41%
Battery
15%
SIM slots
1%
After-sales service
6%
Total votes: 6185