BenQ XL2420TX
Finally, a PC monitor that delivers stunning 3D visuals sans the headache! However it costs as much as a full PC does. Is the price worth it?
Rating

4
/5
21st Feb 2013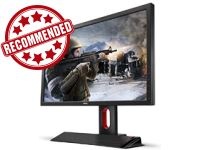 Pros:
Excellent 3D performance with comfortable viewing; Bright display; S Switch for quick access to preset profiles; Great features for gamers; Adjustable along multiple axes; Very sturdy build.
Cons:
Discoloration when viewed at an angle; Comes with only one pair of 3D glasses; Expensive.
BenQ XL2420TX
MRP: Rs 31,000
While 3D visual technologies have gained popularity mainly due to movies in cinemas, the latest wave of resurgence in interest has also resulted in the technology entering our living rooms with televisions and PC monitors. Speaking of PC monitors, BenQ has just launched the 24" XL2420TX 3D monitor compatible with NVIDIA 3D Vision 2. Supporting a refresh rate of 120 Hz, this monitor can display 3D images and videos in Full HD (1080p) glory. Primarily targeting gamers, there are features such as an S Switch to quickly switch gaming preset modes and a refresh rate of 2 ms to allow for blur-free fast frame rates. Let's find out if this monitor manages to make 3D a bearable experience.
Design And Features
The monitor sports an all-black bezel that is 1.8 cm thick on all sides and is unconventionally deep, with the plane of the monitor 8 mm behind the front-facing plane of the bezel. While it is around 2.3 cm at the edges, which is not really thin by today's LED-backlit PC monitor standards, it gradually thickens towards the centre at the back to a maximum thickness of around 7 cm (excluding the stand). The bezel as well as the panel has a non-reflective matte finish, which is a good thing because it makes for a better movie watching experience sans the reflective distractions.

This 24" monitor has a TN panel with LED-backlighting and pixel dimensions of 1920x1080, thus capable of displaying Full HD content natively. With a 120 Hz refresh rate and being NVIDIA 3D Vision 2 ready, it is capable of displaying 3D content in Full HD glory, as against the half HD (and therefore inferior) content possible with a passive 3D monitor. With a typical specified brightness level of 350 nits (or cd/m2) due to the requirements of NVIDIA 3D Vision 2, it is brighter than standard monitors that offer a brightness of 200-250 nits. The 2 ms (grey-to-grey) response time makes it good to view fast action scenes without much fear of trailing.

The stand is rather sturdy and is made of metal. The base has a T shape with the wider part towards the front and the vertical part that goes to the monitor, attached towards the rear. The stand allows for tilt, swivel, pivot and height adjustment for your viewing comfort. It allows for left-right swivel of 35 degrees on either side, can be tilted up 20 degrees and down 5 degrees, allows for a 90 degrees clockwise movement to switch to portrait mode, and even lets a height adjustment of 13 cm. The rear upright portion of the stand has a cavity for cable management and there is a special holder to store the 3D glasses when they are not in use. At 6.1 kg, it can be moved around a bit if needed, though it is not as light as other monitors with the same screen size.

The monitor has downward-facing ports on the back side towards its right. The ones to connect display devices include two HDMI, DVI-D, D-Sub, and a Display Port, thus allowing you to connect multiple multimedia devices such as a PC, media player, Blu-ray player, and game console. A mini-USB port is present for connecting the S Switch. A USB Type B connector is provided, which can connect to the PC via the bundled cable, while a Type A USB port is also present so that you can connect a gaming peripheral to the PC in a pass-through mode without having to stretch the cable too far. Two more USB ports are present on the monitor's right and there is also a 3.5 mm stereo audio port to connect external speakers to route the HDMI audio, since the monitor itself doesn't have in-built speakers.

The control buttons are present on its left (your right) and are touch-sensitive, rather than mechanical and are visible only as five LED dots (in addition to a power LED) with no labelling when they are not in use. In fact, they have proximity sensors that light the LEDs up when any object moves near them. While the lack of labelling may irk some, it is not really a problem because when you start using them, the current function of each of the buttons appears on the screen adjacent to the LED. The interface is fast, smooth, and easy to understand as well as operate as it is well-labelled. The monitor has an IR emitter built into the bezel just below the control buttons and adjacent to it is an LED that starts glowing green when the 3D mode is active. It supports three 3D formats namely frame packing, side-by-side, and top-and-bottom.

Touch-sensitive buttons and user interface of the BenQ XL2420TX

A pair of 3D shutter glasses is provided with the monitor to be used when viewing 3D content. The 3D glasses are the same that come with NVIDIA 3D Vision 2 kit and therefore have a 20% larger viewing area that makes for a more comfortable viewing experience with the larger field of view. Thankfully, these look less clumsy and geeky, sport a thinner frame, are lighter, and more comfortable to wear with adjustable nose pieces. They are even large enough for you to be able to wear over prescription glasses. A micro-USB port on the side allows for charging the internal rechargeable batteries. Once charged from any powered USB port, they work for around six hours.

3D glasses

The S Switch is a small mouse-like attachment with three buttons numbered 1, 2, and 3 for three quick preset settings, a return button, and a control wheel similar to the one on a mouse, which lets you cycle through the screen control menu items. This device attaches to the monitor via its meter long USB cable and can be kept handy on the desk for quick access. When not required, there is a provision to attach it magnetically to one of the sides of the base of the stand, in which case, it becomes almost inconspicuous. The monitor interface allows you to save three custom settings, which get associated with the three numbered buttons on the S Switch and can be instantly applied at the press of the appropriate button. This comes handy when you want one mode for movie, a second for general work and internet browsing, with a third for gaming.

The S Switch

In addition to the S Switch and the 3D glasses, BenQ bundles a power cable, DVI-D cable, D-Sub cable, and USB cable to connect to the PC for USB hub functionality. The stand comes dismantled as is the case with every monitor and can be easily put together by means of thumb screws.

BenQ also offers game loader tools that calibrate the monitor according to different games as recommended by the company. Another gamer-specific utility in the monitor is the Black eQualizer that can enhance dark scenes to offer better visibility without over-exposing the bright areas, thus preserving the vital details. This is especially useful to gamers to gain a competitive edge. There are two FPS modes to suit two different gaming scenarios.

Performance
Being NVIDIA 3D Vision ready, this monitor supports over 500 PC games and is completely compatible with Blu-ray 3D players. We tried playing some games and Blu-ray 3D titles by connecting it to an NVIDIA 3D Vision 2 compatible PC and a PS3 via HDMI. As expected, we focused more on 3D rather than 2D.

PC games such as Call Of Duty: Black Ops II, Far Cry 3, and DiRT 2 worked really well and the depth could be perceived easily. COD: Black Ops II is a must-play on this monitor because the 3D environment really puts you right at the centre of the action. Uncharted 3: Drake's Deception on the PS3 also proved to be a good example of how 3D can change the gaming experience.

Blu-ray 3D titles included Avatar, Transformers: Dark of the Moon, The Adventures of Tintin: The Secret of the Unicorn, and Dredd 3D in addition to a few sample 3D demos. We also watched a few streaming 3D videos from 3DVisionLive.com and YouTube.

We must mention here that the games provided more of a perceived depth rather than things popping out of the screen, while the movies had depth as well as objects popping out of the screen. The reason for this is that most 3D movies are shot in a way to enhance the 3D effect, while games are programmed to render behind the plane of the computer monitor.

Unlike with the previous version (the original NVIDIA 3D Vision), the glasses are not as dark, thus allowing the user to see things such as the keyboard and mouse and the surroundings in general with relative ease. Flicker is almost not there and the 3D visuals are bright, which is a very welcome sign of the 3D technology racing towards perfection. Unlike my previous experience with shutter glasses, I could actually watch a couple of movies back-to-back, which is around 5 hours, without experiencing eye fatigue.

Speaking of colour reproduction, the monitor displays warmer colours at the default settings, although proper calibration can be applied to set this right. Displaymate test screen showed that there is some amount of bleeding over in adjacent bands of red and blue, while no such problem was observed with other colours. However, in practice, there is not much of a noticeable problem as far as the image quality is concerned. Viewing angles are as good or bad as a TN panel can give, thus there is discolouration at anything more than 150 degrees from either side. The screen is very bright and we ended up turning down the brightness for 2D viewing. This higher brightness is in compliance with NVIDIA 3D Vision 2 requirements so that the 3D image is not dark as used to be the case in the previous version.

Power consumption was found to hover around 29 W during normal operation, which is higher than a standard 24" LED-backlit monitor which consumes between 20 W and 25 W. There is no special preset setting to save power, although you can reduce the brightness and in turn, reduce power consumption to around 15 W at the lowest level. It must be noted that even at the lowest brightness, the monitor is not really dark and can be used comfortably even with the room lights switched on. Of course, when using 3D, the brightness is automatically controlled by the NVIDIA 3D Vision 2 circuitry built inside and returns to the high power consumption mode.
The Verdict
Before reviewing the BenQ XL2420TX, we had generally negative things to say about 3D, but we must admit that this monitor has managed to sway the tilt towards positive. The 2D image quality, though not superlative, is still quite good and on par with what you expect of a TN panel. Gaming at fast frame rates is not an issue due to the fast response time. The S Switch really helps not just gamers, but any user to instantly and conveniently switch between their three presets. Gamers will rejoice because of the several nifty features that the monitor's got for them. 3D performance is certainly one of the best we have come across, almost completely eliminating common problems such as flicker, crosstalk (double or ghost images), and low brightness. Being NVIDIA 3D Vision 2 ready makes it compatible with a huge number of games and also all Blu-ray 3D titles.
Of course, 3D can be appreciated better if the screen size is larger, but 24" is still good in this case since this is a PC monitor and you will therefore be sitting close to it. The current pricing of Rs 31,000 is still steep for most of us mere mortals, although it is not as obscenely expensive as the 27" ASUS VG278H 3D monitor which costs Rs 47,000. Although it comes with only one pair of 3D glasses,
you can buy an extra pair online at around Rs 8500
if you want to watch 3D movies with your family. If you already have a 3D Vision 2 kit, you can opt for the XL2420T from the same company instead, which has the same specifications but is without the in-built IR emitter and 3D glasses, and is therefore priced a lot lower at Rs 22,000.
Features:
4.5/5
Performance:
4/5
Value For Money:
3/5
Mojo:
4.5/5
Overall Rating:
4/5
TAGS: Displays, 3D, BenQ, NVIDIA, Jayesh