Review: Acer Aspire TimelineX 5830TG-2413G50Mnbb
A great combination of power and battery life.
Rating

4
/5
25th Oct 2011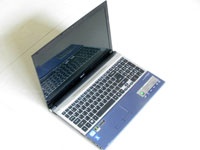 Pros:
Good battery life; Good performance; NVIDIA Optimus; Good looks and ergonomics; Slim profile; Great positional audio; Price.
Cons:
Bad viewing angle of LCD; Glossy screen and bezel gathers dust and fingerprints; Battery is not replaceable or upgradable; No PCMCIA card slot.
Acer Aspire TimelineX 5830TG-2413G50Mnbb
Street price: Rs 41,295 (Flipkart.com)

Acer introduced the TimelineX series of laptops in its Aspire range a couple of years ago, separating them from the flock by their extraordinary battery backup. Acer continues to manufacture TimelineX series laptops, now using newer components with the latest Intel's second generation Core processors. The Acer Aspire TimelineX 5830TG-2413G50Mnbb was sent to us for a review. It was obvious for us to expect a good battery life and a better performance. The review will tell you whether or not this TimelineX lived up to our expectations.

The Acer Aspire TimelineX 5830TG-2413G50Mnbb.
Design And Features
The Acer Aspire TimelineX 5830TG instantly mesmerises you with its slim profile at just 24 mm thickness. The sturdy blue body is constructed out of plastic and aluminium with a rich brushed finish. The 15.6" 1366x768 LED backlit panel is just 6 mm thick at the bezel. The screen and the bezel have glossy finish, which easily gathers dust and fingerprints. The hinge of the lid is pretty sturdy, making it unnecessary to have a lock to secure it. It can open up to 150 degrees wide.
The TimelineX is noted for its slim profile.
Acer has changed the type of keyboard to chiclet-style in this iteration of the TimelineX laptops. This is a full size keyboard with a separate Numeric pad. The keys are comfortably spaced and have a good tactile feedback. The direction keys seem to be too small, though it is hardly a negative to be considered. Function keys double as keys to handle special functions using the "Fn" modifier key, which allows them to be used to perform tasks such as switching between displays, toggling wireless on and off, multimedia functions, etc. The main ENTER key is deliberately made larger so that you don't miss this oft used key, while the SPACEBAR is of perfect length. The touchpad supports multi-touch and has a clearly demarcated vertical scroll zone. It is intelligently placed right below the SPACEBAR, thus reducing the chances of the palm from accidentally touching it.

A backlit Power button is present just above the keyboard towards the left corner, while the right corner has two blue LED indicators to conveniently indicate the status of CAPS and Numeric lock. There is also the PowerSmart button, which can switch the laptop to operate in a power saving mode to maximise the battery life, although in this mode, the screen becomes too dim to work without straining your eyes. A 2.0 speaker system is present behind the perforated metallic strip at the centre. Acer mentions that these are professionally tuned with Dolby Home Theater 4.0 certification.

The laptop has a comfortable chiclet-style keyboard.
Three USB 2.0 ports are provided side by side on the left side of the laptop to connect peripheral devices. A DVD-RW drive is situated next to them to take care of tasks related to optical discs.

Ports on the left side.
The ventilation grills are flanked by a Kensington lock slot on its left and various ports on the right. These ports include a Gigabit Ethernet port, a D-Sub port to connect older monitors, an HDMI port for HDTV output, a SuperSpeed USB 3.0 port marked by its blue plastic interior and audio jacks for microphone and headphones. The USB 3.0 port in this laptop supports charging of devices such as mobile phones and media players even when the laptop is switched off.
Ports on the right side.
A multi-memory card reader slot has been provided at the front. Various LED indicators for power, hard drive activity, and Wi-Fi are present just besides this. This laptop also has a battery gauge button with an LED at the centre. This button lets you find out the battery charge status by pressing it, even when the laptop is switched off. The LED at the centre of this button glows red if the battery is low and blue when it is charged.
Indicators and battery gauge button on the front.
Ventilation grills are present at the bottom of the laptop for hot air exhaust. RAM can be upgraded from the 3 GB to 8 GB by opening the panel secured by screws. The laptop comes with a six-cell battery with the manufacturer rating of 6000 mAh. Unfortunately, the battery is concealed and cannot be replaced or upgraded by the user.

The laptop is powered by an Intel Core i5-2410M dual-core hyperthreaded processor running at 2.30 GHz, with 2.90 GHz Turboboost. It comes with 3 GB DDR3 memory and a 500 GB 5,400 RPM hard drive. The graphics subsystem is handled by NVIDIA Optimus technology, which intelligently switches between the Intel onboard and NVIDIA GT 540M graphics to manage performance and battery life. You can also force the graphics processor to be used with an application via the context menu.

Acer provides Windows 7 Home Premium with this laptop. It also provides MS Office 2010 Starter Edition along with a 30-day trial version of McAfee Internet Security Suite and a few backup tools, disc burning utility, Acer GameZone Console, etc, to make sure that the laptop can be used right after you buy it without having to install anything extra.

Performance
Thanks to the powerful processor and graphics, the laptop exhibits an overall sound performance. Watching movies and listening to music is not a problem because of the good set of speakers, and the crisp screen. Since it is not a 1080p display, any 1080p content played on it is scaled down to the native resolution, thus reducing the system load.

Gaming performance of this laptop is decent with the GT 540M aptly handling medium to high settings in most games. We tried Battlefield: Bad Company 2, which yielded around 30 fps at high settings with 4x MSAA. Similarly, Dirt3 also performed without any problem. One possible reason for the good performance is that the display resolution is limited to the display's native resolution of 1366x768. The laptop does get quite hot after around 15 minutes of such gaming, after which the CPU throttling invariably steps in and reduces the gaming performance.

Windows Experience Index shows that this system is more powerful than many a desktops.
Windows Experience Index.
Synthetic benchmark results are as follows:

PCMark 7 score.
3DMark 11 score.
The PCMark 7 and 3DMark 11 scores are indicative of a powerful system, easily capable of serving as a desktop replacement.

Display Performance
The 15.5" screen reproduces images with good colour and contrast. Gaming or viewing fast-paced movies is not an issue, thanks to a fast response time. However, the screen is plagued by extremely narrow viewing angle, which means that the colours cannot be viewed uniformly on the entire display from any viewing position.

Audio Performance
Audio performance was found to be exceptionally good, although it had an understandably limited bass component. The audio is very clear with dialogues crisply audible. Probably thanks to Dolby Home Theater 4 certification, the speakers present an excellent soundstage with the audio seemingly enveloping you - something quite unexpected of a pair of speakers placed less than 30 cm apart. Overall, the 5830TG exhibits an excellent positional audio performance.

Battery Life And Power consumption
We measured the battery life by actually using the laptop and also by Battery Eater Pro. While using it, we chose the Balanced power scheme of Windows 7 and performed regular tasks such as using a word processor, surfing the internet using Wi-Fi, listening to occasional music and video. The laptop lasted for around 8 hours and 26 minutes, which pretty much corroborates Acer's claims of the long battery life.

The Battery Eater Pro test results did not disappoint either. The two tests run in this utility are the Reader's test which simulates real-world reading scenario, while the Classic test uses OpenGL rendering to simulate heavy usage such as gaming. The battery backup lasted for 4 hours 4 minutes in the Reader's test, while it lasted for 2 hours 23 minutes in the Classic test. The Battery Eater Pro results put it on par with the Acer Aspire AS5755G in the Reader's test, but put it far ahead in the Classic test.

The laptop consumes around of 62 W when stressed to the limit. During regular activity with the Balanced power scheme of Windows 7, it consumes an average of just 18 W. This means that the entire laptop consumes as much power as a regular 23" LED monitor.

Verdict
The Acer Aspire TimelineX 5830TG-2413G50Mnbb presents a tremendous desktop replacement option while exhibiting extraordinary battery backup. Students who live in hostels and working professionals who are on the move would find it appealing due to its workhorse capability and good multimedia performance. A good gaming experience with the discrete graphics and excellent positional audio is a bonus. There are a few negatives as well, but these fade in view of the positives offered by the 5830TG. The laptop is priced well at a street price of Rs 41,295 with a 1-year International Travellers Warranty and free Transit Insurance.

Features: 4/5
Design & Features: 4/5
Performance: 4.5/5
Value For Money: 4/5
MoJo: 4.5/5

Overall Rating: 4/5