Review: Philips 46PFL6556
Big screen entertainment with cool free goodies.
Rating

3.5
/5
15th Nov 2011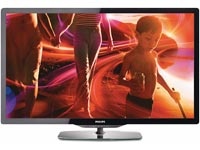 Pros:
Decent picture quality; Excellent bundle; Connectivity options; Power consumption.
Cons:
Narrow viewing angle.
Philips 46PFL6556
MRP: Rs 85,000
Street price: Rs 76,540 (Flipkart.com)

Almost everyone seems to want to buy a large screen TV these days and the festive season provides a good excuse to do just that. There is a large choice available in the market at present with different technologies such as LCD, LED-backlit LCD, and plasma being the most popular. LED-backlit LCD technology is considered to be the latest among these and it is also the most energy-efficient. We have the 46" Philips 42PFL6556 LED-backlit LCD TV with us today. Sporting a Full HD resolution, it claims to have better contrast and clarity with Pixel Plus HD, while HD Natural Motion technology allows for ultra-smooth motion with its 480 Hz engine. The claimed contrast ratio of 8,000,000:1 promises to deliver rich black. To beat the competition, this TV packs in some free goodies which add a lot of value to the product.

Bundle
Remote control with 2xAAA batteries
Pedestal stand
Quick Start Guide
Software declaration
User manual
Warranty certificate

Remote
The lozenge-shaped remote control powered by two AAA batteries is considerably small and stylish as compared to the boring long remote controls, which come with most TVs. There are enough neatly labelled buttons to handle all the most used controls including the media control functions when the TV is connected to a compatible media player using Easylink. Philips has a minimalist approach when it comes to control buttons, thus most of the setup features are available once you press the Home button, rather than directly on the remote.


The TV comes with a stylish remote.


In addition to the above bundle, there are two more products that come as part of the parcel.

BDP5200 Blu-ray 3D Player
The Philips BDP5200 is a 3D-capable Blu-ray player worth Rs 13,000, which comes bundled free with this TV, even though the TV cannot display 3D content. That being said, the BDP5200 is an excellent Blu-ray player supporting the latest Blu-ray 3D format and multiple media formats via the USB 2.0 port. With a piano-black finish, this player matches the styling of the TV. In addition to the tray-loading optical disc player, there is a USB port at the front supporting NTFS file system, allowing you to connect external hard drives and play movies off them. While it handles Blu-ray media well with the menu-driven interface, USB drives show up in a form similar to Windows Explorer with files and folders, making it easy to browse and locate media files. It is capable of playing popular file formats such as MKV, H.264, MPEG2, XviD, AVCHD, WMV, etc. There is also a SD memory card slot at the back for viewing photos and videos made using a digital camera. The output is available via HDMI, composite and analogue.

The internet part of this whole setup depends completely on the internet capability of the BDP5200, which it achieves using the Ethernet port located at the back. It singlehandedly brings Smart TV functionality to the TV and even DLNA. The Ultra Mini keyboard mentioned next needs to be plugged into the USB port of this player to use the full internet functionality including web browsing and Net TV.

The no-nonsense user interface may not be appreciated by many, but Philips has kept fancy show-offs to a minimum and functionality has been given top priority. The player recognises Blu-ray media within a few seconds, while USB drives take even less. The speed at which media can be browsed completely depends on the speed of the USB drive plugged in. In addition to its own remote control, this player can also be controlled by the Philips TV remote control once you activate the Easylink function. Please note that this works only when the player is connected to the TV via HDMI.


The BDP5200 Blu-ray 3D player.
Ultra Mini Keyboard
Philips bundles an Ultra Mini Keyboard, which is nothing but a wireless keyboard with a USB interface. Weighing just 100 grams, this keyboard has dimensions of 15 cm x 5 cm x 1.4 cm. It is powered by an internal rechargeable battery, which gets charged via a mini USB port on the device. It connects to the TV using a USB receiver dongle which can be pulled out from its side. The tiny QWERTY keyboard has all the buttons of a normal keyboard including the function keys, except the numeric pad. There is a touchpad on the right with mouse keys below. Even though it is fairly obvious that this is a cheap Chinese keyboard, the overall feel is decent with good tactile feedback. We were surprised to find that this keyboard even has a backlit for all the keys, which is advantageous when using it in a dark room.

The main function of this keyboard is to be able to use while accessing the internet features of the Philips TV, which it does to our satisfaction. Ergonomics is not to be considered in this case because you are not going to type a lot while using internet via the BDP5200. This keyboard can also serve as a presentation tool, thanks to the laser pointer included in it. It also works with any computer as a wireless keyboard with a touchpad.
The Ultra Mini Keyboard serves its purpose as expected.


Design And Features
The Philips 46PFL6556 is a large television, hence suitable for a large living room with a suitable viewing distance.

Before you decide to purchase it, you should know its dimensions to decide how and where to install it. Its height without the stand is 64 cm, width is 108 cm, while the thickness is 4 cm. We think that it is best to install it on a wall, but if you wish to use the pedestal stand, then you must keep in mind that this stand has a thickness of 30 cm, while the total height of the TV with the stand comes to around 71cm. Also, if you decide to place it on a platform, you have to keep in mind that it weighs 17.36 kg with the pedestal stand. The glass-top pedestal stand is fairly stable and grounds the TV well.
The Philips 46PFL6556.


The TV has a panel measuring 46" diagonally, with a non-reflective finish. The panel is surrounded by a piano-black bezel, which is 3 cm thick on all four sides. The general aesthetic trend is towards thinner bezels, so it would have made sense to make it thinner. Also, the bezel is too glossy and tends to quickly become dirty by fingerprints and dust.

Feather-touch control buttons are provided at the front, just below the bezel at the centre. These include a backlit Power, Volume, Channels, and Home buttons.


Feather-touch control buttons.


Most of the important ports and connectors are present on the left side of the TV, just behind the bezel. These include three HDMI ports, composite AV ports to connect your set top box, and a coaxial port to connect the cable TV or antenna cable. There is even a headphones jack. Of course, if you really plan to use this headphone jack, then you will need a really long cable due to the huge size of the TV screen making it impractical to watch from too close.

Two USB ports are also present to let you play content directly off a USB drive. The TV supports NTFS format, so file size limitation is not an issue. It supports many 1080p video formats including DivX and MKV, although the displayed video is always stretched to occupy the whole screen. This means that only videos having 16:9 aspect ratio are shown as they are meant to be seen.


Connectors on the left side.
There are many connectors at the rear, which are difficult to access once the TV is wall-mounted. These include an AV connector, a component connector, D-Sub port and 3.5 mm stereo-in for PC connectivity, and SPDIF to connect to an HTS. Since the TV does not support any internet feature, there is no network connectivity option.


Connectors at the back.
Performance
We connected the TV to the Philips BDP5200 using a HDMI cable to view HD movies. The TV has an option to setup the colour and audio according to your taste through an 8-step wizard. However, the results are usually less than satisfactory because it invariably sets the contrast to a maximum and brightness so high that blacks appear light grey. Most of the UI options are available once you press the Home button, and there is no shortcut way of achieving that directly from the remote due to the minimal number of buttons.
Users are guided through an 8-step initial setup.


We set the contrast to medium and the brightness such that the blacks appeared as close to a real black as possible. Colour was set to Standard.

HD HQV Benchmark
The Philips scored average marks as far as the colour range is concerned with somewhat wavy colour gradations instead of smooth. The black levels were far from really black and bleeding was fairly evident especially near the edges. It failed the Video Resolution test, though this is not a big issue these days. It also fared poorly in the Noise reduction test, and you will therefore have to depend completely on the noise reduction capabilities of the media player connected to the TV. Thankfully the BDP5200 that comes with the TV handles noise reduction well. However, noisy cable TV signals could still pose a problem for the TV.

Picture Quality
Watching HD movies was not bad, at first sight. However, the fact that this TV has a narrow viewing angle makes it difficult to enjoy a movie because the colours appear better at the centre, but washed out at the right and left edges. The colour reproduction is a little dull, which may appeal to those who do not like bright colours. Streaking was not seen, so watching fast action movies or playing games on the big screen should not be a problem. Playback from devices connected to the USB port was found to be considerably noisy even though the source content was considerably noise-free. Video content played in this way tends to occupy the complete screen regardless of the actual aspect ratio. Audio quality is decent, thanks to the 2.1 speaker system with 16W RMS (2 x 8W RMS) satellites and a 10 W RMS woofer. Dialogues can be clearly heard amidst all the ambient sounds.

Power Consumption
LED-backlit LCD TVs have always been advertised for their low power consumption. This TV consumed an average of 78 W at normal settings. This is a remarkable improvement since LED-backlit TVs we had earlier tested, which consumed around twice this amount. For comparison's sake, a 29" CRT TV consumes a little more than 100 W.

Verdict
The Philips 46PFL6556 is a considerably large TV with 46" diagonal size, capable of displaying 1080p videos. It reproduces the details as good as the source can supply, while the colour reproduction is a little dull at normal settings, though you can adjust it to make it look better. The small viewing angle can be a problem when more than one person watches the TV because of discolouration. Though the TV itself does not sport any special feature, the bundled internet-ready 3D Blu-ray player brings Smart TV capabilities to the TV, albeit without extras such as Skype. It is a smart decision by Philips to bundle this player worth Rs 13,000 and the wireless keyboard worth Rs 5000 as they aptly complement the TV and considerably increase the value of the product as a whole. The low power consumption is another plus point about this TV. The Philips 46PFL6556 is available at an MRP of Rs 85,000 with 1-year warranty, although you can get it for much less as mentioned at the start of the review, making it a good buy for what you are getting.

Features: 4/5
Performance: 4/5
Ease Of Use: 4/5
Value For Money: 3.5/5
MoJo: 3/5

Overall Rating: 3.5/5
TAGS: Displays, Philips, Jayesh