Acer Aspire One 725 — A Decent Netbook, But Only Just
Fairly priced for the hardware and software, but lacks in performance and battery backup.
Rating

3.5
/5
24th Jan 2013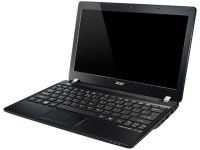 Pros:
Small and lightweight; Great build quality; 11.6" screen with 1366x768 pixels; Well-priced; Good software bundle.
Cons:
Poor performance; Cramped keyboard with small keys; Mouse buttons a little hard to press; Average battery backup; Can't play 1080p movies.
Acer Aspire One 725
Street Price (As On 15-11-2012): Rs 19,100 (Flipkart.com); Rs 23,000 (Cromaretail.com)
Netbooks may not be the real deal for those who are used to laptops and desktops, but they're popular with students and with some professionals — because they're easier to carry around. Acer has been one of the few manufacturers with a bevy of netbooks to choose from. The newest is the Aspire One 725 — one of the few netbooks based on AMD's C-60 APU with two cores operating at 1.0 GHz each. It comes with a relatively large 11.6" LED-backlit screen with pixel dimensions of 1366x768, which is more of a mainstream specification than the 1024x600 more common on netbooks. Let's find out if this new lappy, which comes with Windows 7 Home Basic, is worth it.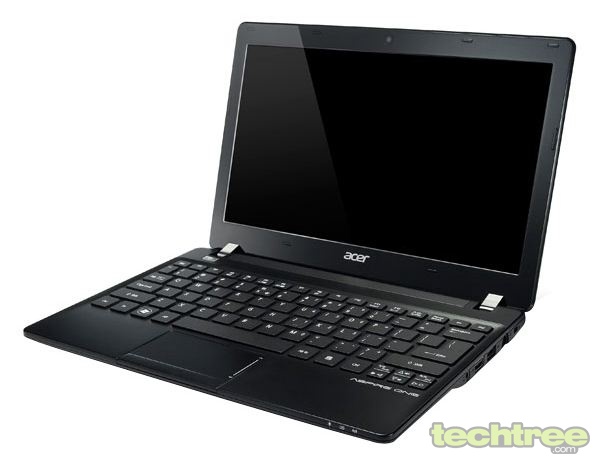 The Acer Aspire One 725
Design And Build Quality
The package contains the netbook, power adapter, and a soft carry pouch to protect it from dust. The black chassis with its glossy, pixie-dust finish is quick to attract fingerprints and dust. Acer has dropped the cool, wavy water-drop design that adorned its earlier netbooks, opting for simple-and-plain with this one. The body appears to be made of high-quality plastic and seems quite sturdy. The rigid hinge, which opens up to 170 degrees, reflects the good build quality. With a non-protruding battery, the AO725 measures 11.2" (l) x 8" (w) x 1" (d), and weighs just 1.3 kg — so it's very easy to carry around.
The keyboard's flat keys are a sore point: They are too close to each other, and it can be difficult to type without looking at the keyboard. There is very little play, and it is not ergonomic over any long duration. Island-type keys would have been a better choice here. The 3.2" x 1.6" touchpad is comfortable, though. It has a demarcated vertical scroll zone and supports gesture controls. The mouse buttons (below the touchpad) are not separated: There's a single horizontal button that see-saws left and right. The touchpad itself has a slight textured finish and is quite responsive; the mouse buttons are a little hard to press.
Display And Sound
The 11.5" LED-backlit display has pixel dimensions of 1366x768. Colours and brightness are good, and the viewing angles are also not bad. But the glossy surface means it's difficult to view the screen outdoors or with a bright light behind you.
A webcam at the centre of the top bezel allows for video chatting. The speakers are at the bottom front of the unit. Unlike with the Acer netbooks we've tested earlier, these speakers are very faint — you will most likely have to plug in headphones. The perforations at the bottom ensure good ventilation for proper heat dissipation of heat.
Ports
The AO725 comes with two USB 2.0 ports on the left along with a 3.5 mm socket for a headset (headphones + microphone), a power socket, and a Kensington lock to tether it and protect against theft. The right side has a SuperSpeed USB 3.0 port, an HDMI-Out, a D-Sub port to connect legacy monitors, and a Gigabit Ethernet port.
Performance
The new dual-core AMD C-60 APU runs at 1 GHz with 2 GB RAM, of which 256 MB is shared by the onboard Radeon HD 6290 graphics. Most applications run well, although antivirus software noticeably slows things down. The 500 GB hard drive is large enough for just about any purpose you'd put a netbook to. Other specs include Wi-Fi and Bluetooth 4.0.
The netbook comes with Windows 7 Home Basic, along with ad-supported Microsoft Office 2010 Starter. The advantage of Windows 7 Home Basic (as opposed to the usual Windows 7 Starter Edition) is that you're eligible for a Windows 8 Professional upgrade at an ultra-low cost (Rs 700).
While reviewing the unit, we didn't have a problem playing 720p videos, but it is simply not possible to play Full HD (1080p) movies on this netbook without stutter in the playback or without losing audio-video sync. You can connect the unit to an HD display via the HDMI port, though.
We conducted a few synthetic benchmarks to find out if the new platform really performs better.
Windows Experience Index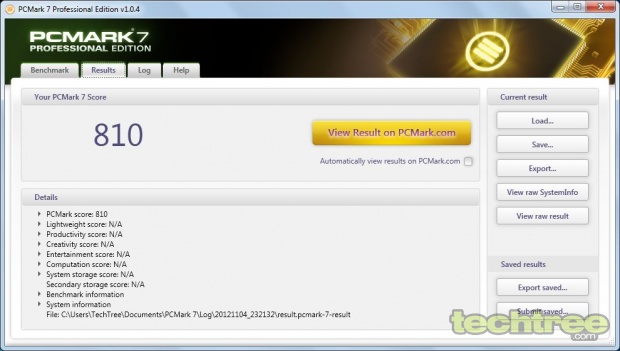 PCMark 7 Score

Battery Performance
For a netbook, battery life is a very important consideration. The AO725 comes with a 4-cell, 2500 mAh battery, which lasted us a little over 4 hours of typical use. This reduced to around 3 hours under heavy use. We also ran the Battery Eater benchmark in the Classic and Reader mode with power management settings first set to Performance Mode, and then tweaked to maximise battery power consumption. The netbook lasted 2:20 hours in the former and 3:35 hours in the latter mode. This means you will most likely get a battery backup of at least this much, even with heavy use. This much backup, in our opinion, is low — the relatively weak battery is to blame. And that is a big negative point for a netbook.
Verdict
If you want a netbook primarily for internet access or an office suite, the Acer Aspire One 725 is a decent performer. The relatively large display with more pixels is easy on the eyes. The unit runs cool, it is silent even when stress-tasked, it's easy to carry around, and it's built well. But if you look beyond these basic positives, you'll be disappointed.
The AMD C-60 can't be called multimedia-friendly: It can play 720p movies, but not Full HD (1080p) — there's stutter and the audio gets de-synced. (Maybe the drivers aren't optimised and an update will fix the issue?) The speakers are dismal. Multitasking, and antivirus software, significantly bog down performance. The keyboard is not ergonomic, so you won't be comfortable using it for long durations. The nominal battery life of 4 hours could have been better, considering that this is supposed to be a power-efficient netbook (and not a power-hungry laptop).
It's a good thing that Acer provides Windows 7 Home Basic, which can be upgraded to Windows 8 for Rs 700. The MS Office 2010 Starter is good enough for office tasks. The Acer Aspire One 725 seems to be fairly priced for all the hardware and software on offer. A better battery backup — even at a slight premium — would have been very much appreciated.
Features: 3.5/5
Design And Build Quality: 4/5
Performance: 2.5/5
Value For Money: 4/5
Mojo: 3/5
Overall Rating: 3.5/5
TAGS: Laptops, Acer, Aspire, Jayesh