WickedLeak Wammy Ethos (4 GB)
A well designed ICS tablet with full phone functionality.
Rating

3.5
/5
24th Jan 2013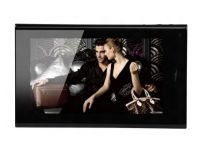 Pros:
Sleek; Full phone functionality; 3G support; 1080p video playback; HDMI-Out.
Cons:
Lacklustre sound quality; Sluggish browser; Limited viewing angles.
WickedLeak Wammy Ethos (4 GB)
MRP (As On 20-Oct-2012): Rs 9300


The affordable tablet segment in India is as crowded as the streets of Mumbai. I've lost count of the companies offering inexpensive Android slates! Naturally, each manufacturer must offer a USP — something beyond "affordable tablet." In the case of the Wammy Ethos, that is its full phone functionality. This certainly gives it an edge over the competition, but let's find out if it justifies the more-than-9K price tag.


Design And Build Quality
The retail package is quite a standard affair: Charger, earphones, and mini-USB and USB OTG cables. But the Wammy Ethos is undoubtedly one of the better-looking budget tablets around. I liked the textured back and the faux metal stripe. The tablet also feels sturdy. Overall, Wickedleak has done a great job here in terms of the unique design and build quality.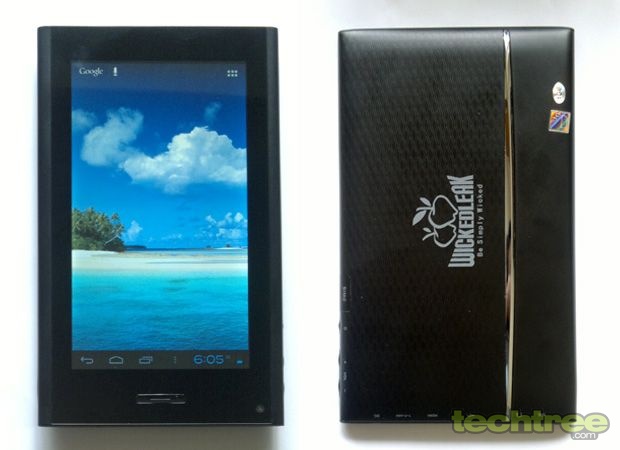 The 7" capacitive touchscreen has pixel dimensions of 800x480. The display is reasonably bright, and offers a decent contrast ratio. That said, it's still no match for the NXG Xtab A 10 Plus' pixel-packed IPS panel. I also think the screen's viewing angles could have been wider.


The tablet is powered by a 1.2 GHz CPU coupled with 512 MB of RAM. Other specs include:
7" capacitive multi-touch screen with 800x480 pixels, 16:9 ratio.
Quad-band GSM (850 / 900 / 1800 /1900 MHz), supports 3G.
Wi-Fi with hotspot capability, Bluetooth.
Mini-HDMI port, Mini-USB 2.0 with OTG support, 3.5 mm jack.
4 GB internal storage (2 GB user available), 32 GB microSD card slot.
1.3 mp front camera.
7.6" (l) x 4.7" (w) x 0.5" (12 mm) (d), 350 grams.
Android 4.0 (Ice Cream Sandwich).
G-Sensor.
3500 mAh battery.

UI And Performance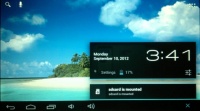 The Wammy Ethos runs Android 4.0 (Ice Cream Sandwich) out of the box. The interface is exactly similar to what we've seen on the Wammy 7 tablet. Thankfully, the manufacturer hasn't tried get "creative" here: you get a refreshingly clean interface. The tablet does a commendable job of handling ICS. There is a nominal lag, but then that's fairly common among budget tablets.

The tablet's USP, like I said, is the full phone functionality. I was pleased to note that it works as claimed. To avoid the embarrassment of holding a 7" tablet near your ear, you'd do well to get yourself a Bluetooth headset.
Like every other Android tablet, the Ethos has a front facing camera for video chat. 3G connectivity allows you to browse the web while travelling. The browser supports Flash, but it tends to become unresponsive during playback; even while loading standard pages, I found it more sluggish than other tablets I've checked out in this price bracket.


Multimedia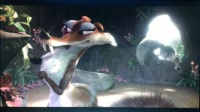 The bundled earphones are fugly — and they sound as bad as they look. Sadly, it doesn't get much better with after-market earphones either. Even more disturbing is the fact that the speaker is weak. On the bright side, the Wammy Ethos had no problem handling MP4, DivX, XviD, and MKV files up to 1080p. It has HDMI-Out, so it can be a nice, cheap companion to your HDTV. Overall, the Ethos' multimedia performance turns out to be a mixed bag.


Battery And Verdict
The 3500 mAh battery keeps the device running for about eight hours under normal use. That isn't bad considering that GSM functions are quite battery-sapping.

The Ethos offers great design and a sturdy build. It's packed with features — full phone functionality, HDMI port, and 1080p playback; the ICS experience is decent. The downside is primarily the sound quality. All in all, at about Rs 9000, the Ethos means good value for money courtesy its GSM features.
If you're not inclined towards a tablet/phone hybrid, you're better off with the NXG Xtab A10 Plus, though.


Features: 4/5
Design And Build Quality: 3.5/5
Performance: 3/5
Value For Money: 3.5/5
Mojo: 3.5/5
Overall Rating: 3.5/5