Review: Nokia C2-00
Two good.
Rating

4
/5
11th May 2015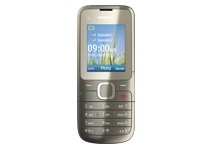 Pros:
Decent looks; Great build quality; Hot-swappable external SIM slot; Impressive music player; Relatively polished UI; Well-priced.
Cons:
VGA camera; Small screen size; Inconveniently placed memory card slot.
Nokia C2-00
MRP: 2970
Street Price: Rs 2700 (Flipkart.com; Letsbuy.com; Saholic.com)

After losing a big chunk of the market to our Chinese brothers, Nokia has finally come up with a proper dual-SIM, dual-standby device. In the current scenario, the phone not only has to fight off nameless Chinese rivals, but also emerging Indian brands such as Micromax, Spice, and MAXX Mobile. Past glory won't help Nokia sell its handsets any more. On the other hand though, the company still has the advantage of its reputation, earned for its good build quality. This low-cost gadget is targeted at folks who prefer sturdy phones.

Design And Build Quality
The retail box contains a phone, charger, and earphones - too bad there is no memory card. The phone has a classic Nokia-esque look, and its design is reminiscent of the good old times. The device has a modest design scheme, comparable to yesteryear's feature phones. Although you won't love it for its aesthetic appeal, no one will dislike it either.




The mobile is made of good quality plastic and looks like it can withstand a lot of unintentional drops. The keypad shares its design with the N79 to some extent - it offers good tactile feedback and is comfortable to type on. Moreover, the D-pad makes navigation easy.

The device measures 4.3" (l) x 1.8" (w) x 0.6" (d) and weighs 74 grammes. Its 1.8" display has pixel dimensions of 128x160, and is bright enough to be perfectly legible under normal conditions. However, readability reduces drastically in direct sunlight. Additionally, the viewing angles are very limited. Although a weak point, the display might actually be appreciated by people who buy privacy screen guards.

The phone sports a VGA camera, charger plug, micro-USB port, 3.5 mm jack, and more importantly, an external SIM card slot. Due to this, the memory card lies under the battery cover, but is still hot-swappable.




Overall, the design and build quality is impressive, considering the price tag. It's a low-end phone that won't make you look like a rickshawwala. Samsung too has a few decent-looking phones at this price range, but most of them sport a rubbery keypad that tends to swell after a few months of use.


UI And Features
Based on the Series 40 6th edition, the device's interface is way better than its competitors. The UI features an Active Standby earlier only found on Symbian Series 60 handsets. It gives you quick access to the music player, Bluetooth, browser, etc right from the home screen. The latter, as well as the Menu view, are customizable. You are also free to set a theme of your choice. The icons look polished as compared to most low-end phones, and are very self-explanatory. All in all, the phone is extremely easy to get used to, and will never require you to read the manual.

The C2-00 is a dual-SIM device, and the first to sport an external SIM card slot. As expected, this is hot-swappable - a feature that comes in handy if you have more than 2 SIM cards. A long press of the [*] key brings up an option to set the preferred SIM for calling. You can also choose the Ask every time option. The network reception is superb and there were no call drops throughout the testing process. The voice at the other end was loud and clear, but the phone leaked sound through its speaker at the back. This means that you can hear the voice from the loudspeaker even if it's deactivated.




The phone handles messaging with ease; it takes care of SMS, MMS, and audio messages. What's more, it has a decent email app that supports multiple email accounts. Nokia has also provided a functional IM app and a browser. Opera Mini 4.2 has been preinstalled, but it is advisable to get the latest version (6.1 as of this writing).

Multimedia
The mobile has a decent music player that supports MP3, WMA, WAV, and AAC. It also supports a Bluetooth A2DP profile, letting it pair with stereo headsets. The sound quality through the earphones is very good and reasonably loud. The device supports a 32 GB memory card, so you can fill it to its gills with your music collection. On the downside, an equalizer is absent. Needless to say, the phone has a built-in FM radio, which sounds pretty loud with the onboard loudspeaker.

The video player supports 3GP and low-quality MP4 formats. However, the 1.8" screen makes it impossible to watch movies on this phone.

The VGA camera is included as a token feature, and as expected it performs horribly. It produces extremely grainy images - let's not even talk about the colours and contrast.

The 1020 mAh battery performs well. It's been three days from full charge and it still refuses to die. Certainly, decent battery life for a dual-SIM phone.

Verdict
Priced at Rs 2700, the Nokia C2-00 offers great build quality, decent design, and a relatively pleasant UI. A music player and email app are some of its strong points. Moreover, the hot-swappable SIM card slot is a unique feature, though it has to be said that very few will find it useful. The phone has its shortcomings, but the reasonable pricing makes it a logical purchase even if you are not looking for a dual-SIM mobile. Those seeking a gaudy design and loud colours, will be better off with the MAXX MX401.


Features: 4/5
Design And Build Quality: 4/5
Performance: 4/5
Value For Money: 4/5
Mojo: 4/5

Overall Rating: 4/5


TAGS: Mobile Phones, Multi-SIM, Nokia, ck