Review: Nokia 701
Belle: The plan B
Rating

4
/5
24th Oct 2011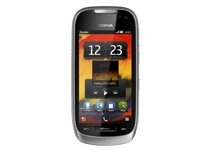 Pros:
Excellent build quality; Top-notch display; Great battery life; Free sat nav; Fluid UI; Good sound quality; NFC-ready.
Cons:
Fixed-focus camera; Limited number of apps; Bundled earphones are bad.
Nokia 701
MRP: Rs 19,000
Street Price: Rs 16,800 (HomeShop18.com); Rs16,900 (Saholic.com; Letsbuy.com)

Just when we thought that Symbian was in its death throes, it got revived by the Belle update. The flagship Belle phone boasts of a 1000 nits display and a 1 GHz CPU.


Design And Build Quality
The phone's retail box contains earphones, a USB cable, and a charger. A memory card is absent, but the 8 GB of onboard storage makes up for it. The device features a 3.5" screen covered by Gorilla Glass, measures 4.6" (l) x 2.2" (w) x 0.4" (d), and weighs 131 grammes.
On the front, it sports Home \ Menu, Call, and Hang Up buttons. The design is almost similar to the C7, but I'm not complaining as long as it offers sturdiness and a metallic body. The device feels solid, and the build quality is superb.


The 701 is powered by a 1 GHz CPU and 512 MB RAM. Other specs include an 8 MP rear and a VGA front camera, Wi-Fi, Bluetooth 3.0, NFC, FM transmitter, GPS, microSD card support up to 32 GB, and a 3.5 mm jack that doubles up as a TV-Out port. As of this writing, the NFC can be used to unlock extra levels of Angry Birds Magic, and to pair special accessories with a single tap of the device.


Display
The phone sports a 3.5" LED-lit IPS LCD with 360x640 pixels. The bright screen and ClearBlack display technology eliminate reflections to some extent. Although not as impressive indoors, the display offers unmatched sunlight legibility outdoors when compared to other smartphones. It produces vivid colours and high levels of contrast. Moreover, the viewing angles are excellent. In short, it's a direct competitor to the likes of the Super AMOLEDS and Retinas.


UI And Applications
Anna had ironed out most of Symbian3's rough spots, and Belle has made it even better. The new interface features up to six homescreens with individual wallpapers. One nice touch here is the ability of the OS to switch all elements of the user interface between portrait and landscape modes, including the homescreens.


The confusing subfolder structure of the Menu is gone, so what you now get is a scrollable list of big rounded icons. The status bar is a shameless copy of Android's notification bar, but since it's a much-needed feature, I'm not complaining. To minimise the effort of closing apps by having to click the virtual exit button, the Hang Up button now kills apps. However, if you want to keep the app open in background, the Home button is your friend.




Symbian has always been light, and thanks to a gigahertz of CPU power, swiping across the six homescreens is smoother than in most droids. Check out the following video, shot at TechTree Labs:
The onboard browser sports an uncluttered interface that features an always-visible Back key. Page rendering is fast, and Flashlite 4 takes care of most sites except for those streaming Flash videos. Although it's an improvement over previous versions, the browser still has a long way to go before competing with Android's version.

The phone comes with free voice-guided satellite navigation, and like in most Nokia phones, the onboard GPS receiver performs exceptionally well. It took less than six minutes to lock onto satellites from a cold start, and on subsequent starts, took only a few seconds. The manufacturer now offers individual map packs for every state, as well as the entire country. Once the maps are installed, the app allows you to search places and get directions in offline mode.


The Store looks polished and is now far more stable than previous versions. Although most essential apps are available for this phone, the game catalogue is nowhere near the Android and iOS platforms. Moreover, it fails to run the latest game such as Asphalt 6 smoothly.

Unlike other platforms, Symbian offers a proper file and ZIP manager. It also supports USB-OTG (On The Go), which enables you connect thumb drives and even portable hard drives in Slave mode. Overall, the Belle experience is quite pleasing, and Symbian feels more complete now. It can help Nokia stay in competition even in the worst case, such as the Windows Phone experiment going completely wrong.


Multimedia
The music player offers a Cover Flow like interface, which has remained unchanged since the N8. It supports equaliser presets, Loudness, and Stereo Widening settings. The device's sound quality is superb. However, the bundled earphones are a mixed bag. They are durable and well-designed, but aurally mediocre. At this price, Nokia should have provided a decent in-ear accessory to do justice to the device's audio quality. FM radio is present, as is an FM transmitter that can wirelessly stream music to your car's stereo.


The video player easily handles movie-length 720p clips of various formats, including DivX, XviD, and MP4. What spoils the party though is the lack of AC3 codec support. Moreover, the player refuses to play random video files. The sound through the loudspeaker is ok, but only one out of two grilles at the back actually houses a speaker.


Camera
The camera interface has been cleaned up and is now easy to use. The lense is EDoF (Extended Depth of Focus), or fixed-focus in simple terms. This module lacks moving parts and has its pros, such as zero shutter lag and good images in the outdoors. On the other hand, it struggles with close-ups and low-light shots. The images contain a good amount of detail and a decent level of contrast, but the colours looks somewhat bland.



The device can capture 720p video at 30 fps with stereo sound. The clips are saved in the MP4 format and the playback is smooth. Moreover, the amount of details captured is good. The 3.5 mm jack also serves as a TV-Out, which definitely comes in handy for watching recordings on big TV screens. All in all, the camera is good, but an autofocus would have made it better.


Telephony And Messaging
The phonebook is friendly with Facebook and Twitter, and reflects your contacts' updates. The physical call and hang up buttons help in quickly accessing dialled numbers and missed calls.

The signal reception was excellent throughout our testing. Moreover, voices were loud and clear on both sides during the conversation. One annoyance here though is the low ringer volume, which often results in a long list of missed calls.

The 701 displays messages in threaded fashion by default, but you can always switch to the classic version. The portrait keypad is good, but can be annoying due to the 3.5" screen. On the other hand, the landscape version is pretty decent.
The generic email client can handle multiple accounts, and the setup is as easy as it gets.




Battery
The battery department has always been the strength of Symbian devices, and this one is no exception. Its 1300 mAh battery can keep the phone running for almost two days without a charge - a godsend for frequent travellers.


Verdict
The 701 is a sturdy device made of premium materials. The IPS LCD is impressive, and its sunlight legibility is unmatched. It scores over competitors with top-notch GPS navigation and superb battery performance. NFC, an FM transmitter, and TV-Out are a yet another bunch of handy features. Moreover, with Belle, Symbian can now stand against other modern operating systems.

On the flipside, the Ovi Store and the browser are nowhere near its rivals. The video player has a few issues, and the camera could have been better.

Still, reasonably priced at Rs 16,800, this phone packs in more pros than cons, making this feature-rich, compact gadget a worthy option in the mid-range segment.

Features: 4/5
Design And Build Quality: 4.5/5
Performance: 4/5
Value For Money: 4/5
Mojo: 4/5

Overall Rating: 4/5


TAGS: Mobile Phones, Nokia, Symbian, ck