Review: LG Optimus 4X HD
LG strikes back with its quad-core offering.
Rating

3.5
/5
14th Jan 2013
Pros:
Impressive performance; Great looks; Excellent video player.
Cons:
Uncomfortable for single-handed use; Lacklustre camera; Average sound quality.
LG Optimus 4X HD
MRP: Rs 36,000
Street Price (As On 31-07-2012): Rs 32,700 (Indiaplaza.com); Rs 33,000 (Flipkart.com; Infibeam.com)


A few years ago, LG became the first company to jump on the dual-core smartphone bandwagon with its Optimus 2X. Sadly for LG, even though Samsung's GALAXY S II was launched a few months later, it stole the show. This time around though, LG appears to have taken its time to polish its flagship offering, releasing it nearly two months after its nemesis. Let's find out whether the Optimus 4X HD can challenge the current heavyweight, the GALAXY S III (GS3).


Design And Build Quality
The retail package comes with a phone, earphones, charger with detachable USB cable, user manual, and a couple of NFC stickers for changing the phone's profile. The handset measures 5.2" (l) x 2.7" (w) x 0.4" (9 mm) (d), and weighs 133 grammes. It features a plastic body, but thanks to its clever design manages to look expensive, while a textured back panel provides a good grip. Similar to other Android flagships though, the phone is too big for one-handed use.
At 4.7", the 4X HD's Gorilla Glass covered screen matches the size of the HTC One X's panel, and is around 3 mm smaller than that of the GS3. The IPS LCD has pixel dimensions of 720x1280, taking its pixel density to around 312 ppi. The display is very sharp and bright, but the viewing angles are narrower than the One X's screen. More importantly, the depth of blacks is nowhere near that of the AMOLED panel in the GS3.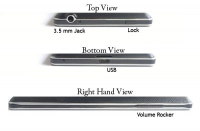 The device is powered by the NVIDIA Tegra 3 chipset, featuring a 1.5 GHz quad-core CPU and NVIDIA GPU. The detailed specs are as follows:
Quad-band GSM (850 \ 900 \ 1800 \ 1900 MHz), quad-band 3G (850 \ 900 \ 1900 \ 2100 MHz).
5.2" (l) x 2.7" (w) x 0.4" (9 mm) (d), 133 grammes.
Android 4.0 (Ice Cream Sandwich).
Quad-core 1.5 GHz Cortex-A9 CPU, ULP GeForce GPU, 1 GB RAM.
8 mp rear and 1.3 mp front camera.
Wi-Fi 802.11 a/b/g/n with hotspot support, DLNA, Bluetooth 4.0, GPS (with A-GPS), NFC.
16 GB of internal storage, 32 GB microSD card slot.
Micro-USB 2.0 port with MHL support (video out), 3.5 mm jack.
2150 mAh battery.
FM radio and a standard set of sensors.

UI And Performance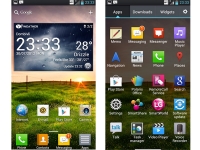 The 4X HD features Android 4.0 out of the box, with LG's Optimus UI v3.0 on top of it. Unlike the lacklustre performance of its predecessor, this handset delivers a smooth and pleasant user experience. LG has started paying attention to the software, and the results are positive. The interface is clean, and even transition effects are virtually lag-free. Although the handset is powered by a same Tegra 3 chipset as found in the One X, I found the 4X HD's performance way better than HTC's flagship phone. While the interface does not have too many software tricks, there's a unique feature that allows you to replace app icons with images of your choice. Check out the second screenshot in the gallery below to see what it looks like.

Every game that I tried on this smartphone worked well. However, I felt that the loading times were slightly longer than the GS3. The browser is quick to render pages, and supports web videos as well. Overall, there's nothing to complain about in the interface and performance departments.


Multimedia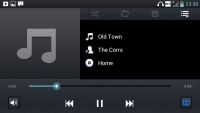 The music player's interface is simple and easy to use. It offers a Dolby Mobile enhancement mode, as well as a plethora of equaliser settings. Sadly, the sound quality isn't as good as you'd expect from a high-end phone.

Thanks to its big 4.7" screen though, the 4X HD is ideal for watching movies. The phone supports most video formats including MP4, DivX, XviD, and MKV out of the box. Moreover, it offers a few interesting features, such as the ability to control the playback speed from 0.5x to 2x, zooming in and out of a video, and an enhanced seek bar that displays a thumbnail of the frame at that location.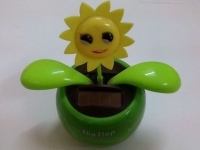 The 8 mp camera is accompanied by a single LED flash. It offers Continuous Shot (burst shot), Panorama, and HDR modes. Although there's no dedicated capture button, the <VOLUME -> key serves this purpose, much like the iPhone. The shutter speed isn't as fast as compared to its rivals, and it can only capture around 10 images in 7 seconds. However, the resulting shots contain a good amount of detail, and also deliver natural colours. On the flip side though, the image quality is marred by excessive noise. This is a big letdown for a top-end phone.

The 4X HD is capable of recording 1080p videos at 30 fps. You can also take snaps during the recording process. The clips are saved in the MP4 format and offer smooth playback. The high-quality video recording is the only saving grace of the phone's camera. Click here to check out the sample.


Telephony, Messaging, Battery, And Verdict
Unlike the current crop of high-end phones, the 4X HD has a normal SIM slot, which is a good thing. The phone's network reception is strong, as expected at this price point. Additionally, the signal strength of the Wi-Fi and Bluetooth connections is also quite good. Coming to the subject of messaging, the onscreen keyboard isn't very well designed, but the large screens size ensures that you don't hit the wrong keys too often. Finally, the 2150 mAh battery lasts up to around 5 hours under heavy use, which I think is good enough for a quad-core Android phone. Under normal use, it should safely take you through a normal working day.

LG has made a strong comeback in the high-end segment with the 4X HD. It has a nice design, pleasant UI, and great performance. In the display, camera, and audio departments though, its nemesis the GALAXY S III takes the lead. However, considering that the 4X HD is around 5 grand cheaper, it's still a good deal for those who desire to own a quad-core phone, don't care about having a very good camera, and have a budget that's limited to Rs 35,000.


Features: 4/5
Design And Build Quality: 3.5/5
Performance: 4/5
Value For Money: 3.5/5
Mojo: 3.5/5

Overall Rating: 3.5/5
TAGS: Mobile Phones, Android, LG, Optimus, ck