Review: Philips Viva Collection Airfryer (HD9220/20)
A healthy but expensive way to make junk food.
Rating

3.5
/5
16th Jul 2012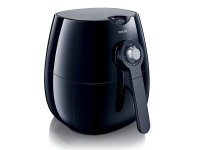 Pros:
Compact; Easy to use and clean; Package includes nice recipe book.
Cons:
Very expensive; Low cooking capacity.
Philips Viva Collection Airfryer (HD9220/20)
MRP: Rs 15,000
Street Price (As On 16-July-2012): Rs 14,500 (Shopping.Rediff.com), Rs 15,000 (Croma.com; FabFurnish.com)


For those trying to shed some weight but unable to let go of junk food, switching to healthier snacks can seem a rather depressing prospect. Instead, why not try and make your junk food a tad healthier? That's what the Philips Airfryer aims to achieve, claiming a reduction of up to 80% in the amount of oil used to make junk food. It uses an interesting combination of fast circulating hot air and a grill coil at the top to fry foods. This arrangement keeps the stale smell of oil away, and cooks junk food in a healthier way. While this sounds incredibly promising on paper, does it live up to its claims? Let's find out.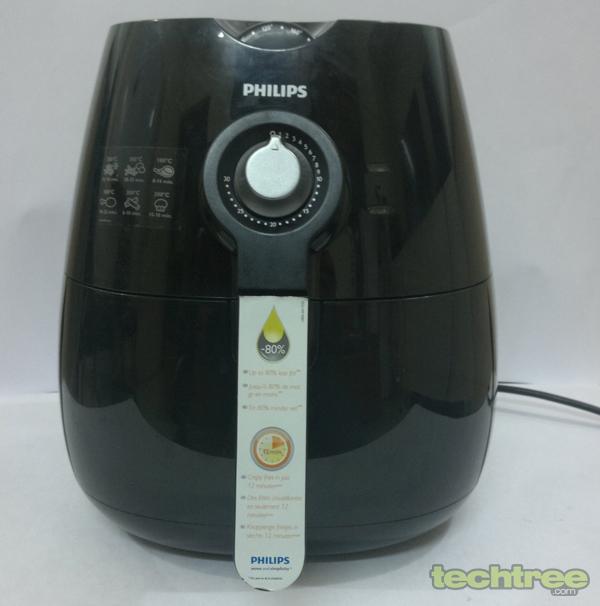 Design And Build Quality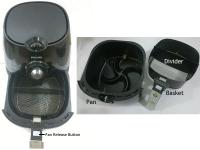 The retail package contains the device, an instruction booklet, quick start guide, two-year warranty card, and a recipe book with 25 dishes to try. The cooker's body has been constructed using high-quality, food-grade plastic that feels quite sturdy. The Airfryer looks like a big dewdrop cut off at the tail, and tips the scales at seven kilogrammes. Although it's not really lightweight, it is certainly portable enough for a kitchen appliance.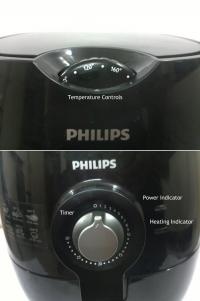 Pulling the handle reveals the cooking pan containing a partitioned metal basket, which can be detached from the all-plastic pan with the help of a push button. Just above the cooking tray is the automatic timer that can be set for up to 30 minutes, along with LEDs indicating the power and heating status. Right at the top is a temperature dial that ranges from 120-200 degrees Celsius.
Overall, the tray looks robust enough to survive several knocks, and doesn't soften even when cooking for 30 minutes on the maximum heat settings.

Usability
The Airfryer is best suited to making junk food, such as French fries, using an absolute minimum of oil. It doesn't come with any hinged parts, and is extremely easy to work with. However, with a maximum cooking capacity of just 800 grammes and a rather small cooking tray, you can't make heaps of food at once. In other words, if you're expecting more than 4-5 people for your dinner party, you'll end up making several batches of each dish. This is of course rather inconvenient.
To start with, I tried making French fries — both the frozen and the fresh kind. During the product demo at our office, I was told that the walls of the tray would have to be coated with a smidgen of oil. However, the instruction booklet doesn't mention this. Since frozen fries are pre-cooked, you need not use any oil, but you'll have to apply a very thin coating (say, with a brush or your finger) for freshly-cut wedges. Before cooking the food though, it is recommended to run the Airfryer with the empty, oil-coated pan for three minutes, in order to warm it up. Once done, set the temperature at 200 degrees and the timer to 15 minutes. Although this is not necessary, I opened the pan and tossed the fries every five minutes to cook them evenly. As is evident from the pictures, the frozen fries came out fine, but the fresh potatoes got a little charred. Regardless, they were crisp and tasty. More importantly, hardly any oil was used at all!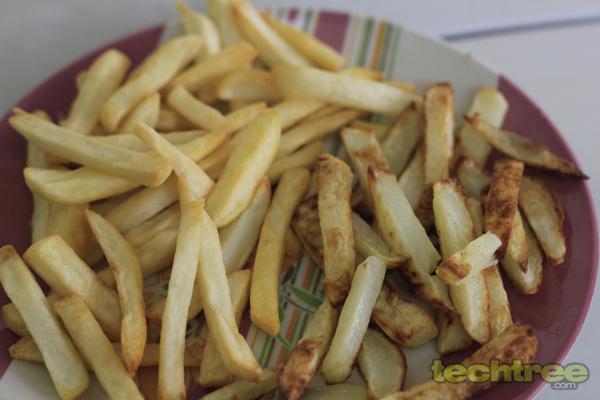 The frozen, pre-cooked fries can be seen in the left half, while the freshly-made fries are on the right.
To test the Airfryer's baking prowess, I decided to make a Choco Lava Cake from the bundled recipe book. While the measurements are perfect and the methods suggested are spot-on, my only gripe is that the ingredients have been mentioned only by weight. Once again during the cooking process, the Airfryer's limited capacity proved to be the biggest constraint. 10 minutes taken to cook four tiny cupcakes per batch means that you need a lot of time on your hands to bake a total of 15. Having said that, the muffins turned out really well, and it's a lot of fun to cook using this nifty gadget. You can use aluminium muffin trays, something that microwave ovens don't permit. Moreover, since the heating coil is placed at the top of the device and not the base, you won't burn your fingers either. Even so, it is advisable to use mittens when handling hot foods.

Finally, as the perfect test of how easy the Airfryer is to use, here's a video montage of our friendly neighbourhood auntie having a go at the product, then providing her opinion on the ideal pricing.


Power Consumption And Verdict
The appliance doesn't feature a Bureau of Energy Efficiency (BEE) label, and utilizes 1425 Watts of power. Considering that a standard induction cooker requires 2000 W of power and an oven requires 1200 W, this is quite acceptable. Note that you must use a 15 Ampere plug socket with the Airfryer, since normal 6 A switches will burn out or trip due to the high current draw.

Overall, the appliance is a breeze to handle. However, tossing in a nylon oil brush as an additional accessory should have been considered at this price point. The recipe booklet is very well-structured, but only offers 25 recipes, which is a bit of a downer. You can hunt for more recipes from the app on Facebook or the I Love Philips Airfryer FB fan page. While working with the appliance is very easy, the steep asking price puts it out of the reach of all but the moneyed. However, if you put your health above your wealth and don't want to let go of fried foods, then this gadget will pay for itself in the long run.
Design And Build Quality: 4/5
Features: 3.5/5
Performance: 3.5/5
Value For Money: 2.5/5
Mojo: 3.5/5

Overall Rating: 3.5/5
TAGS: Home Appliances, Health, Lifestyle, Philips, Kamakshi