Review: Sony Xperia U
A promising phone, but crippled by ridiculously low storage space.
Rating

2.5
/5
14th Jan 2013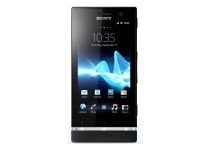 Pros:
Great design; Impressive sound quality; Snappy UI.
Cons:
Only 4 GB of storage space; Mediocre video recording; Limited viewing angles.
Sony Xperia U
MRP: Rs 17,400
Street Price (As On 20-Jun-2012): Rs 15,800 (BuyThePrice.com); Rs 16,200 (IndiaPlaza.com; Flipkart.com)


After divorcing Ericsson, Japanese tech giant Sony has managed to impress its fans with the latest Xperia series. While the Xperia S is targeted at the high-end market, its younger sibling, the Xperia U is meant for budget buyers. This handset brings the power of dual-core to the mid-range segment. Let's see if it can outdo HTC's One V.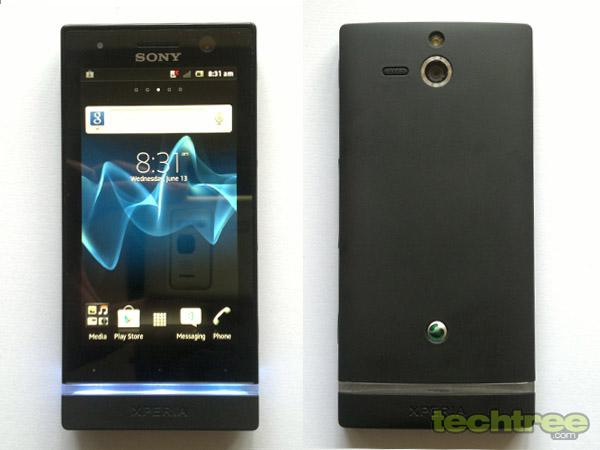 Design And Build Quality
The retail box comes with the phone, charger with detachable USB cable, and earphones. The phone measures 4.4" (l) x 2.1" (w) x 0.5" (12 mm) (d), and weighs around 110 grammes. Like its big brother Xperia S, this mid-range Android features an elegant design. Sony has given a nice rubberised finish to its matte plastic body. Additionally, the curved back offers a better grip on the device. What makes this handset stand out, is an illuminated transparent strip placed below the three capacitive keys. What's more, you can change the colour that illuminates this strip. Yes, this will generate polarised responses among users, but as far I'm concerned, I totally loved it. Overall, the handset's design is impressive.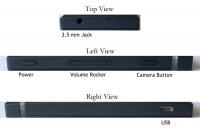 The Xperia U is powered by a 1 GHz dual-core CPU, coupled with a Mali-400MP GPU. Other specs include:
A 5 MP rear and VGA front camera
Wi-Fi, Bluetooth, USB OTG, and 3.5 mm jack
4 GB internal storage
1320 mAh battery
A standard set of sensors.

Although the smartphone has plenty of features, it's let down by the paltry 4 GB of storage. What's worse is the lack of microSD card slot. Seriously, what's the use of a dual-core CPU and excellent sound quality, when you don't have enough space to copy your song collection or install the latest 3D games? I'm sure for most readers, the review ends right here. However, if the 4 GB of storage is sufficient for you, then read on.

The gadget's 3.5" LCD panel has pixel dimensions of 480x854, with the pixel density being as high as 280 ppi. The screen is bright and sharp. However, its viewing angles are very limited. I wasn't impressed with the display's sunlight legibility either.


UI And Applications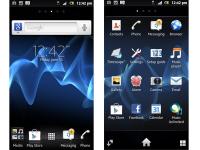 The Xperia U features Sony's custom UI on top of Android 2.3 (Gingerbread). Sony has done a good job of adding enough eye-candy to the interface, while keeping it virtually lag free. However, sometimes it does skip a frame or two when multitasking heavily.

The onboard web browser is snappy and has a minimalistic interface. It supports Flash 11, hence you can watch web videos without any problems.

The device's signal reception was good throughout our tests, and the voice quality was loud and clear. On the messaging front, due to the small screen size, the portrait keyboard feels a bit cramped.


Multimedia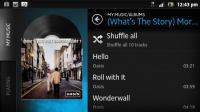 Sony's recently revamped music player is quite interesting to look at. A nice touch here, is that the transparent strip on the phone changes colour to match the album art. The Xperia U's sound quality is impressive. The player offers a plethora of equalizer and sound settings to play with. Sadly, the bundled earphones are not good.

The Xperia U supports MP4, 3GP, and AVI videos up to 720p. The Mobile BRAVIA Engine enhances the picture quality to some extent. In short, the phone is good for watching movies.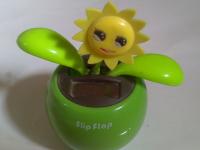 Moving on to the camera, the device offers a 5 MP lens coupled with an LED. It includes features such as Sweep Panorama, Sweep Multi Angle, and 3D Sweep Panorama. Of these, the Sweep Multi Angle mode combines images to form a single animated image, to give it a sense of depth. It's a interesting feature. Overall, the snapper produces decent pictures with good amount of of detail. However, the amount of noise is not acceptable.

In video mode, despite a dual-core CPU, 1080p recording isn't supported. Although the resulting MP4 clips contain good amount of detail, their playback turns out to be choppy at times. Click here to view the sample.


Battery Life And Verdict
The Xperia U's 1320 mAh battery manages to keep the device running for almost 5 hours, under heavy use. With normal use, expect it to last for around 10 hours.

The handset has an impressive design, snappy UI, and great sound quality. On the other hand, Sony should have released this handset with ICS. Finally, the storage constrain of 4 GB undoes all the good things about this handset. Therefore, if you're looking to buy a mid-range droid, HTC's One V is the way to go.


Features: 2/5
Design And Build Quality: 4/5
Performance: 3.5/5
Value For Money: 2/5
Mojo: 2/5

Overall Rating: 2.5/5
TAGS: Mobile Phones, Android, Sony, Xperia, ck
Opinion Poll
How much would you spend to buy a new smartphone?
Below INR 5,000
17%
INR 5,000 - INR 10,000
34%
INR 10,000 - INR 20,000
33%
INR 20,000 - INR 30,000
8%
Above INR 30,000
8%
Total votes: 928