Review: Dell XPS 13
An excellent ultrabook, but with a few flaws and a high price tag.
Rating

3.5
/5
04th Jul 2012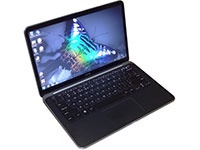 Pros:
Thin, lightweight, and portable; Looks good; Good performance.
Cons:
Expensive; Poor viewing angles; No card reader; A rather large power brick for an ultrabook.
Dell XPS 13
MRP (As On 9-Jun-2012): Rs 76,000 (VAT 5% + local taxes extra)
Ultrabooks have become the talk of the town of late, and they are visually distinguishable from their bulkier laptop counterparts by their characteristic slim profiles. While several manufacturers have decided to embrace this brainchild of Intel Corporation, it is the Dell XPS 13 that has arrived first to our test labs. This classy-looking device reminds us of the MacBook Air with its ultra-thin design and aesthetics. Let us find out if it works as well as it looks.
Bundle
Dell XPS 13
45 W power brick
VGA adapter
Ethernet adapter
Drivers and utilities disc
Documentation
Dell has done a good job at packaging the XPS 13, but the power brick is rather large and presents a setback to the whole concept of ultra-portability that this device is supposed to encompass. Documentation has been provided and there is very little to service about this product, so such information is not included.
Design And Features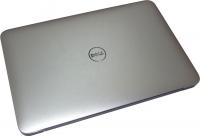 The Dell XPS 13 didn't fail to get noticed as we took it out of the box for the first time. Its silver aluminium lid, with steel embossed round company logo at the centre, bears a satin finish in much the same way as it's evident in several Dell XPS laptops. It ensures that you won't leave fingerprints and dust will not accumulate. The bottom part of the ultrabook's body is supposedly made of carbon fibre with a rubberised finish and it does impart it a premium feel. The rubberised surface makes it easy to get a grip on this device as you attempt to lift it. The construction seems sturdy and the hinges are firm.
Weighing just 1.36 kg, the XPS 13 is one of the lightest ultrabooks available today. With a thickness ranging from 6 mm to 18 mm, this is very easy to carry around.
Its 13.3" screen comes covered with scratch-resistant Gorilla Glass and sports pixel dimensions of 1366x768, thus being capable of natively displaying 720p videos. Being almost entirely covered by glass up to the edges makes it appear like a touchscreen tablet. The comparatively lower pixel density means that individual pixels will be visible, especially to the keen-eyed and may take away some of the viewing pleasure. Colours quickly fade as you change your viewing position vertically or horizontally, due to poor viewing angles. A 1.3 MP web camera situated at the top enables video chat.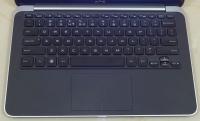 The keyboard sports island-type keys, which makes it easy to touch type. Keys are backlit, allowing you to view them in the dark. Size constraints have prevented a separate numeric keypad, which is understandable and excusable. Comfortable to use for a long time, the keyboard has a rubbery feedback that may not go well with some users. The spacious magnesium palm-rest with a soft touch feel adds to the ergonomics. The large touchpad is located slightly towards the right, which is rather unconventional and makes it susceptible to accidentally getting touched while you type. The mouse keys are not separate; rather they are extension of the touchpad. The entire touchpad also works like a huge left-click button and also supports gestures. The touchpad and buttons seemed to work erratically with our review sample.
There are a limited number of ports on this ultrabook due to size constraints. A USB 2.0 port, 3.5 mm headphone jack, and power input are present on the left. A USB 3.0 port situated on the right provides a fast way of transferring data. Besides this port, there is also a Mini Display Port and battery-level indicator that displays the available juice at the press of a button using five LEDs. Strangely, a card reader has not been integrated. The lack of Ethernet and VGA ports has been taken care of via adapter cables.
An Intel Core i5-2467M CPU with 4 GB RAM and a 128 GB SSD claims to speed up tasks, which sets it apart from ordinary laptops. Windows 7 Home Premium SP1 64-bit has been provided with the device, in addition to a host of other software. McAfee SecurityCenter comes preinstalled to protect against viruses and malware.
Performance
The overall performance was snappy, thanks to speedy hardware. The Core i5 processor doesn't get bogged down even by the antivirus software that was running in the background. The Intel HD Graphics 3000 GPU is not meant for gaming, but it doesn't disappoint with its multimedia performance because it can effortlessly play even 1080p movies without stuttering. Needless to say, it can handle almost every computing task with ease. It gets a bit warm when stressed for a few minutes, but nothing that will cook your thighs. The ventilation at the bottom is adequate to dissipate heat.
The speaker quality is surprisingly good for such constrained dimensions, and we found it to be definitely better than most laptops we had tested thus far.
We conducted a few synthetic benchmarks to find out how the ultrabook performs.
Battery Life
One of the most important aspects of any portable device is its battery life. The XPS 13 comes with a 6-cell, 47 Wh battery, which lasted a little over 5 hours of normal use. We also ran the Battery Eater benchmark in the Classic and Reader mode. The ultrabook lasted for 1 hour 56 minutes in the former and 5 hours 36 minutes in the latter. This puts it in the same league as many of the laptops in our earlier tests. Charging the ultrabook completely takes a little over 3 hours, and the total electricity consumption for this is 0.06 kWh.
The Verdict
The Dell XPS 13 is a truly portable computing device where a great deal of attention has been paid to the aesthetics as well as to its features. The performance is snappy due to its fast hardware and you can be sure that it will not slow down even after months of usage, thanks to the fast SSD inside. Our only qualms about the gadget are due to poor viewing angles of the display and erratic behaviour of the touchpad. If you want to buy a something as portable as a MacBook Air but are short on cash, this is a worthy alternative despite its expensive pricing. However, for the vast majority of users, this will be an expensive proposition, so it's better to wait for the ultrabook prices to drop.
Features: 3.5/5
Design And Build Quality: 4.5/5
Performance: 4/5
Value For Money: 2.5/5
Mojo: 4/5
Overall Rating: 3.5/5