Voisi Recorder For Android
Record calls and more: Voisi Recorder & Transcriber, free on Google Play, has notes, location and other nifty features.
Rating

4
/5
09th May 2016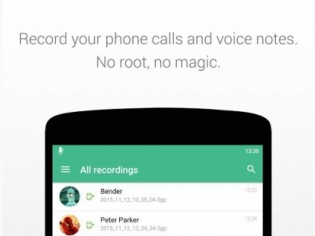 Pros:
Neat and minimalistic. Good sound quality. Granular control over settings. Linked to calendar and maps.
Cons:
Can't come back and add to a recording. Transcription is paid.
In my work consulting with companies, I often need to make a recording and file it away for future reference as I can't afford to miss out on a single detail.
Some phones have call recording built into the dialler. But many who need to record phone calls for one reason or the other have a tough time figuring out whether to use two devices and a speaker phone or some other workaround to record a conversation.
You don't need to do that. Several recording apps let you record calls. Some need you to use the speakerphone, to be able to record both parties in a call; other apps will work without using speakerphone.
Voisi Recorder, which was in in beta for a long time, is available free on the Google Play Store and does a great job of automatically recording calls, besides regular recording. I didn't need to use the speakerphone; it worked well on Samsung Galaxy handsets. Because hardware varies so much across Android, you need to try this out with your phone, which is easy to do, because this app is free.
Voisi is a quick download and equally quick set up. The first thing you should do is get into the Settings and look around and set preferences for things like sound quality (I set it to a bit lower, to reduce file sizes), whether you want to record phone calls which is off by default), skip silence, and whether you want noise and echo suppression. There's a bunch of other options too.
You can also set the path where you want your recorded files saved and what account you want them backed up to. The files can be emailed to you for safe keeping, though if they're too big, that will be a problem.
Voisi lets you take notes for your recording and with a tap, set a bookmark. That way, you set markers and go to that point in the audio file whenever you need to.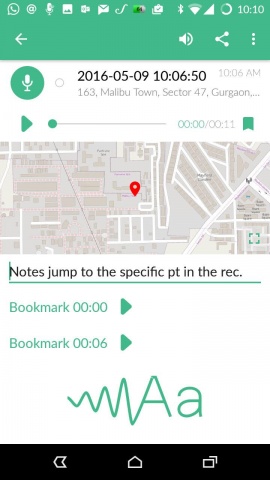 Voisi quickly and easily records calls and more, but also links to Google Maps and Calendar, and lets you list all recordings made in a particular location
This is the first recording app I've seen that shows the physical location where you were when you did the recording, on a map, and also integrates with your calendar to be linked with an event.
Recording quality is really good. And recording on calls in specially good. It's clear, loud, and clean. What you have to watch out for is not to leave the call recording option enabled all the time or you'll accumulate big files on your device. That, or set it to delete files after a certain number of days -- another choice that you have.
The one option that I didn't try is the transcribe feature for recordings. This bit is a paid service and one that I have my reservations about because voice recognition is not flawless enough to result in beautifully transcribed speech to text and it's also probably not tuned to Indian accents. Uploading recorded speech to servers elsewhere is another thing that worries users. So, I gave the transcription a miss. If you do subscribe or try our the free trial for this feature, let me know how it goes!
Overall, Voisi is a great new recording option for those who need to regularly record calls. Or even record a call or an offline interview or chat, one-off. Go for it.
Lila Ray is a corporate consultant who likes her gadgets almost as much as she likes her shoes. You can email her at raylila@outlook.com.
TAGS: Android Apps, Audio Recorder, Google Play