Intel Announces StudyBook Educational Tablet
Rugged, waterproof slate will bear a 7" capacitive screen, will retail for Rs 10k approx.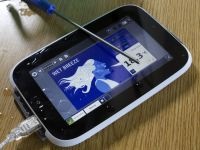 With Apple already making headway into the education sector with its iBooks application, Intel has announced the StudyBook - its contender for the e-learning segment. The 7" tablet has been encased within a sturdy plastic chassis, and will feature the Atom chipset. It bears a capacitive multi-touch LCD display and packs an Atom Z650 processor. The device is touted to be dust and water proof, with shock absorbing material on the corners aiding crash resistance. This may just make it the tablet school kids can be trusted with. It will also be Intel's first Android device, although Windows is also being considered as an option.
Expected to be priced under $200 (Rs 10,000), the educational tablet will not be directly marketed by Intel. The StudyBook will instead be sold worldwide by various unnamed manufacturers, who will customise it as per the region it's being marketed for. Customisations include an add-on lens that transforms the tablet's front-facing camera into a microscope, whereas vendors can also customise software and UI to incorporate regional languages.
At any rate, no matter what Datawind, Intel or Apple do, they can't possibly beat Micromax for coming up with the best tagline for an educational tablet. "Pass hoga, timepass bhi hoga" - well, shut up and take my money already, Micromax!