Vu Launches Limited Edition 55" Opulence LED TV
Bespoke crystal-studded TV priced at Rs 5,00,000 and onwards.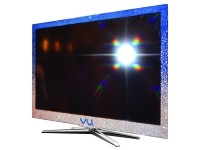 With the stupendous scale and the sheer number of scams being unearthed in the recent past, it's clear that, like all developing nations, India too has a wide disparity between the rich and the poor. It's little wonder why, in defiance of conventional logic, India has proven to be a good market for ultra-luxury products. TV maker, Vu Technologies, has also realised this untapped potential and introduced Opulence - a 55" LED TV that's encrusted with "innumerable, dazzling crystal studs". Yes, this right here is the Edward Cullen of displays.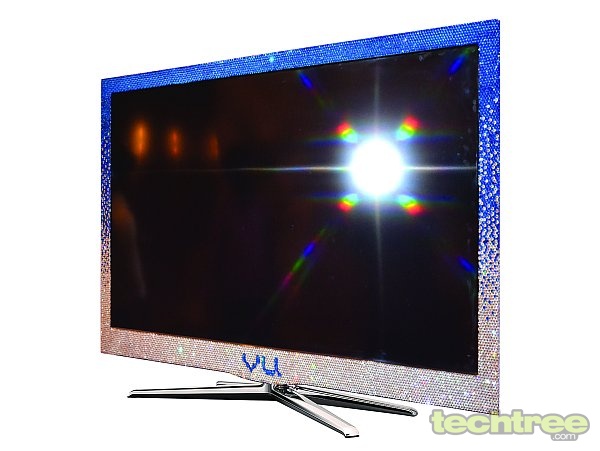 One look at it and you realise what a monumentally bad idea it is to embellish a display bezel with a scores of highly-reflective crystals. However, so is paying five lakh rupees for a 55" LED TV. That is the base price, if you opt for the cheapest of crystals on the bespoke TV set. Choose more expensive Swarovski crystals and the price will be substantially higher, which is revealed on request depending on your choice of embellishment.

To be honest, the worth of such products isn't measured in their specifications, but in their conversation-starting levels of exorbitance. These aren't supposed to be examples of fine engineering, but are rather unabashed displays of wealth and power. The full-HD capable Opulence, however, adds some substance by including the Intelligent TV tag. It achieves this by incorporating a 2.2 GHz Intel Core i3 2330M dual-core processor, 2 GB RAM, 500 GB hard drive, and is preloaded with Windows 7 Professional. No, the TV isn't 3D capable, but you'd be too blinded by the sparkly crystals to realise that anyway.


Display Specifications
Panel Size - 55" (LED)
Pixel Dimensions - 1920 x 1080 (Progressive Scanning 1080P)
Aspect Ratio - 16:9
Dynamic Contrast Ratio - 1,000,000:1
Brightness - 500 cd/m²
Colours - 16.7 million
Viewing Angle - (Horizontal / Vertical) 178˚/178˚
Response Time - (Gray to Gray) 4.5ms
HDMI inputs - 4
D-Sub - 1
Audio output - 10W + 10W
Power Consumption - 140 watt
Weight - 26.0 kg
USB Port - 3
Intelligent TV Specifications
Motherboard- Intel HM65 Chipset based Motherboard
Processor - Core i3 2330M, 2.2 GHz, 3 MB Cache; 2 cores and 4 Threads
Memory - 2 GB DDR3 upgradeable to 4 GB (2 DIMMs)
Hard Drive - 500 GB SATA
Graphics Card - Intel HD Graphics Integrated Graphics
Audio/ Sound - Integrated; Built-In
LAN - Integrated 10/100/1000 Mbps LAN
Keyboard / Mouse - Wireless keyboard with touchpad mouse
Operating System - Windows 7 Professional