Wishtel Launches Two Cheap Android Tablets
7" tablets with resistive and capacitive screens will retail at Rs 4000 and Rs 5500.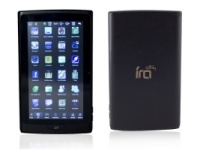 Considering that the Aakash tablet is yet to see the light of day, several companies are trying to get better of the low-cost Android tablet market. This time around, Wishtel has come out with two tablets named the Ira and Ira Thing. The 7" tabs are the first devices to offer Indian language support and will be available in Android 2.2 and Linux Sugar OS versions. Both will be powered by an 800 MHz WonderMedia PRIZM WM8650 ARM SoC, 512 MB RAM, and 2 GB internal memory that can be extended to 32 GB. Other features include Wi-Fi, Bluetooth, USB 2.0, external 3G data card support, 720p HD video playback, and a 2800 mAH battery.
The Ira will come with a resistive touchscreen, and is priced at Rs 4000, while the Ira Thing with a capacitive touchscreen will cost Rs 5500. Apart from this, all the other specs for both the tablets are the same. You can purchase the Ira Thing online; however, you will have to hunt down dealers to buy the cheaper variant. Both will be available in black and white hues.
A third tablet named the Ira Icon is also listed on the company's website. This 193 (l) x 117 (w) x 14 (d) mm tablet is said to be powered by a Cortex A8 1.2 Ghz CPU, 4000 mAh battery, and features a 7" capacitive TFT panel. It will come with Android 2.3, USB 2.0 OTG (one-the-go), and a 1080i HDMI HD output port. Pricing details for this tab hasn't been revealed yet.
With the availablilty of several low-cost options such as Zync's 7" ICS tablet, Intex's i-Tab, and Pantel's T-Pad IS701R, the competition in the cheap tablets arena is surely heating up.