Micromax's Tablet Surfaces On An Online Store
Company's first 7" ICS tablet carries a price tag of Rs 8000.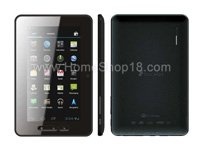 Affordable tablets are hot in India, and Micromax doesn't want to be left out of this party. It seems that the company's first tablet is ready and only few days away from its debut. Although official announcement is yet to be made, its 7" tablet, the P-300 has been listed on HomeShop18.com.

The tab has a capacitive screen, 512 MB of RAM, front VGA camera, 4 GB internal memory, and an expandable memory card slot. Sadly, the listing doesn't shed light on the device's CPU, however, it's stated to be capable of 1080p video playback. Similar to iberry's BT07i, Micromax's offering won't even have a primary camera.

The best part about the P-300 is its affordable price tag of Rs 8000. Don't rush to order one for yourself yet, as the tablet's current status is set to "Out of stock". I guess that it will be made available only only after the device is officially announced.