IRCTC Finally Releases A Ticketing App For Your Android Device
As you'd expect, you can book tickets, check your reservation status, and cancel tickets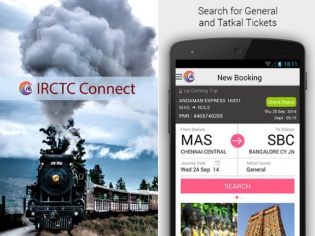 The Indian Railway Catering and Tourism Corporation, better known as IRCTC, has at long last launched its official app for Google's mobile platform, Android. The app can now be downloaded from Google Play India, requires about 12MB of free space, and will work on devices running Android 4.1 Jelly Bean or above.
The new IRCTC Connect app for Android will allow users to do pretty much everything that they can do on the website – booking tickets, checking reservation status, train schedules, train routes and more. Users can even login to their IRCTC accounts to search, book and cancel train tickets, and even receive upcoming journey alerts.
IRCTC launched its official ticket booking app for Blackberry's BBOS 10 in August this year, while the version for Windows Phones and PCs was released last year. While it's odd that the Indian railways chose to bring their service to less popular platforms first, there has been a beta version of the IRCTC app for Android for some time now.
In any case, Android users will now be able to book Indian railway tickets right from the smartphone app, eliminating the requirement to access the IRCTC website. The app boasts of being an easy and quick way of booking tickets, checking reservation status and canceling them, but for a first hand experience you can download the app from here.