Windows 8 Shown On ARM Tablet
Offers full-fledged desktop applications support and comes bundled with "Office 15".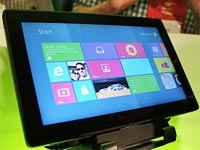 Microsoft has shown off its spanking new Windows 8 operating system on an ARM-based device. The good thing is that it provides full-fledged support for desktop applications on these low-powered gadgets, which supposedly support only Metro apps. Noting that PC manufacturers are also working on devices specifically designed for WOA (Windows on ARM), MS's Steven Sinofsky also previewed a Metro-style productivity suite, codenamed Office 15, in the Building Windows 8 blog.

The device's users can still access the conventional desktop file system and other core features of the OS's x86 version, including the hardware-accelerated Internet Explorer 10 with HTML5. That being said, this version of the OS will not be sold separately, and will come pre-installed on the devices. A limited number of applications from the Windows Phone Marketplace will be available in this case.

A video also showed the beta version of Office 15 applications. This includes a revamped version of Word, Excel, PowerPoint, and OneNote. Needless to say, it follows the Metro-style interface with more white space, less lines, and optimisations for touch. You can watch the video below:


Download this video to view it in your favourite media player: High-quality MP4 | Low-quality MP4
Opinion Poll
Following the battery debacle, would you still buy the Samsung Galaxy Note 7?
Yes
38%
No
52%
Maybe
10%
Total votes: 309