Samsung Gives Chromebook Another Go
The Chromebook 2 comes in 11 and 13 inch variants sporting varied configurations.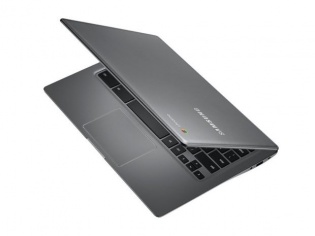 Samsung has announced the new Chromebook, tagged as the Chromebook 2. The notebook, powered by Google's Chrome OS will be available in 11.6 inch and 13.3 inch models. Chromebooks have not picked up in popularity as of now, but it seems that with competitive pricing and good build quality, Samsung may actually see success with the same. The newly launched Chromebook 2 comes in two configurations, which along with varied screen sizes also have varied internals and price tags.
The 11.6 inch variant of the Chromebook 2 will sport a 1366 x 768 pixel LED display be powered by a Samsung Exynos 5 Octa 1.9 GHz CPU along with 4 GB of RAM.
The 13. 3 inch variant of the Chromebook 2 sports a 1920 x 1080 LED display but is powered by a powerful 2.1 GHz Samsung Exynos 5 Octa CPU coupled with the same 4 GB of on-board RAM. The battery life of the two Chromebooks vary with the 11 inch one dying out after 8 hours, while the 13 inch variant lasting up to 8.5 hours.
The 11 inch Chromebook 2 will be available in Jet Black and Classic White colours, while the 13 inch version will come in Luminous Titan Gray only, both sporting the faux-leather theme that Samsung has been pushing on it smartphones.
In the US, the Chromebook will go on sale in April, with a price tag of $319.99 (Rs 19,816) for the 11.6 inch one, while the higher-specd 13.6 inch Chromebook 2 will cost $399.99 (Rs 24,771). There is no news of international availability yet.