WordPress Joins War Against Internet Censorship
Urges bloggers to join in the protest till 24th January.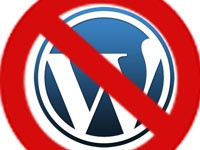 With Wikipedia announcing a 24-hour blackout, blogging platform WordPress has also joined in the protest against the proposed Stop Online Piracy Act (SOPA) and Protect IP Act (PIPA) laws under consideration by the US Senate. The Freshly Pressed page on WordPress.com will be blacked out for 24-hours on the 18th of January. The service has also encouraged bloggers to participate in the strike.

To join in, users can go to their Dashboard and look for the Protest SOPA/PIPA section in the Settings menu. If you select the Blackout option, you can pick a custom message to display on your blog for the same duration as WordPress' protest. You can also place a ribbon on your site that will be active till the 24th of January, which is when the bill will be put to vote. Let's just hope that all this hard work yields positive results.