Download: Assassin's Creed Pirates (Android, iOS)
Experience an 18th century pirate's day at office with Ubisoft's latest smartphone game.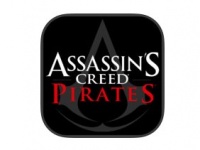 We recently reviewed the Assassin's Creed 4 — Black Flag for PS3. It's a fantastic game, but if you don't own a gaming console, Ubisoft still has something in store for you. Available for Android and iOS devices, the Assasins Creed Pirates is the closest you can get to the latest installment in the Assasin's Creed series on a mobile device. The naval combats have been high point of the Black Flag, and the watered-down mobile version of the game brings you exactly that.
In Assasin's Creed Pirates, you slip in to the shoes of Alonzo Batilla, a young and ambitious captain. It's pretty much an open world game like GTA, where you can find the missions scattered across the map. As the game progresses, the map expands. The gameplay mostly comprised of sailing in a beautifully rendered sea, and then engage in a battle with other pirate ships. The aiming system is exactly what we've seen on the Black Flag, so if you've played the PS3 version, this one becomes very easy to master. The game is set in the Caribbean. There are over 50 missions in the story mode. Other than there are side-quests to search for around hundred treasures and lost parchments. The game has been priced at Rs 380, which is slightly on the higher side. However, considering its fun gameplay and quality graphics, I think it's worth it.

Developer: Ubisoft
Platform: Android, iOS
Price: Rs 270 (iOS); Rs 380 (Android)
Size: 540 - 660 MB
Download: Android - play.google.com/store/apps/details?id=com.ubisoft.assassin.pirates; iOS - itunes.apple.com/in/app/assassins-creed-pirates/id692717444?mt=8