CES 2012: LG Teases Us With 84" 3D TV
Will break cover at the upcoming consumer electronics show.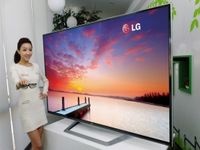 LG is set to unveil an 84" 3D Ultra Definition (UD) TV at the upcoming 2012 Consumer Electronics Show (CES) in Las Vegas. Besides the huge size, the device will also include other bells and whistles such as internet functionality and a Magic Remote controller. For starters, this sleek-looking display has pixel dimensions of 3840x2160. In comparison, Full HD videos have 1920x1080 pixels. To make the TV "smart", LG will offer over 1200 apps for download. Premium services such as 3D Zone will keep the stereoscopic content flowing for 3D junkies. Furthermore, the real-time 3D conversion engine will let you watch any 2D video in 3D at the push of a button.

According to the manufacturer, the bundled Magic Remote will allow you to control the TV with "voice commands, gestures, scroll wheel, and point". I'm not sure what LG means by "point", so let's just wait for CES 2012 to reveal more details about this massive screen.



The retail bundle will definitely include 3D glasses, but I'm not sure about the model.