Zoolz Offers 100 GB Free Online Space For Its First Million Users
Claims to set no limitations on the file type and size, but lacks drag-and-drop support.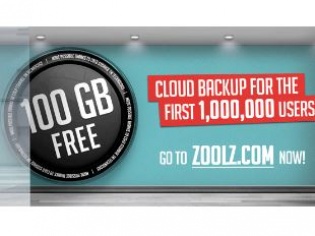 Zoolz, an online storage company, is offering 100 GB of free online lifetime storage for the first million users who sign up. Ordinarily, the monthly price for this amount of storage is $1.66 (approx Rs 91) for a single user, $10 (Rs 550) that gives 500 GB for 3 users, $20 (Rs 1100) for 1 TB (6 users), and $35 (Rs 1950) for 2 TB (10 users). The free 100 GB offer can be used by up to two users at a time. Interestingly, the website claims that there are no restrictions on the file size, type, or even upload/download speeds.
To avail this offer, sign up with www.zoolz.com using your email ID. Once your account has been activated, download and install the client software to your PC. Log into the account through this client software and set up the parameters. We found this to be more of a backup/restore service and there is no convenient drag-and-drop feature. Also, you cannot download files to this online storage directly from the web. The software lets you assign folders on your computer, including connected external drives and network drives to be backed up to the online storage.
Currently, there is a huge queue of applicants, so it will be a while before you get through. While the humungous free 100 GB online storage is surely enticing, the lack of drag-and-drop support takes away the fun. Although there are a few free online storage solutions such as SkyDrive, Google Drive, iCloud, Box, Dropbox, and Mega (from Kim Dotcom of MegaUpload), but Zoolz tops the list with the largest storage option. Zoolz also has three Android apps using its online storage facility, so no there'd be no surprises if the company pitches a similar offer there as well.