Linux Ubuntu 13.04 'Raring Ringtail' Is Released, Woos Mobile Developers
This version of Ubuntu is compatible, if you have a newer x86-based desktop/laptop/tablet with Windows 8's UEFI Secure Boot technology.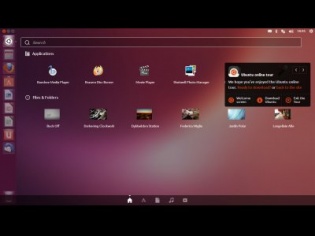 Just a few hours ago, what would go on to become the latest stable Ubuntu Linux distribution was finalized by Canonical, as per the release schedule. With Ubuntu's mobile ambitions, this may well be the last desktop-focused version.

The latest version continues to lean in favour of the Unity interface, and is progressing toward further adoption of its MIR display server. There are changes to the menu system, smaller launcher icons, and users can directly log-in to "the cloud." Jane Silber, CEO of Canonical is quoted as saying there are "vast improvements" in terms of memory consumed, power management and boot speed, "all of which are driven primarily from the work in our phone and tablet push, but clearly benefit desktop users as well."

As always this Linux distro hosts a number of applications installed by default, among them are the latest version of LibreOffice, Firefox, Thunderbird, Rhythmbox (music player), Shotwell (photo manager) and Brasero (CD/DVD writing). The video below is an overview of the new features:
On the flip side, the Unity interface may push users who want the GNOME shell/GUI to adopt the GNOME remix instead. A fix was required soon after release, when Ubuntu was asked to remove the icon of Microsoft's Skype IM service. Also gone, is the option of shipping Ubuntu discs to home users who can't download it - originally started in 2004 for free as a form of evangelism, made pay-only in April 2011, and now completely phased out two years later.



Development for this distribution follows a 6-month cycle. We now have Ubuntu 13.04 which was codenamed "Raring Ringtail" during development following Ubuntu 12.10 'Quantal Quetzal'. The codename 'Saucy Salamander' has been finalized for the next release which will officially be Ubuntu 13.10. You'll have to wait another year though (until Ubuntu 14.04 with a 'T.. T..' codename), for the next LTS (long-term support) release.

If you have a newer x86-based desktop/laptop/tablet with Windows 8's Secure Boot technology, this new version of Ubuntu is compatible unlike a few other distros. You can download and install Ubuntu 13.04 from an optical disc, USB pendrive, or use a server over the LAN. Also released along side the main distro (with Unity shell), are Ubuntu GNOME, Kubuntu (with KDE), Xubuntu (with Xfce), Lubuntu (with LXDE), Ubuntu Studio (focusing on multimedia content creation) and Edubuntu (focusing on student/school environments).
TAGS: Linux