RAPOO E6300 Ultra-slim Bluetooth Keyboard Launched
Offers 15 iPad hotkeys, 10m wireless range, compatible with Mac, Smartphone, tablet, laptop and PC.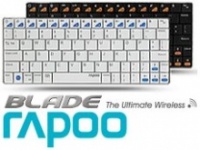 RAPOO has launched their E6300, an ultra-thin Bluetooth keyboard for iPad. It is designed with 15 iPad hotkeys and a Bluetooth 3.0 wireless range up to 10 metres. Rapoo says it is also compatible with Mac, Smartphone, tablet and PCs. The RAPOO E6300 wireless keyboard is priced at Rs 4,049 and carries a 2-year replacement warranty.

The keyboard comes with a USB adapter to plug in for charging, and is claimed to have high performance rechargeable lithium batteries. Two hours of charging are needed for battery back-up of up to a month.

The E6300 has 80 standard keys and 15 iPad hotkeys to surf Homepage, Search, Picture frame mode, Back, Play/Pause, Forward, Lock/Unlock iPad, Delete one line, Restore and Show/Hide keyboard.

Key Features of this Bluetooth keyboard:
- 5.6mm at its thinnest
- scissor key structure and stainless steel plate
- Bluetooth 3.0 wireless connectivity, upto 10m of transmission distance
- 15 iPad Hotkeys for easy access
- Two hours of charging to work up to one month
- Supports Windows XP/Vista/7
- Compatible with Mac, Smartphone, tablet, laptop and PC





Mr Sunil Srivastava, India Sales & Marketing Manager at RAPOO India said, "We are launching this keyboard especially for iPad users like traveler, lecturer or mobile users with the iPad, iPhone or Bluetooth Devices to write long e-mails or to type long documents. E6300 Bluetooth Keyboard is an excellent option which customers can opt for."