Google Launches Quickoffice For iPhone And Android
Now edit MS Office files on the go from your favourite Droid or iPhone.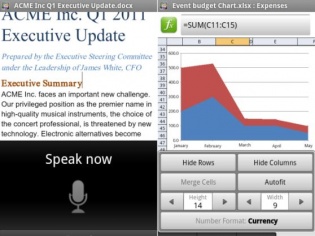 After bringing a the free app for iPad last year, Google has launched its Quickoffice app for iPhone and Android phones to let users edit Microsoft Office documents right from their portable devices. It supports creating and modifying Word, Excel, and PowerPoint files. The app is available free of cost for Google Apps for Business subscribers using the Android platform and iDevices. Other users will have to pay Rs 820 for the iPhone and Android phone version (Quickoffice Pro), while the Quickoffice Pro HD, which is the iPad and Android tablet version will set you back by Rs 1100.
Google has been at the receiving flak for not extending its Google Docs functionality to the mobile devices. However, the company seems to have relented with the launch of Quickoffice for Android, there will be little to left for users to complain about. Google acquired Quickoffice in June of last year. Earlier, the app was limited to the iDevices and the Nokia Store.