Toshiba Launches New 29" LED TV Range, Price Starts At Rs 23,000
Company says the "Thinking LED" range is "specially designed for India market".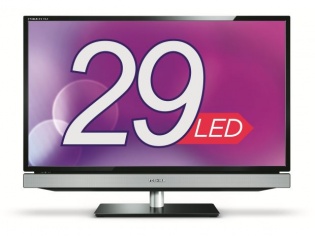 Toshiba has launched a new 29" Thinking LED range that it says is specially designed for India market. Before you get the wrong idea, we must clarify that the "Thinking" name doesn't really mean that these are Smart TVs. Rather, according to Toshiba it means that the company has guessed what consumers think about TVs and have incorporated those requirements in this range.

The company has launched two models in this size range — 29PB200 and 29PU200. Both models sport panels that are HD Ready, which means they can natively support 720p movies, but can display 1080p movies by downsizing. The bezel is narrow, to improve the visual appeal. These models also feature a built-in sound bar with two speakers below the display, which is claimed to be capable of producing powerful bass (with Power Bass Booster) in addition to other audio frequencies. The difference between the two models is that the 29PU200 has USB with support for over 28 video formats, while the 29PB200 can only display pictures and play music via USB port. Here are the common specifications:
29" screen with 53 mm thickness.
HD Ready panel (720p).
2x HDMI.
USB Movie (PU200 only)/ Photos / MP3.
Sound Bar with 2x 10 W RMS front-firing speakers.
Since these are LED-backlit LCD TVs, we can expect low power consumption. The proprietary REGZA image processing engine claims to process video signal at 14-bit for better gradation levels and also boasts of noise reduction to clean up image when the source is noisy. Additionally, the Auto Signal Booster is said to boost weak signal reception — useful if you are still stuck with analogue cable TV (or terrestrial transmission).
The 29PU200 and 29PB200 are priced at Rs 24,000 and Rs 23,000 respectively. The rather uncommon 29" LCD screen size aims to give the consumers an experience that is near the 32" category, but at a much lower pricing. Perhaps this is what the company meant when it stated that this was specially designed for the Indian market.