10,000 HP Pavilion G4 Notebooks Distributed By The Akhilesh Yadav Govt In UP
A total of 1.5 million laptops will be handed out over a period of seven months; entire exercise will cost the state government Rs 2,800 crores.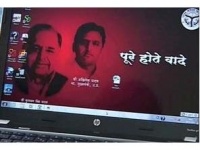 Well, looks like some election promises made in Uttar Pradesh do get fulfilled. After Akhilesh Yadav promised to distribute 1.5 million (15 lakh) notebooks during his campaigning days, the first set of 10,000 laptops by HP was given out at Colvin Taluqdars' College in Lucknow. The Rs 2800-crore project will benefit students who passed out of Class 12 (or equivalent) in 2012 and are aiming to study further. Students from 313 tehsils in the Uttar Pradesh region will benefit from the initiative over the next seven months.

The laptop in question is the HP Pavilion G4 notebooks, which is no longer retailing officially from the manufacturer. However, HP has promised to set up a call centre in Lucknow alongside service centres in the 313 tehsils to repair the laptops. The tech specifications as mentioned in the press release are listed below:
14-inch screen, with pixel dimensions of 1024x768.
2 GB RAM.
500 GB hard disk drive.
3-hour battery backup.
Bluetooth, Wi-Fi support, three USB ports, HDMI-Out, Media card reader, 3.5 mm audio jack, DVD drive.
Typing support for Hindi, English, and Urdu.
Windows 7, with MS Office Pro Academic Version 2010.
The laptop comes in dual-boot mode, and can run Ubuntu Linux. Students who were presented with the notebooks belong to a host of institutions including Aeronautical Training Institute, Central Institute of Plastics Engineering and Technology, Dr Ram Manohar Lohia National Law University, Faculty of Architecture GBTU Lucknow, Institute of Engineering and Technology, Karamat Husain Muslim Girls PG College, King George Medical University UP LKO, M.B.P. Govt PG College LKO, Mahamaya Government Degree College BKT LKO, National PG College LKO, Navyug Kanya PG College Rajender Nagar, Netaji Subhas Govt Girls PG College Aliganj, PT Deen Dayal Upadhyay Govt Girls PG College Rajajipuram LKO, Shia P.G. College, and UP Viklang Uddhar Dr. Shakuntala Misra University.

If you do the math, each laptop comes to around Rs 19,000, with a legal version of Windows 7 and MS Office suite. The notebook, which is now defunct, is listed on Flipkart.com for around Rs 40,000. Going by that alone, it pays to be on the government's good side. Considering that HP is a well-established brand, we surely hope that this initiative also doesn't head the Aakash way, and actually delivers where it matters.
TAGS: Laptops, HP, Government