Samsung Knox: Bringing Android Closer To Blackberry-style Enterprise Security?
Samsung Knox could turn the Galaxy Note 2 and Galaxy S3 into preferred enterprise devices, thus taking them beyond consumers and into the lucrative business market.
Samsung has introduced an enterprise security system - Samsung Knox, which includes new security features to combat threats faced by the enterprise sector. Their solution claims to offer Platform Security, Application Security, and Mobile Device Management.

To para-phrase Samsung's own description of the tool, "IT managers can thus expect hardened security of Android, protecting enterprise data and applications. It prevents from system exploits and device compromise. Lightweight and compatible with the existing enterprise infrastructure such as MDM, VPN and directory services, KNOX provides reassurance and convenience for IT departments looking to implement and manage Bring Your Own Device (BYOD) strategies."

Samsung Knox provides mechanisms to reduce threats of tampering and bypassing application security protocols, bringing Android phone security closer to the security mechanisms provided by Blackberry.

Blackberry Balance for instance, allows users to separate application data of work from personal application information, thereby enabling corporates to get access to top-level data security. Blackberry also implements individual Virtual Private Network (VPN) connections for every application instead of depending on an umbrella VPN covering the device as a whole.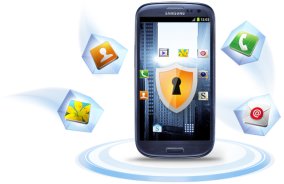 With Samsung Knox, the company could look at making "preferred enterprise devices" out of its existing devices such as the Galaxy Note 2 and Galaxy S3. That would help Samsung enter the lucrative enterprise segment with both phones and services, differentiating them from rivals in the consumer space who continue in a race to the bottom of the barrel with price wars.

KNOX Container is an isolated and secure environment within the mobile device, complete with its own home screen, launcher, applications, and widgets. Applications and data inside the container are separated from applications outside the container. This feature is expected to solve the data leakage problem brought by the BYOD phenomenon.

Apart from Security Enhanced Android, Knox also claims to ensure:
Separation of business apps from personal apps
Remote deletion of business data from host devices by the IT admin
Secure access to work information
Upon the host device getting lost, Knox can ensure that all confidential business data is deleted and thereby aiding in the prevention of misusing confidential data
TAGS: Samsung, BlackBerry, smartphones
Opinion Poll
Which is the most important aspect of a smartphone?
Operating system
19%
Display
6%
Camera
12%
Processor and RAM
41%
Battery
15%
SIM slots
2%
After-sales service
6%
Total votes: 9378