Linksys EA6500 Wi-Fi 802.11ac Router Retails At Rs 21,000
Top-end 802.11ac wireless router offers speeds of 450+1300 Mbps, four Gigabit & two USB ports, and an app platform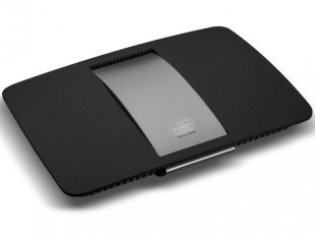 The fastest Linksys Smart Wi-Fi Router that supports 802.11ac, is now available in India at retail outlets, at an MRP of Rs 21,000. The full name is a bit lengthy - Linksys Smart Wi-Fi Router AC 1750 HD Video Pro (model EA6500).

To actually transfer data at such high wireless speeds, home network enthusiasts would also need to buy a "wired-to-wireless Bridge" for devices they want to connect. One such option for a bridge is present in the form of the Linksys WUMC710, for upto 4 devices to communicate at high wireless speeds, although it costs Rs 14,000.

The Linksys AC Universal Media Connector (model WUMC710) bridge converts ethernet-wired devices such as Smart TVs and game consoles to wireless AC, with speeds capable of streaming HD video content and 3D gaming. Of course, the bridge and the router are both backward compatible with dual-band wireless-N.

It is pricey, but here's what purchasing an 802.11ac router/bridge gets you:
- Next-generation wireless technology, 3 times as fast as Wireless-N.
- Wi-Fi speeds up to 450+1300 Mbps (in dual band mode).
- Better reliability for user devices, and more range with high power amplifiers.
- Helps improve power consumption of mobile devices such as tablets and smart phones.
- Connect multiple devices such as Smart TVs, Blu-ray players and game consoles at Gigabit speed, wirelessly.
- Stream HD video, music and large files speedily within the home.
- Designed for networking larger multi-room homes and home theatres.
Here's what the press release says about the new Linksys Smart Wi-Fi2 platform:
- Allows consumers to take control of their home network and devices through Smart Wi-Fi Tools and Apps.
- Once created, Linksys Smart Wi-Fi Account can be accessed securely from any web browser or through an app on a smartphone/tablet.
- Block the Bad Stuff and Netproofer app help control content that children see on the Internet.
- Gemini IP Camera Viewer app lets business travelers see what is happening at home.
- SimpleTap lets consumers connect devices with one button tap or quick swipe/scan of a device/tag.
Linksys says its AC Universal Media Connector and Smart Wi-Fi router portfolio are available across India at Croma, Staples, eZone and Reliance Digital Retail stores.





Assuming MRP pricing and an enthusiast who wants to link up 3 distant devices at home (meaning 21x1 and 14x3), the initial expense outlay for Wireless-AC connectivity would be huge at Rs 63,000. Keep in mind, each of those 3 bridges can support upto 4 Ethernet ports - meaning 12 wired devices would be supported in all. However, laptops and mobile phones are already beginning to support 802.11ac wireless networks by default, so you should not need to think about buying anything beyond the router itself.