Rapoo 7100P 5GHz Wireless Optical Mouse Launched at Rs 1879
4-way scroll wheel is a nice touch, 5GHz helps avoid Bluetooth and Wi-Fi signal interference in 2.4 GHz band.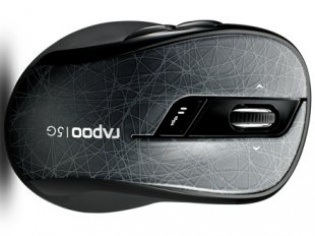 Rapoo's 7100P 5GHz wireless mouse is now available in India, according to a press release. This optical mouse offers four-way scrolling (vertically and horizontally). The mouse has additional programmable buttons, and uses a miniature USB receiver.

Wireless connectivity of 5 GHz differs from the 2.4 GHz radio frequency, largely in penetrability. The company claims signals of the 7100P aren't easily blocked by furniture or obstructions. The reason is that unlike most wireless mice in the 2.4 GHz band, the interference of Bluetooth and Wi-Fi is comparatively lesser or absent at a 5 GHz band. Of course, workarounds have existed since a long time - users plagued with interference simply shifted to the 5 GHz Wi-Fi band (for networking) and retained their 2.4 GHz wireless mouse.

We'll have to accept their claim of being the world's first 5 GHz wireless mouse for now, as a quick search did not show up other similar products.

Some of the USPs claimed for this product are:
- Two-way transmission for more stable connection and better reaction time.
- "Invisible" optical engine for the mouse to give out no light.
- H-Scroll Technology with a tilt wheel.
- Instantly switch between 500 and 1000 DPI (one wonders why anyone would use 500 dpi when the mouse supports 1000 dpi).
- Battery life prolonged upto 18 months (9 months if you use only one AA battery).
- Colour Change Injection Molding Technology to bond machine without glue, leaving no space for dust.

The RAPOO 7100P wireless optical mouse sells at an MRP of Rs 1879, with 2 years replacement warranty. If the device quality turns out to be at least as good as a basic Microsoft USB mouse, that is actually not a bad price at all.
TAGS: Rapoo