Sony's New Patent is a Tablet Type Controller Named "Eyepad"
The controller scans objects to be used virtually in the game.
Sony recently announced on twitter that they will be revealing the future of PlayStation on 20th February 2013. This comes as much as a shock because in a recent interview Sony's CEO Kazuo Hirai had made a statement that they will wait until Microsoft announces their Xbox 360 successor. And we also had some images of the PS4 controller prototype. Does that mean we will be having the PlayStation 4 sooner than expected?
Now, a recent patent application, which was published on FreePatentsOnline, suggests that Sony is working on a tablet type controller for PlayStation which is similar to the previously rumoured touchscreen controller for PS4. In the application, Sony calls the device as "PlayStation Eyepad", which bears a certain similarity to a tablet based on the diagrams provided by the company. The device is also said to include two stereoscopic cameras which may be used to scan objects and use them in games.
The diagramatic representation makes us believe that some serious hardware is being packed in the device. However, we'd also like to clarify that this is just a patent application and you may not see the commercialisation on the controller. For a detailed reading, hit the source link above.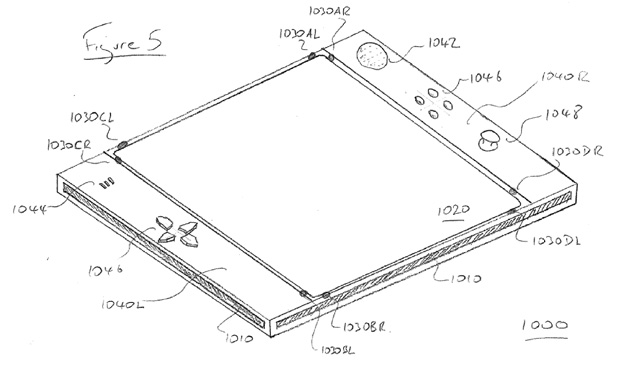 TAGS: Sony, PlayStation, Swagatam