MapmyIndia Navigator Lx340 Launched At Rs 8,990
The MapmyIndia Lx340 can play movies and songs stored in its 2GB internal memory.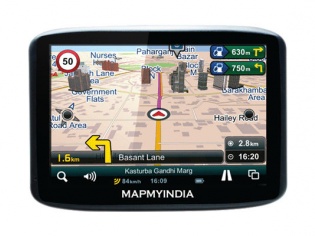 Close on the heels of its Android based navigation device, the Carpad5, MapmyIndia has launched Lx340, its new GPS navigator (portable in-car navigation and entertainment device). It has a 4.3" touchscreen, matte-black finish, and Don't Panic software, which is a new GPS navigation software interface. The MapmyIndia Lx340 satellite GPS navigator is priced at Rs 8,990.

"With Lx340, we're making available to all car owners in India, a powerful and premium GPS navigation and entertainment experience, at a very affordable and attractive price point", stated Shivalik Prasad, Executive Director, MapmyIndia.

The Lx340 is claimed to offer door-to-door navigation to house addresses in 39 cities. Users are claimed to spot 4,551 cities at street level with localities, streets, landmarks, 579,000 towns and villages connected by complete highway network across India, 3D landmarks across India, and 2D building footprints across 36 cities.

Tech specs of the Navigator Lx340 are as below:
SiRF V GPS chipset
Automotive grade Windows CE 6.0 OS
4.3-inch (10.9 cm) LCD touchscreen Display, 480x272 resolution
In-built 2GB storage, expandable up to 8GB with SD card slot
950mAh battery, rechargeable lithium-polymer
Dimensions: 118x82x12.5mm, Weight: 124 grams
MapmyIndia Navigator Lx340, like the rest of their products will be available through their network of over 1500 car showrooms and car accessory shops across India. Lx340 is also available for sale online, with cash on delivery option, through MapmyIndia's online store.
TAGS: mapmyindia, gps