CES 2013: A Tablet That Bends And Folds Like Paper
Futuristic concept for tablet computers showcased.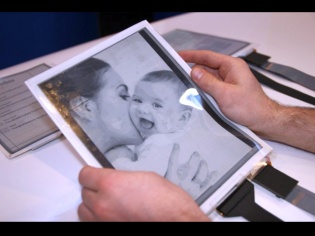 After Samsung's Youm flexible display, CES 2013 witnessed a proof of concept of similar technology. A new concept tablet was shown off at the event, which can be folded, bent, and used just like paper. Called PaperTab, it is has a 10.7" form factor with a high resolution plastic display.
PaperTab is flexible and provides several mechanisms for users to interact with it (like bending it), and its display is claimed to be unbreakable. The gadget has been developed by a British Company in association with Intel and Queen's University of Canada. PaperTab can be used virtually like a paper sheet and claims to provide an experience that is comparable to reading a magazine. Its display looks far thinner and lighter in comparison to conventional tablet displays.
A demo of the Paper Tab can be watched here. In the video a user is shown using multiple PaperTabs to navigate through content. This shows the ease of usage that the PaperTab provides to users apart from other functionality.

With its paper-like interface, PaperTab virtually appears to blur the bridge between paper and tablets. In this case, its usefulness in reducing conventional paper printouts can be taken into consideration. If the gadget is successful in this aspect, this will surely lead to conserving hundreds of trees that are used to produce computer papers.

PaperTab is still in the conception stage.