Sony Launches Slim External BD Rewriteable Drive
It also supports the 3D Blu-ray format.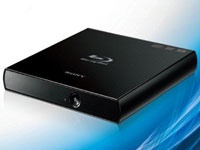 Sony has launched a new models of external 3D Blu-ray rewritable drive, the BDX-S600U. The drive is a successor to the BDX-S500U with support for the latest Blu-ray formats, including the 3D Blu-ray or BD-R XL format, which is the format of choice of the latest 3D movies.

The tray-loading BDX-S600U comes with a USB 2.0 interface with an integrated dual cable ducts for easy stowage. The drive inside the housing is a laptop model, thus making the BDX-S600U very slim and portable. The dual USB cable is provided to solve power outage problems on USB ports, which can provide up to 500 mA each. It can write single and dual layer BD-R media at up to 6x, BD-RE at 2x, and BD-R XL at 4x, thus theoretically capable of recording a full 100 GB disc in about an hour and a half. It also supports writing to BD-RE at 2x. The drive comes with Cyberlink Media Suite 8 to help you enjoy 3D Blu-ray movies at no extra cost. Cyberlink PowerDVD not only lets you watch 3D Blu-ray titles in their complete 3D glory, but can also show 2D content as 3D by employing proprietary algorigthm on-the-fly. You must bear in mind that to be able to watch 3D movies, you still need a 3D compatible display and compatible glasses.


The Sony BDX-S600U is available at an MRP of Rs.18,500 with a 1-year warranty.