Temple Run 2 Sprints Into iOS, Android Still Limping Behind
Sequel to the popular running game out on iOS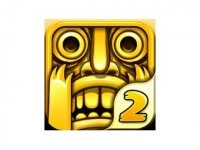 Here's how you will be spending the next couple of weeks — jumping , running and sliding while you try to run away with a cursed idol. Since you are not Indiana Jones, you would be doing all this and more in the sequel to the massively popular game Temple Run. The new game — Temple Run 2 has finally been released on the iOS AppStore.
Fans of the first game are in for a treat as the new version offers a new location and slightly more in terms of gameplay variety. This time around you will be running around cliffs, sliding down a zip line and riding mine carts. The graphics have also been updated and the game runs much smoother than its predecessor.
Temple Run 2 is available for free download on the iOS AppStore. Android users will have to wait as the Android version is expected to launch on 24th January.