Rumour: Aakash 3 Will Feature SIM Slot, Linux Support
Tenders for the low-cost tab for students will be floated in February 2013.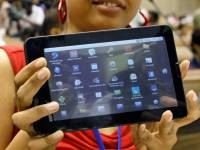 After Aakash part one and part two, the government still has plans to come up with Aakash 3. Having shown off Aakash 2 at the UN, the government seems to be raring to come out with a third iteration, this time in larger numbers and with a better user experience. Reports suggest that the next version of the low-cost tablet for students will see 50 lakh units with better app open source platform support. The research and tech know-how will be fuelled by Indian Institute of Technology (IIT), Bombay, which has send the slate to 250 colleges in the country, inviting suggestions for newer ways to use the gadget.
Global tenders for its manufacture will be floated by February 2013. The student-friendly tab is expected to have a larger distribution and servicing system this time around. Other things on the wish list include SIM support, front-facing camera, and audio textbook support in regional languages.
Researchers are hoping for two models of Aakash 3: One aimed at schools, and the other benefiting colleges — in different price bands. Even if this one does magically come into existence, I wonder how many kids would actually use it for studying!
TAGS: Tablets, Government, Education, Android, Aakash, Kamakshi