Download: Google Maps (iOS)
An app to save iPhone users from getting lost.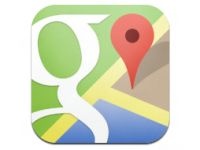 After a long time in exile, Google Maps are finally back in Apple's App Store. It provides a much-needed alternative to Apple's location software, which has been criticised heavily across the globe. (Very recently, several Australian motorists were stuck in the desert due to bad data in Apple's in-house Maps app.)

Google Maps for iOS offers a host of features including voice-guided turn-by-turn navigation, public transit directions, and Street View. You can also access live traffic information in select metros. The UI has also been vastly improved over previous iterations. Most importantly, you can actually trust the directions that Google Maps provides.
The app is compatible with the iPhone 3GS, iPhone 4, iPhone 4S, iPhone 5, iPod Touch (3rd generation), iPod touch (4th generation), and iPod touch (5th generation). iPad users can either use this app in the iPhone mode, or wait for a compatible version.


Developer: Google Inc.
Size: 7 MB
Platform: iOS
Price: Free
Download: itunes.apple.com/in/app/google-maps/id585027354?mt=8