Download: Grand Theft Auto - Vice City (iOS)
10th Anniversary Edition of GTA comes to mobile devices; Android version should be out soon.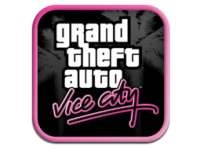 Die-hard GTA Vice City fans who own an iDevice have reason to rejoice: Rockstar Games is celebrating 10 successful years of the franchise with a Vice City 10th Anniversary Edition, available for "select iOS devices." There's an optimised iPhone 5 version as well. Rockstar claims to have designed the game with "mobile-specific features" in mind — a touch-based UI, better camera controls, upgraded textures, greater resolutions and increased draw distance. Successor to Grand Theft Auto III, this special edition of Vice City will come to Android devices soon. Although the app was listed on Google Play, Rockstar has clarified that the game will be available only by the end of next week. Check out the video celebrating the original game launch. It has an ESRB Rating: MATURE with Blood and Gore, Violence, Strong Language, Strong Sexual Content. Also, check out the gallery for more images.
Developer: Rockstar Games
Size: 1021 MB
Platforms: iOS 4.3 or higher
Price: Rs 270
Download: iOS — https://itunes.apple.com/in/app/grand-theft-auto-vice-city/id578448682