Dolby Laboratories Launches Dolby Atmos in India; First Theatre Springs Up In Chennai
Aims to provide audiences with more realistic cinema sound; Rajinikanth starrer will be first Indian film to use Dolby Atmos.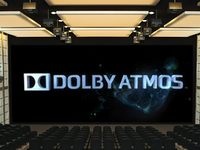 Dolby Laboratories officially unveiled its Atmos technology in India a couple of days ago. The company calls it "The most significant development in audio since the arrival of surround sound." For the launch, Dolby has partnered with SPI Cinemas, owner of Sathyam Cinemas in Chennai, for its first Atmos-enabled theatre. Not to be overshadowed by Hollywood, Rajinikanth starrer Sivaji 3D will be the first Indian film to use Dolby Atmos.
Atmos enables content creators to accurately position audio across 64 speakers for richer sound. The technology is scalable to accommodate smaller theatres, because the Atmos processor takes into account the size of the theatre before rendering the sound in real-time.


Speakers are also installed on the ceiling.
Let's say a scene depicts a helicopter moving towards the screen and then off-camera. The sound is rendered to move from the front of the theatre to the back, using the ceiling-mounted speakers. This also gives the viewer the feeling of a helicopter flying overhead.
We got to experience Atmos first hand, and it does a remarkable job. Compared to traditional channel-based audio, Atmos allows far more precision. In a way, each speaker is its own channel — and there are 64 speakers in all. We watched a demo clip featuring a flower petal going off the screen, around the back, and coming back on screen. At each point, we could say precisely where the petal was. (If you go to an Atmos-enabled theatre, the best seats to take would be in the centre. The effect is somewhat diluted at the traditionally premium back-row seats.)
The technology is restricted to theatres; there are no plans at the moment for a home audio solution. Dolby plans more Atmos-enabled theatres in India. This, of course, requires remodelling the entire hall — which will be a hard sell.
More information is available on Dolby's Atmos site. Check out the video below, which explains the technology in some detail.
TAGS: Speakers, Home Theatre, Rizwan