Android 4.0 Byond Mi-Book L9 Tablet With 9" Screen Unveiled For Rs 8500
Byond calls it a "laplet"; sports front camera, 8 GB internal storage, 6000 mAh battery, and comes with a keyboard accessory.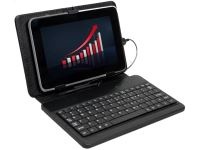 Byond has launched yet another large-screen tablet. The Mi-Book L9 has a 9" display, and it is being touted as a "Laplet". That's the company's attempt at a term for a combination of a tablet and a laptop, or a tablet that can double as a laptop. For that, you get a keyboard accessory as part of the cover that accompanies the product. Indeed, this is by all means the Mi-Book Mi9 tablet, only that it has the keyboard cover as part and parcel of the product. With this accessory, it can actually be used as a netbook. The photo shows that the keyboard is wired, rather than wireless Bluetooth — we only hope that it doesn't gobble up a USB port for this reason.
The Mi-Book L9 runs Android 4.0 (Ice Cream Sandwich) on a 1.2 GHz CPU. The RAM is 512 MB, and internal storage is 8 GB — which can be augmented by up to 32 GB via microSD. The front 0.3 mp camera can be used for video chat over Wi-Fi or by connecting an external 3G dongle using the USB OTG functionality. HDMI-Out allows you to watch video on a big screen in Full HD (1080p). The 6000 mAh battery claims to provide up to 4 hours of backup (with internet browsing) and up to 6 hours (with video playback). Here is the specification sheet:
Android 4.0.4 (Ice Cream Sandwich), Google Play.
ARM Cortex A8 1.2 GHz with 512 MB of DDR3 RAM.
8 GB internal storage; 32 GB microSD supported.
9", 5-point capacitive touchscreen with pixel dimensions of 800x480.
0.3 megapixel front camera.
USB OTG with support for external 3G dongles, HDMI-Out (Full HD), 3.5 mm audio jack.
Wi-Fi.
6000 mAh Li-ion battery supporting up to 4 hours of Wi-Fi browsing and 6 hours of video.
10.3" (l) x 6.5" (w) x 0.43" (11 mm) (d); 348 grams (474 grams with keyboard cover).
Package Contents: Data cable, User manual, Screen guard, Reliance data card coupon, Charger, Headset, OTG cable, Warranty card, Keyboard cover.
Before you consider getting the Mi-book L9 for yourself, you need to look at a few important details. The CPU is a dated single-core A8 with just 512 MB of RAM, which could make it difficult to run ICS apps and games satisfactorily. Large screens are attractive, but the 9" screen in this case (which is considerably larger than with 7" tablets) has the same pixel dimensions of 800x480. This means the pixels are larger in size and less densely packed — so images will not be very sharp.
The Byond Mi-book L9 is available for Rs 8500, which means that you are essentially paying Rs 1000 for the keyboard cover along with the Mi-Book Mi9. It's still reasonable for a 9" ICS tablet that can also work as a netbook, even when you consider the low pixel density.