New Apple iMac Models To Be Available In India On 30th November; Prices Start At Rs 86,000
Slim models with 21.5" and 27" screens feature the Fusion Drive hybrid storage option.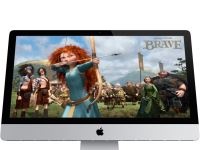 Apple has announced the India availability date of its new iMac models as 30th November. As you may know, iMacs are Apple's all-in-one (AIO) desktop computers in which all the PC parts are within the sleek body — which looks like just a monitor. The wireless keyboard and mouse are the only external components. The redesigned iMacs, announced last month, come in an aluminium and glass enclosure just 5 mm thick at the edges, although there is a bulge in the middle. The displays supposedly have 75% less reflection, so these models should be glare-free compared with their predecessors.
All the new models feature 8 GB of 1600 MHz RAM. The 1 TB hard drive combines with a 128 GB SSD using a technology known as Fusion Drive, for fast performance without storage space constraints. There are two 21.5" models. The first, with a 2.7 GHz quad-core Intel Core i5 CPU and NVIDIA GeForce GT 640M, costs Rs 86,000. The other, with a 2.9 GHz quad-core Intel Core i5 CPU and NVIDIA GeForce GT 650M is priced at Rs 100,000. The new 27" iMac also has two variants: A 2.9 GHz quad-core Core i5 and GeForce GTX 660M at Rs 123,000, and the more expensive one 3.2 GHz quad-core Core i5 and GeForce GTX 675MX at an MSRP of Rs 135,000.
Apple mentions that these can be upgraded with Core i7 CPUs if you want to add firepower. In addition to Mac OS X, the new iMacs come with iLife, iWork, and other licensed software. Despite all the good stuff, we think the prices are a little too high. Apple fans will surely disagree on some grounds or the other. What do you say?