Samsung Launches Windows 8 Notebooks And Ultrabooks; Prices Start At Rs 44,000
...And go up to Rs 108,000 for the "world's thinnest and most compact premium notebook."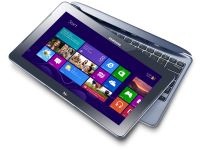 Samsung's launch of several Windows 8 devices today — including laptops and Ultrabooks — comes around a month after the launch of Windows 8. The hardware has, of course, been upgraded to get the most out of the UI and new features of Microsoft's latest OS.
First up are the Samsung ATIV Smart PC and ATIV Smart PC Pro. These are laptop computers with detachable keyboards: They can transform into tablets at the click of a button, so you get the best of both worlds. Both devices feature SuperBright 11.6" 10-point touchscreens to make use of the Modern UI. They feature the S Pen, which allows you to write and draw on the screen — just as though you were using a pen or pencil — via the preloaded S Note application. Samsung bundles along the S Player, which claims to support playback of images and videos in any format.
The ATIV Smart PC is just 9.9 mm thick, and the ATIV Smart PC Pro is a little thicker at 11.8 mm. The latter has better hardware, with an Intel Core i5 CPU and battery life of up to 8 hours, while the former has an Intel Atom Z2760 with a better battery backup of up to 13.5 hours. The ATIV Smart PC has USB 2.0 ports, while the Pro has USB 3.0 for faster data transfers. Both laptops have a mini-HDMI port, mini-SD slot, and two extra USB 2.0 ports on the keyboard. The ATIV Smart PC and ATIV Smart PC Pro are priced at Rs 54,000 and Rs 75,500 respectively.
Next is the Samsung Notebook Series 5 ULTRA Touch 540U3C. As is obvious from the name, this is a touch-enabled Ultrabook with a 13.3" HD SuperBright 10-point touchscreen. It is powered by a 3rd-generation Intel Core i7-3517U CPU with 12 GB of RAM. The hard drive is a 500 GB, and it comes with 24 GB ExpressCache for SSD-like performance without the storage space limitation. The device features a full HDMI port, USB 3.0, 2x USB 3.0, a 3-in-1 card reader, Ethernet, and a 1.3 mp webcam. With thickness ranging from 16.9 mm to 19.9 mm, this Ultrabook weighs just 1.64 kg. The exterior is apparently made of brushed aluminium, while the underside is fabricated out of fibre glass for durability and low weight. Samsung specifies the battery backup as up to 6.7 hours, while proprietary Battery Life Plus technology claims to extend battery life beyond the standard. The Samsung Notebook Series 5 ULTRA Touch can be yours for Rs 65,000.
Samsung has also launched the Notebook Series 9 900X3B, which, it claims, is the "world's thinnest and most compact premium notebook." Measuring only 14.9 mm at its thickest point and weighing just 1.65 kg, the claims about this 15" notebook featuring a unique single-shell body might well be true. It is the most expensive of the lot, though — prepare to shell out Rs 108,000 if you want one!
For those who want an Ultrabook but don't want to spend too much, Samsung has unveiled its Series 5 Ultrabook (Series 5 535U4C). This AMD quad-core device costs Rs 44,000.
With these Windows 8 devices, Samsung now has a total of 4 Ultrabooks and 30 notebooks — across a price range that covers every consumer segment. Check out the image gallery for a detailed view.